The YouTube video from Dec. 28 on Watkins' Facebook page shows Cordova yelling at police during the Arlington traffic stop at which Cordova had shown officers his weapon. He yelled that he didn't understand how officers could be arresting him for openly carrying a black-powder pistol that Texas law considers legal.
But he had told his fellow cop-watchers a few seconds earlier, "Hey, they may arrest me, but I want them to."
Officers told Cordova that he couldn't be carrying a firearm. He responded by saying it was legal and quoted the law that he said allowed it. As officers placed him in handcuffs, Cordova began yelling, "I'm being arrested for a black-powder pistol!"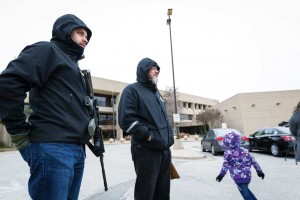 Officers informed him that they would figure it out down at the station, and then Cordova began spewing obscenities, calling officers "fucking douchebags" and "little cocksucker."
Sgt. Jeff Houston, a media-relations officer for the Arlington police, said that over the course of the year, the cop-watchers of the Peaceful Streets Project have been verbally degrading officers, carrying rifles, and using bullhorns — in the officers' eyes, doing whatever they could to provoke a response by law enforcement.
Houston said Watkins' video of Cordova's arrest was heavily edited and didn't show the full encounter with police. He commended the officers for showing great restraint when dealing with these individuals.
"We don't have any problem with people watching," Houston said, "and it may be lawful to carry a black-powder pistol, but it's not absolute. It's still a deadly weapon."
Houston said it's a problem when officers have to divert their attention away from the scene of a crime to deal with cop-watchers. He related one instance involving a woman who was a victim of domestic abuse. As officers began to assess the scene, Houston said, an armed cop- watcher who was filming got into an argument with one of the victim's neighbors, forcing police to have to deal with him instead of staying focused on the 911 call.
The Arlington Police Department has reached out to Watkins and his group in the past to discuss how they can accomplish holding officers accountable while allowing them to do their jobs in a safe manner, Houston said. But the group refused the offer.
"That offer is still open," he said.
 ********
Last Saturday, those hundred armed supporters Watkins had predicted never materialized for Open Carry Tarrant County's protest at Arlington City Hall. Fewer than a dozen showed up, and they had only news-media types to talk to. Watkins was willing to answer questions from only a few of the reporters.
"I don't think [a weapon] should have to be concealed," said one open-carry supporter. "I have constitutional rights that allow me to carry. … Who are you to say what I can and can't carry?"
Watkins looked frustrated by the low turnout for an event he saw as protesting a just grievance. Arlington police had kept Cordova's black-powder pistol and charged him with interfering with a public officer's duties, a Class B misdemeanor charge that he and other open-carry supporters felt was being used far too often.
To make matters worse, a reporter had traveled all the way from New York to film a documentary on Watkins' group for CBS News. So he took the supporters who had shown up and marched the few blocks to Arlington police headquarters on Division Street, where a group of police advocates were gathering.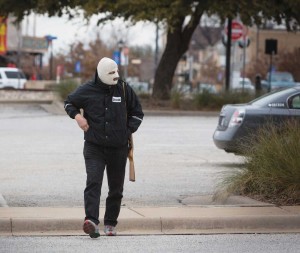 The Citizens Supporting Law Enforcement Officers of North Texas had posted a notice about their walk on their Facebook page, and more than 60 people turned out to show support for the police in the face of Open Carry Tarrant County's complaints.
Watkins' people mostly kept away from the unarmed civilians gathering peacefully in front of the building. The open-carry supporters waved at motorists who were honking in support of the police.
Melissa Manning, a member of Law Enforcement Wives Association of North Texas, said the organizers of the event knew Open Carry Tarrant County planned to hold a protest rally at city hall that day and had asked the gun advocates to leave them alone.
"Personally, our family is in support of open carry," said Manning, whose husband is an Arlington police officer, "but we don't agree with them interfering with police duties."
Claire Elizabeth, of Moms Demand Action Texas, said she's not anti-gun, either, but she and other parents across Texas see Open Carry Tarrant County's tactics as downright frightening.
"We just don't think that's how responsible gun owners behave," she said. "If they can't behave responsibly now, what would their behavior be like after we remove the regulations?"
North Texas writer Christian McPhate can be reached at christianmcphate@gmail.com.