William J. Bennett's new book — Going to Pot: Why the Rush to Legalize Marijuana Is Harming America — might have some interesting information. But I'll never know because I won't read a book by someone who talks out of both sides of his mouth.
Bennett was former director of the Office of National Drug Control Policy back in the George H. W. Bush era. Now Bennett is a conservative political pundit, author, and radio personality.
This recently posted Newsweek article, "The Problem With Pot," quotes Bennett saying that science shows clear dangers of using cannabis, and that the American public has been misinformed by "organized and well-funded" legalization advocates.
He then points out that marijuana is stronger today than it was in the 1970s, and it will lower your IQ and increase your chances of a heart attack.  "This isn't your grandfather's pot," he told the magazine.
Bennett was Secretary of Education under President Ronald Reagan. He became the country's drug czar during the Bush I presidency, back when most weed was Mexican-grown grandpa pot.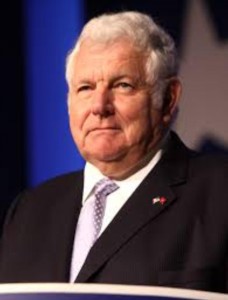 And what did Bennett do as drug czar?
Well, for one thing, he ignored obvious scientific and anecdotal evidence and perpetuated a lie.
The Controlled Substances Act listed marijuana as a Schedule I drug with no medical uses. Bennett saw no problem with categorizing that near-harmless grandpa pot on the same level as heroin, crack, methamphetamine, and various controlled substances, and saying it had no medical use despite hundreds of years of evidence to the contrary.
Now we're supposed to care about what this guy has to say? About anything?
Sorry, Bennett, but your credibility went up in smoke years ago.