Who is Mike Leigh? You might answer, "A British filmmaker who has been making films since the 1980s, a few of them period pieces, but most of them slice-of-life realistic dramas set in London's working class." You'd be right about that, but that's not all Mike Leigh is. I spotted a different pattern while I was watching Mr. Turner, his biography of the artist J.M.W. Turner which plays at the Modern Art Museum of Fort Worth this weekend. Though some of Leigh's films give a panoramic portrait of London society, most of them are largely built around one actor from his de facto repertory company. Where Britain has had no trouble turning out beautiful leading ladies and handsome leading men, Leigh has given the spotlight to great actors whose unique physiognomies would otherwise relegate them to supporting roles. It has paid bountiful dividends for him and those actors, though you wouldn't know it from the awards; the roles below have garnered a grand total of two Oscar nominations and, puzzlingly, have done scarcely better at Britain's BAFTA Film Awards, which you would think would shower Leigh with trophies like the homegrown master that he is.
Leigh's films were praised for their realism, especially early on, but looking at these performances now, many of them seem stylized, especially the earlier ones. They're almost cartoonish next to more contemporary films about the English working class like Shane Meadows' This Is England, Andrea Arnold's Fish Tank, and Clio Barnard's The Selfish Giant. (Though, who's to say what those movies will look like in 20 years or so?) The high-key acting reminds you that Leigh has his roots in the theater. What jumps out at you is Leigh's great sympathy for difficult, deeply unhappy people who put others off. At the same time, he has a great appreciation for people who maintain their good cheer in spite of everything life throws at them.
You may have also noticed that these are all white people. His movies do address the subject of race, but they tend to do so obliquely, like with the Caribbean immigrant who gets an abortion from Vera Drake. The black adopted daughter in Secrets & Lies is the biggest role he's ever made for a person of color, and she still feels observed from the outside rather than lived in. That would be a worthy challenge for him to take up later on.
Two of his films, High Hopes (1988) and All or Nothing (2003) are true ensemble pieces, but most of them, whether by Leigh's design or not, put one character and one performance in the spotlight. (I also haven't seen his 1971 film Bleak Moments.) Here now, on the filmmaker's 72nd birthday, is a run-through of his star vehicles and the actors who drove them.
Life Is Sweet (1990)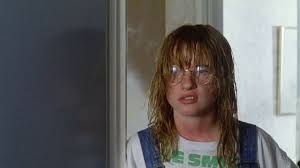 The actor: Jane Horrocks.
Was she in the Harry Potter movies? No.
Where else have I seen her? Probably as Bubble on British TV's Absolutely Fabulous, though you may remember her winning acclaim for a 1998 film called Little Voice, in which she impersonated the singing voices of everyone from Marilyn Monroe to Shirley Bassey. Other than that, most of her work has been confined to British TV.
Comments: If you're an AbFab fan who only knows her as the empty-headed Bubble, you'll be startled by the ferociously angry performance Horrocks gives as Nicola, a self-lacerating, bulimic, bespectacled, chain-smoking unemployed woman in her early 20s, living at home and seeking out degrading sexual encounters with shiftless men. Nicola dominates her family of good-natured types, who are most often the victims of her spat-out insults. ("Racist!" "Fascist!" "Capitalist pig!") Of course, it turns out that they have reason to be so forbearing. The scene near the end that reveals just how messed-up Nicola is is well-played, but even before then Horrocks gets you inside this girl's despair and hatred of herself that makes her so miserable. She makes Nicola an object of pity and fascination.
Naked (1993)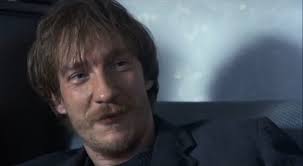 The actor: David Thewlis
Was he in Harry Potter? Yes, he played the kind mentor, Prof. Remus Lupin.
Where else have I seen him? As Knox Harrington in The Big Lebowski, as a gay poet seducing Leonardo DiCaprio in Total Eclipse, as a Nazi commander in The Boy with the Striped Pajamas, and right now as one of Stephen Hawking's mentors in The Theory of Everything.
Comments: Thewlis did his finest work in the Harry Potter movies, but there's none of that refinement in his performance here as Johnny, a working-class, well-educated, lethally smart misogynist who howls with rage at a society that encourages people like him to conceal who they are. This movie is heavily reminiscent of John Osborne's Look Back in Anger and other plays by the Angry Young Men. Smirking with glee at the offense he gives and carrying on lengthy rants that would defeat most other actors, Thewlis nevertheless conveys the pain that's tearing at this worthless and chronically unhappy man. He has not approached the raw power of this performance since. Leigh took some flack over this film because he never overtly judges Johnny for his horrible mistreatment of women, but any charges of sexism would be belied by his subsequent work.
Secrets & Lies (1996)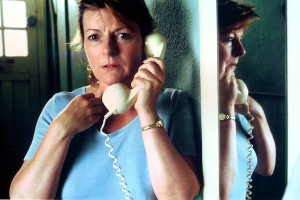 The actor: Brenda Blethyn
Was she in Harry Potter? No.
Where else have I seen her? She has played an impressive array of mothers to the likes of Catherine Keener and Emily Mortimer (Lovely & Amazing), James Franco (Sonny), Kevin Spacey (Beyond the Sea), and Keira Knightley (Pride & Prejudice). Lately she seems to have stopped working on this side of the Atlantic. Right now she's starring in a British TV cop show called Vera.
Comments: This adoption drama won five Oscar nominations, including Best Picture and Best Actress, and in so doing forced ordinary American moviegoers to find out who Mike Leigh was. Brenda Blethyn enough appearances before the American press that people figured out she was nothing like the unholy mess that she plays here. Her character, Cynthia, is a factory worker who's already a nervous wreck (because her neediness drives everyone in her family away) before the daughter she gave up for adoption calls her out of the blue and asks to meet her. This is an easy performance to catch, with Cynthia wearing all her neuroses on the outside, but it's no less skillful for that. I still remember the scene when Cynthia meets her daughter, nine minutes of the characters just sitting in that restaurant booth, and the camera just sitting in front of them, and it's one of the most gripping pieces of cinema you'll see.
Career Girls (1997)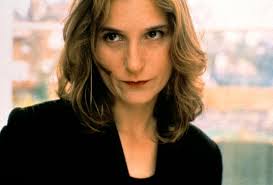 The actor: Katrin Cartlidge
Was she in Harry Potter? No.
Where else have I seen her? As the neediest one of Thewlis' sexual conquests in the aforementioned Naked. Other than that, maybe as a British journalist in the Macedonian war film Before the Rain, or as a prostitute trying to leave her job in the cult film Claire Dolan.
Comments: This may be the most mannered performance in the list, which is saying something. It may also be my favorite. Cartlidge plays Hannah, as both a university girl and the same person six years later as she re-connects with her former best friend (Lynda Steadman — where'd she go?). Shuffling back and forth in time, we see her transform markedly from a gangly, scowling misanthrope to a cool, fashionable businesswoman, albeit one still a bit rough around the edges. You can see Cartlidge making Hannah's adolescent tics into the self-conscious theatricality of a woman who has refined her impulse to act out. What makes Hannah so moving is the fearless way she thrusts herself in the faces of everyone, insecurities and all. Sadly, Cartlidge wouldn't get the chance to do much more; she died after a sudden bout of pneumonia in 2002, at the age of 41. Now the Sarajevo Film Festival gives out an award every year in her name.
Topsy-Turvy (1999)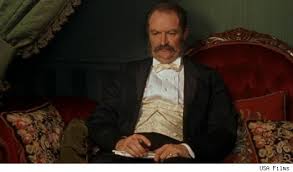 The actor: Jim Broadbent
Was he in Harry Potter? Yes, as the celebrity-chasing Prof. Horace Slughorn.
Where else have I seen him? He won an Oscar nomination as a husband slowly losing his wife to Alzheimer's in Iris, but you're more likely to have seen him as an increasingly fat actor in Bullets Over Broadway, Boss Tweed in Gangs of New York, the devious police chief in Hot Fuzz, Margaret Thatcher's husband in The Iron Lady, or the Teutonic neighbor in Paddington. He also plays a character known only as "The Drunken Major" in Bright Young Things, an awesome character.
Comments: As the lyricist and librettist W.S. Gilbert, he gives a prickly performance here as an emotionally cut-off loner surrounded by gregarious, explosive types as he works in the theater. Everything about this guy says, "Go away," yet you get to know his terrifying bursts of anger, his fear of madness (both his parents are clinically insane), his ingenious head for writing complex lyrics, his attentiveness to the nuances of stagecraft, his head for business, and his eternal dissatisfaction despite all his success. This movie is really supposed to be about Gilbert and Sullivan, but it's Broadbent's Gilbert who dominates the proceedings.
Vera Drake (2004)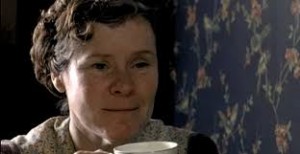 The actor: Imelda Staunton.
Was she in Harry Potter? Yes, she played the sadistic Prof. Dolores Umbridge.
Where else have I seen her? Mostly on British TV, though she played Gwyneth Paltrow's nurse in Shakespeare in Love. Recently, she was in bulldozing form as a Welsh housewife in Pride, and played one of the fairies in Maleficent.
Comments: Here Leigh shifts gears and makes his main character a people-pleaser. Vera is a housewife in 1950 who hums as she tidies up her home and tends to the needs of her elderly neighbors. Her skills at putting people at ease come in handy as she goes about performing abortions at a time when they're illegal in Britain — she sees this as "helping girls out." When the law catches up with her, though, her good cheer gives way to speechless terror, and you can't help but admire Staunton's emotional stamina in these latter scenes (which undoubtedly got her her Oscar nomination) as she tries to explain to the authorities through chokes and sobs why she does what she does. This character leaves a hole; the film's final shot is of her family members sitting around a dinner table, silent and desolate, and you understand how Vera was the one holding her family together.
Happy-Go-Lucky (2008)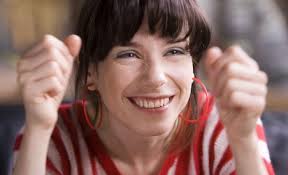 The actor: Sally Hawkins.
Was she in Harry Potter? No.
Where else have I seen her? As Cate Blanchett's sister in Blue Jasmine. She also plays the mother in the current Paddington, and she popped up as Ken Watanabe's assistant in the Godzilla remake. You may also remember her as a wannabe gangster's moll in Layer Cake or a rape victim who needs an abortion in Vera Drake. The union drama Made in Dagenham was supposed to catapult her to stardom, but it didn't work.
Comments: If you're completely new to Mike Leigh's filmography, this sun-dappled comedy is probably the best place to start. Hawkins plays Poppy, a schoolteacher who maintains a cheerful attitude toward life even when her bike is stolen and her back pain is giving her trouble. Through the first 15 minutes, you might well ask what's wrong with this woman that she's so happy all the time. But then you see her deal with a boy at school who's bullying everyone, and she realizes that he's doing it because he himself is being bullied at home. A similar but far more complicate dance ensues when she tries to reach out to her eternally fuming driving instructor, and you realize what kind of strength of character it takes for Poppy to keep up her positive attitude. Through it all, Hawkins' incandescent smile is a guiding star. This was the best performance by any lead actress in 2008. How did it slip by so many people who give out awards?
Another Year (2010)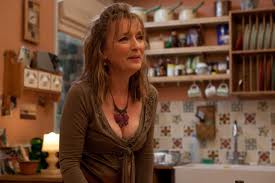 The actor: Lesley Manville
Was she in Harry Potter? No.
Where else have I seen her? Mostly in other Leigh films, as a social worker in Secrets & Lies, Gilbert's wife in Topsy-Turvy (where she got an unforgettably gruesome monologue), wealthy society wives in High Hopes and Vera Drake, and a working-class mother in All or Nothing. Fun fact: She also played Mrs. Cratchit in Robert Zemeckis' animated A Christmas Carol, with her real-life ex-husband Gary Oldman playing Bob Cratchit.
Comments: The nominal main characters here are a well-off hippie couple played by Broadbent and Ruth Sheen, but nobody makes more of an impression than Manville as their hapless friend Mary, a walking disaster who keeps making terrible decisions and unloading a litany of woes on anyone within earshot, yet somehow keeps faith that her next brilliant idea (like buying a car or flirting with her friends' 30-year-old son) will be the one that changes her life and makes her happy. Manville's performance generates an uncanny sense of presence. Watching this film, you feel like this character is sitting next to you, grabbing your arm, spilling her drink on you, and pleading with you to believe her as she says how great her life is going to be some day.
Mr. Turner (2014)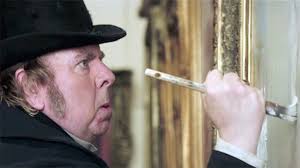 The actor: Timothy Spall.
Was he in Harry Potter? Yes, he played the sniveling lackey Peter "Wormtail" Pettigrew.
Where else have I seen him? A bunch of other Leigh films, including a terrific supporting turn as Blethyn's husband in Secrets & Lies and as a swaggering but emotionally fragile baritone in Topsy-Turvy. He played other sniveling lackeys in Enchanted and Sweeney Todd, and he turned up as Winston Churchill in The King's Speech.
Comments: Everyone comments on the grunting. We haven't seen a performance with so many grunts since Tom Hardy in Lawless. It seems that the historical J.M.W. Turner really was this bad with words. Still, underneath the character's ultra-gruff exterior, Spall communicates the man's questing spirit to see as much as he can (Turner has himself lashed to a ship's mast in a storm at sea to take in the view) and capture it on canvas, as well as his inchoate needs for sex and love, and his affection for his aged father. His inability to express any of these things in words makes him fascinating, and gives rise to the great scene at the brothel shortly after his father's death when he goes to sketch a prostitute, suddenly starts crying like a baby in front of her, then pulls himself together as if nothing happened. They're awarding the Oscars on Sunday, but for my money, the unnominated Spall gave the best performance by a lead actor all year.