The theatergoers sounded more like hockey fans during a bench-clearing brawl. The 150 souls who had crowded into Stage West on this otherwise soggy spring Saturday night were whistling and yelling catcalls at Sunset Hoots Monroe, whose red rhinestone pasties were now twirling in synchronicity like battery-powered pinwheels. As the 48-year-old dancer left the stage wearing only the pasties, matching rhinestone shorts, fishnet stockings, and a pink boa, the throng rose to its feet and roared.
I was standing along with everyone else, but I was still trying to process what I had just seen. Crème de la Crème's show, titled Saturday Nudie Live –– a series of Saturday Night Live-themed stripteases –– was my first experience at a burlesque show.
I'd been to a few strip clubs, and I saw some things in Mexico that aren't fit for print, but what I witnessed at Stage West had almost nothing in common with those other sex-related productions.
Though a newbie, I had seen the '50s pinup girls onto which burlesque has glommed, and I'd come across examples of the subculture in movies and books. I know it has its own fashion, worldview, and even patois. I went on Saturday after a friend who really wanted to go talked me into joining him.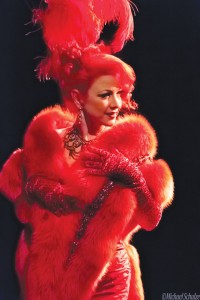 The performances are like what you'd see at a drag show, and audience members scream during skits or even recite lines. Dancers have made-up names and wear wigs, loud stage makeup, and homemade costumes, and the ladies lip sync along to popular songs. The crowd at Stage West was a mix of rockabilly chicks, biker dudes, bachelorette partygoers, and enough gay men to fill a cruise ship. The show, which was sold out, was intermittently interactive. The host/hype-girl for the evening, Violet O'Hara, bantered back and forth with theatergoers, dropping  playful innuendo, and she performed, belting out a racy version of the "Happy Birthday" song.
The evening's showstopper was "Dick in a Box." Two performers wearing fake pencil-thin beards stripped to Justin Timberlake and Andy Samberg's hilarious neo-R&B song. When they finally opened their wrapped gifts, they revealed shimmering silver dildos. The audience went, um, nuts.
The performances were energetic, almost as energetic as the theatergoers. Most of them. I didn't really know what to feel. Was I supposed to be aroused? Inspired to dance? Join the crowd in screaming my throat hoarse?
Instead, I sat and I wondered why the two guys sitting behind me were shrieking so loudly you probably heard them at your house. I wondered why middle-aged and/or technically overweight people were so eager to show their bodies to a roomful of strangers and why those strangers were so excited to see those bodies. I wondered why I wasn't joining in on the fun and why I felt more like a wary observer than a participant.
The whole thing made me feel like a total square.
 ******