Burlesque is nothing new to Fort Worth. In the 1930s, '40s, and '50s, shows regularly took place at Casa Mañana, all over the Stockyards, and in every shadowy corner of Jacksboro Highway. But the artform is emerging from a dark period. Just a few years ago, burlesque didn't exist in this town. A few Dallas companies noticed the void and, inspired by a love of retro fashion and sensibilities, started to put on shows at music venues such as Lola's Saloon, The Aardvark, and The Grotto. Now nary a month passes by without a burlesque show (or three) at a local watering hole or theater. Companies like Fort Worth's Crème de la Crème are starting to attract devoted followers, and out-of-town acts are appearing in the Fort more frequently.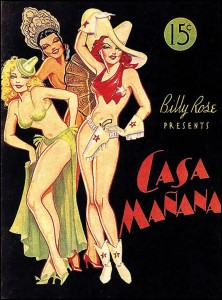 Burlesque's popularity is not specific to North Texas. Seattle's annual Burlycon Festival draws thousands of burlesquers and burlesque lovers from all over the country, who go to sample every conceivable subgenre of the artform: Victorian, American, neo (which is close to Crème de la Crème's style), gore, knife play, steampunk, pretty much anything that can be fetishized.
Most of the women of burlesque aren't the sort of bronze goddesses you see nimbly climbing the poles at strip clubs. Burlesquers vary in shape, size, and age. One of Crème de la Crème's producers, Christa Russell, who performs as Honey Sin Claire, said that for the dancers, burlesque is about more than just doing a sexy, cheeky dance.
"It represents giving women the power to accept their bodies," she said. "There's not a limit to what the definition of beauty is in burlesque."
Sunset Hoots Monroe, a.k.a. Azle's Kimberly Ables Walker, said she was attracted to the theatrical side of burlesque. She signed up for a class in Dallas when she was 46.
"I thought, 'I'm not getting any younger,' " she joked.
Other styles of dancing were closed off to a woman of her age. One of the things about burlesque that appealed to her, she said, was that it was less about sex and more about promoting a positive body image.
"Every woman is so beautiful –– any size, any shape," she said. "I think women are just coming out and feeling good about their bodies. It's very empowering."
But make no mistake, Russell said. It's still a sexy show.
"There are printers who won't print our show poster in this day and age," she said incredulously.
In our culture of instant gratification, in which even most porn videos have cut out the flimsy premise of a pizza guy or plumber, burlesque is a throwback to the art of the slow tease. The sexiness comes from the anticipation, and the payoff is tame compared to, say, what you'd experience at a strip club. But, unlike at a strip club, burlesquers aren't mercenary sex robots trying to hustle you out of your last dollar.
"The nudity is kind of a side note," Russell said. "That's the interesting thing about burlesque: Yes, it is technically considered a sex business, but at the same time we're including art, music, and humor."
Russell's co-producer, Caroline Waters (Victoria Viking), wouldn't go as far as calling burlesque a safe alternative to a strip club.
However, she said, "I'd have no problem having my folks in the audience," she said. "In fact, my parents were sitting front and center at Saturday Nudie Live."
******