Fort Worth native Candy Clark ("Graffiti Artist," July 3, 2013) became wistful after watching last Friday night's screening of The Man Who Fell To Earth during the USA Film Festival in Dallas. Once the movie ended, the house lights came on at the Angelika Film Center, and Clark participated in a Q&A session with audience members who'd just seen the breathtaking movie that also features Rip Torn, Buck Henry, and David Bowie in his first starring role.
"It kind of makes me sad to see it tonight," she said. "I don't want to start crying. But it was 40 years ago and we've all changed. We were young and doing all that makeup and stunt work. It made me nostalgic to see it and think about behind the scenes and all."
Nicolas Roeg directed the science fiction movie in 1975. The movie earned mixed reviews during its limited release, but fans have latched onto the film in the ensuing years and turned it into a cult classic. Bowie's acting chops were surprisingly solid in his first starring role.
"David did a magnificent job," she said. "It's a complicated film. He was perfect. I couldn't see anyone else in that role."
It probably helped that Bowie had been presenting himself as an extraterrestrial via his onstage musical persona Ziggy Stardust.
"David Bowie looked like he was from another planet," she said.
The movie depicts a space alien who visits Earth to gather resources to save his dying planet. His advanced knowledge allows him to patent various inventions and become a billionaire. He plans to use the money to build a space ship to take him back home and save his planet. But he's corrupted by humans, media, wealth, and booze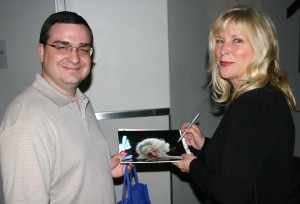 Clark is unforgettable in her role as a drunken floozy in love with an extraterrestrial. At the time the movie was made in 1975, Clark was still riding high on her star-making turn in American Graffiti. But she'd battled hepatitis before filming began and had lost a lot of weight. Bowie was snorting mountains of cocaine in the mid-1970s and he too appeared emaciated. They make a bizarre looking couple. Both showed full frontal nudity (even Torn has a nude scene or two).
"They don't ask me to do nude scenes anymore, thank God," Clark said. "Back in the 1970s it was mandatory. If you wanted to work you had to do a nude scene. That was cutting edge back then. It's really mortifying to be naked. There's a cameraman there and a sound guy and there's David Bowie. It's horrific. Now I see the nude scenes today and the sex scenes are really graphic. You have to do a lot more than me and David did."
One scene required Clark to become so frightened that she urinated through her underwear, which the camera showed in close-up. "It was cutting edge!" Clark hollered out in the dark theater, cracking up the moviegoers.
Another scene required her to drag a passed out Bowie from an elevator, and then bend over, pick him up, carry him to a hotel room, and lay him on a bed. Bowie appeared to weigh about 95 pounds at the time, but turned out to be heavier than he looked.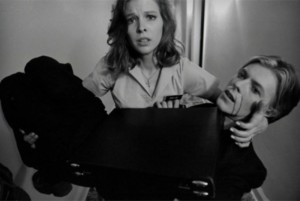 "He was so thin I thought I could pick him up no problem — I'd been to the gym," Clark told the audience. "But he was supposed to be dead weight, passed out, so he was a lot heavier than he looked."
Clark couldn't pick him up.
Roeg put a skateboard under Bowie's body to help Clark drag him more easily, and placed the actor on a gurney and used creative cropping to make it look as if Clark carried him. But the problems didn't end there.
"I finally got him into the bed and I tell you my shins were so torn up from that," she said. "I kept running into that bed frame over and over. We had to do that [scene] quite a few times."
In the film, Clark's character is human and ages naturally, while Bowie's alien doesn't age at all. Both were in their mid-20s at the time. Clark wore heavy makeup to appear middle-aged. Toward the end of the movie an elderly woman was used as a stunt double for a love scene with Bowie.
"They hired this older actress and I thought, wow, that David Bowie is pretty brave — he was making out with her and she was about 60 years old," said Clark, who is now older than that stunt double was at the time.
Clark aged much better than her hard-drinking movie character. She still turns heads and keeps her figure trim by working out and eating vegetables she grows in her backyard in Los Angeles. She recalls Fort Worth with fondness and returns to visit relatives when she can. The after-party at a Dallas mansion was swanky, and Clark garnered attention from the society crowd. Most people were drinking wine, but Clark opted for a Miller beer. That's our gal!