This breaking news just in: Ernis Tires got a new sign!
Why is this so important?
If you'll recall, my OCD-inspired visit to the tire shop in October ended up with me and an employee  disappearing down a rabbit hole of malapropistic confusion.
For years I'd wondered about the sign that was proudly displayed above the Jacksboro Highway tire shop.  "ERNIE'S" was spelled across the front, but the second "E" has been covered up with paint on both sides of the sign, leaving "ERNI 'S."
It made me wonder if the sign maker screwed up, or if another Ernie filed a legal injunction, or if they bought the sign second-hand, or who knows what? The answer wasn't really important compared to, say, world peace. But it nagged at me nonetheless. (World peace rarely nags at me for some reason.)
I stopped last fall under the guise of getting my oil changed, but what I really wanted to do was find out about the strangely spelled sign. What followed resembled a "Who's on First" routine between Lou Costello and Flavor Flav.
It would have been easier for me to discuss Yugoslavian economics with the offspring of Sofia Vergara and Norm Crosby.
Cantinflas with a mouth full of marbles could have explained himself more clearly. (Damn, I always take it one joke too far.)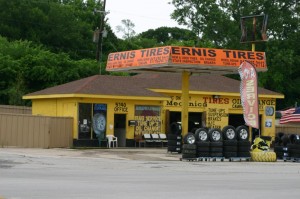 Imagine my surprise and pleasure when I passed by the tire shop today and saw a newly printed sign: Ernis Tires.
Blotch, solving the city's problems one at a time. You're welcome, Fort Worth.
P.S. For those who missed the original post and aren't willing or able to click on a link, here's a recap of the conversation between me and the guy behind the counter at Ernis, while a guy in a ponytail worked on my truck:
FORT WORTH WEEKLY: Are you Ernie?
GUY BEHIND COUNTER: No that's my brother.
FWW: I get gas across the street and I've always wondered why someone covered up the second E in your signs.
GBC: He's Ernis.
FWW: His name is Ernis?
GBC: Yes.
FWW: Did the sign maker misspell his name?
GBC: No, the sign was already there when he bought it.
FWW: So the guy who owned it before was named Ernie?
GBC: No, Ernis.
FWW: The guy who used to own it was named Ernis too?
GBC: No it was a gas station and now it's a tire shop.
FWW: Is there now or was there ever an Ernie who owned this place?
GBC: No it's Ernis.
FWW: So the place was called Ernie's at one time, and the previous owner changed the sign to "Erni 's," and then your brother who is named Ernis bought a place already named Ernis?
GBC: (Looks at me with frustration, having grown tired of this impromptu Who's On First routine. The sound of tires squealing outside gave him cause to go take a look and end our conversation).
About that time Mr. Ponytail walked inside the office.
FWW: Well, did she survive the surgery?
MR. PONYTAIL: (Looks at me with blank stare). What?
FWW: Did she survive the surgery?
PONYTAIL: Who?
FWW: My truck.
PONYTAIL: She needed oil.