A lot of the time, if there is a good garage- or psyche-rock show in town, Year of the Bear is on the bill. They've supported Austin's Ancient River and Oklahoma City's Stardeath and White Dwarfs multiple times. And now, after three years of production, YOTB's first album is about to hit the shelves in vinyl and digital forms only. That might seem like an inordinately long time to put out a record, but Gold Rushin' has been a labor of love. Or, in the words of Year of the Bear guitarist/vocalist/producer Jennifer Rux, a labor of "love, loss, and hope."
Year of the Bear and Dreamy Soundz –– the indie studio and label run by Rux and her husband, Year of the Bear drummer/vocalist Robby Rux –– has been a centerpiece not only in Fort Worth's burgeoning psyche-rock scene but in the city's overall music picture ("Dreamy Soundz," Feb. 13, 2013). Dreamy Soundz has brought forth a steady stream of North Texas bands that fit within the stoneriffic, effects-colored guitar rock associated with psychedelic pop: the druggy, chiming debut LP by The Fibs (featuring Jen and Robby), Slumberbuzz's debut loud shoegaze album, the ka-crazy debut long-player by the surf-punk outfit The Ape Hangars, a jazz compilation (!), and the most recent album by one of the most popular bands in North Texas, The Cush's Transcendental Heatwave. And every entry in Dreamy Soundz' annual-ish Group Therapy cassette series is a must-have document for every serious local music consumer/collector. They're tasty compilations of live recordings from the former Near Southside DIY space, The Where House. It seems as if a new Dreamy Soundz cassette or 7-inch comes out every other week. While that's an exaggeration, the Dreamy Soundz sound will be what a lot of people remember about Fort Worth music from the 20-teens.
But perhaps because recording and releasing material from all of these other bands has eaten up a lot of the Ruxes' time (in addition to having non-indie-label-operating obligations like day jobs), their main band's first full-length has been a few years in the making.
"I guess we started it at the end of 2012, and we finished recording it about a year ago," Jennifer said, sitting with her YOTB bandmates on the front porch of the Ruxes' Fairmount apartment, which doubles as their studio.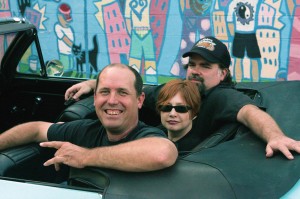 Listeners might recognize a few of Gold Rushin's tracks from live shows, certainly "Super 8," a fuzzy, distorted chunk of shiny Britpop hooks previously released as a 45-rpm single a couple years ago. But when you're an indie band on your own indie label, you don't really have to rush anything. A lot of the recording process was spent on sonic tinkering, recording and re-recording songs to get the exact right vibe, tone, and tempo. Even if the record took a while to finish, the assiduous sonic craftsmanship is well worth it. Hearing Jennifer's aural experimentation in action is one of the album's main draws.
"We used a lot of ADT," Jennifer said, referring to a recording technique and not some designer psychotropic substance. "It stands for 'artificial double-tracking.' It's what John Lennon did on Revolver. He didn't want to sing two vocal tracks, so they invented this double-tracking trick to fill out the vocals."
Essentially, ADT involves sending one track through a different tape machine to record it again on the original machine, resulting in a distinctive sonic delay based upon the differences in tape speed between the two. But this kind of gear manipulation is just one tool in a shed full of inventive analog experimentation. On "Room of Strangers," Robby sings the lead vocals through an intercom, "like one of those old ones you used to find in a principal's office," he said.
These and other low-fi analog workarounds are the hallmarks of a Dreamy Soundz release. The label's studio is in the couple's living room, the largest hunk of real estate. Maximizing the limitations of the space and pushing her recording gear beyond what its specs suggest are all essential to Jennifer's studio process and production style.
But even without the pleasant buzz your brain experiences from the subtleties of analog production, the songs themselves make up a breezy, blissfully hazy listening experience. The album's eight tracks flow and overlap like ripples in a pond, and while it has no single narrative idea or concept unifying the songs –– the Year of the Bear folks aren't trying to make another Targus, after all –– there's enough emotion in the guitar tones and melodies to dress the music with halos of both sadness and hope.
"I think the album is pretty cohesive," Jennifer said. "The lyrics are vague enough for other people to make their own interpretations, but they definitely mean something to us, and those feelings are there in the way the songs sound and how they fit with each other."
Jen, Robby, and bassist/vocalist Josh "Bear" Browning all declined to detail their respective tragedies, but dealing with loss and grief was part of what drew them together to form Year of the Bear.
"The older you get, you start losing more loved ones," Robby said. "With our music, I think we're trying to find some hope in how bad life can be."
"Life is pretty heavy, man." Josh agreed. "We're not necessarily focusing on loss, and some songs aren't really even inspired by that. But those emotions, I think they kind of fit in with our sound without really trying."
"It's not like we're searching for meaning … ," Robby said before trailing off, leaving his thoughts to the gentle wind chimes.
Browning graciously stepped in: "We're just trying to find peace with it all."
The band's writing process might start out with Browning jamming on a bass riff or with Robby arranging around a melody idea, but it's largely collaborative. "I can play guitar just good enough to show Jen and Josh what I hear in my head," Robby said, "and then they make it sound how it should."
Browning and Robby met in middle school at Pantego Christian, where they bonded over New Wave acts like The Cure and Echo & The Bunnymen. In the early '90s, while the two were in high school, their musical proclivities joined forces in a shoegaze outfit called Carousel, and you can hear those early influences in Robby's and Browning's voices, baritones that echo those of Modern English's Robbie Grey or New Order's Bernard Sumner.
While Year of the Bear's debut has been a long time coming, the musicians plan on continuing to write new material while playing the old stuff as often as possible.
"We tour as much as our jobs allow it," said Robby, a bricklayer. Browning runs Four Star Coffee Bar downtown along with his brothers, and Jennifer's production schedule doesn't afford her a lot of free time or her bandmates with a lot of time for road trips.
Copies of Gold Rushin' will come courtesy of Follyphone, the Norwegian indie label that will distribute the album (along with Transcendental Heatwave) in Europe. For a collection of songs informed by sadness, this is entirely happy news.
"We called it Gold Rushin' because we wanted to capture the spirit of searching for the things that make life OK in spite of all the sorrowful stuff," Robby said.
While that pursuit is the album's narrative thrust, it's the creation of music itself that ultimately provides the silver lining.
"Music's the reason I get out of bed in the morning," Jen said. "It's what really makes me love life."
Year of the Bear album release
[box_info]Sat w/Bummer Vacation and Blank-Men at the Boiled Owl Tavern, 909 W Magnolia Av, FW. 817-920-9616.[/box_info]