Other than perhaps the cow skull affixed to the balcony rail, there are few signs that the old, red-brick fourplex in Fairmount houses anyone but renters. Despite the neighborhood's increasing population of the so-called "creative class," apartment buildings such as this one tend to be occupied by working-class singles or small families.
True, the couple who occupy the northwest corner of the first floor are working class, but they own the house. What's more, their apartment is also home to an eye- and ear-popping collection of records, amplifiers and vintage recording equipment.
"That cow skull actually belongs to our upstairs neighbor," said Robby Rux, who lives with his wife Jennifer on the first floor. "She's a really hip lady — and she doesn't seem to mind hearing loud music."
Robby and Jennifer hold the mortgage on the building. Originally from Cleburne, he's been playing drums in local bands since the early '90s. He's also one half of Dreamy Soundz, the Fort Worth-based indie label responsible for putting some of the city's most current music out almost exclusively on wax.
"Well, we do cassettes too," said Robby, grinning. And indeed, Dreamy Soundz is about to release a 16-track compilation of local punk and garage acts on cassette, a format probably only vaguely familiar to those falling around the average age of the comp's presumed audience: punk and garage rock fans in their 20s.
When was the last time you actually popped a cassette into a Walkman and pushed play? And if you're a DIY label, where production costs come out of your savings rather than out of the deep and numerous pockets of shareholders, why would you drop your hard-earned coin on a medium that has long odds of even making your investment back, let alone future profits?
"We're not really in it for the money, obviously," Robby said with a laugh. "I guess we just love music."
As is true for most of the musicians he and Jennifer hobnob with, rock 'n' roll is not the couple's main source of income. Robby is a self-employed bricklayer, and Jennifer taught engineering to eighth-graders in Arlington until enough recording projects came through the door that she was able to leave that job.
"I got so busy recording bands that I decided to focus on that full time," said Jennifer. Between the bricks, bands, and the rent paid by other tenants of their fourplex, the Ruxes have been able to squirrel away enough pocket money to make records with a lot of Fort Worth's underground bands, either by recording them in their home studio or by financing the production of records full of existing material. Over the past few years, they've managed to create a scene-within-a-scene, built on a sound defined by hungry young bands, the trial and error of vintage recording gear, and audio formats that haven't been popular since the first Clinton administration.
********
Robby's foray into Fort Worth music began around 1991, when the Toadies, arguably the most famous rock band to come out of the 817, were still a few years away from breaking nationally but were  already packing local clubs like the Bomb Factory and Mad Hatter's (a vegetarian café that doubled as a music venue). Run by the late, great live music impresario Kelly Parker, Mad Hatter's was the first place Robby's band, a shoegaze outfit called Pinwheel, got to play in Fort Worth.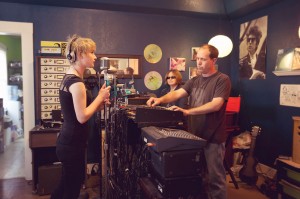 "I owe a lot to Kelly," Rux said. "He was one of the few club owners who'd give new bands a place to play, and that really had an impact on me. I've kinda kept that spirit in mind ever since."
Around 1995 Pinwheel needed a guitar player, and the slot was soon filled by Robby's future wife, recently home from college and largely unfamiliar with the effects pedals and amps normally associated with the washy drone and spacey chords of that kind of band. "I'd played guitar for years, but I'd never really even touched an electric," said Jennifer.
"She was a folkie," laughed Robby.
Before long, the two were married, but the nuptials put their future musical endeavors on indefinite hiatus. "We put [music] away for about seven years," Jennifer said.
"You get married, you get jobs, and pretty soon you don't have time or whatever to keep working on music," Robby said. "Everybody was like, 'You gotta grow up, dude.' "
Luckily, the couple's allegedly juvenile rock 'n' roll fantasies survived the kibosh of adulthood, when they moved to Fort Worth in the mid-oughts, forming and later recording a new band of their own devising, a reverb-drenched psychedelic garage rock band called Solo Sol.
"In '08, we started recording Solo Sol, initially doing it digitally. I didn't like the way the drums sounded, though," Robby said. "We talked to this guy who told us about the TASCAM 238, and that kind of got us into this analog thing."
The TASCAM 238, a multi-track cassette recorder that debuted in 1989, allowed Solo Sol to get the warm, vintage-sounding distortion the Ruxes craved. It also started Jennifer on a crash course in analog recording techniques, as well as a never-ending quest to acquire old, non-digital equipment.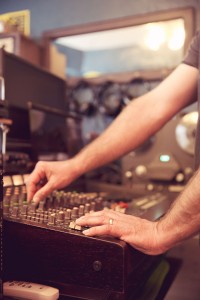 "I'd always messed around recording stuff, usually with four-channel recorders, mixing down the tracks with jam boxes — that type of thing," said Jennifer. "When we started buying more and more gear, it was just kind of trial and error. I did a lot of reading," she said with a chuckle, flipping an errant strand of hair from behind her always-on dark sunglasses.
The Ruxes' home studio is crammed with enough vinyl, guitars, drums, amps, compressors, and tape recorders that it could probably double as a museum. Robby, pointing to a reel-to-reel tape machine near the kitchen door, said he picked it up specifically because it's the same model as one used by Muscle Shoals Sound, the Alabama studio known for producing huge hits by Aretha Franklin, Millie Jackson, the Staple Singers, and Lynyrd Skynyrd, who famously name-checked the studio in their redneck anthem "Sweet Home Alabama."
"Muscle Shoals had one of these; that's what made me really fall in love with it. I'm a big soul fan, and Wilson Pickett recorded on one — hell, the Stones stopped into Muscle Shoals and recorded 'Brown Sugar' and 'Wild Horses' on it. Steppenwolf used it on 'Born to Be Wild' too," he said, laughing. "I've always thought that was a cheesy song, but my nephew brought something to my attention: that if you take out the vocal track, that's probably one of the coolest garage rock songs ever."
Robby's nephew is Skyler Salinas, the explosive drummer of Fungi Girls, arguably one of the best acts, garage rock or otherwise, to come out of Tarrant County in the past few years and maybe ever. The trio of teenage Cleburne wunderkinds caught a little bit of love in 2011 from the vaunted music taste-making site Pitchfork.com, which gave their sophomore album Some Easy Magic a 7.3 (on a scale of 10), calling it "one of the most enjoyable garage albums of the year, a pure pop record for the Terminal Boredom set." And while Some Easy Magic came out on a different label (Chicago indie Hozac Records), it was captured on tape by Jennifer Rux on the old-school gear she and Robby had collected.
The old-school gear is one of the main draws for bands. Due to the scarcity of magnetic tape these days, making an album the old way is usually prohibitively expensive, especially if a band uses a high-end recording room.
But given that Dreamy Soundz' studio is in a house and uses old equipment that was made for DIY recording anyway, getting that vintage warmth is affordable. Sure, a Dreamy Soundz recording isn't going to sound like something made at Abbey Road or The Record Plant, but it will definitely sound old. Dreamy Soundz' sonic hallmark as a studio is entirely dependent on the couple's devotion to vintage tech, as well making the most out of the acoustics of their home.
"We do all tape," Robby said, going off into an explanation of the difference in sound quality between one- and two-inch tape.
Taking up half the space in the living room is a mixing desk Robby is especially proud of. Most of their recordings are on quarter-inch tape, a curious format to work in given how long it's been since cassette tapes were in favor. The Ruxes' main mixing console is a now-antiquated TASCAM 388. Again, the choice had as much to do with sentiment as practicality: The couple bought it largely because it's the same model used by San Francisco-based garage band Thee Oh Sees, a band that's been known since its start in the late '90s for their low-fi mélange of Kinks-ish rock and stoner psychedelia.
Thee Oh Sees' influence on the Ruxes' sound is so pronounced it's like a heart on the Dreamy Soundz sleeve. The roomy echo that permeates the Fungi Girls album echoed first in the San Francisco group's work.
The low-fi gear and throwback sonics have become surprisingly contemporary. Much of today's indie rock is DIY, but it's 21st-century DIY, the kind made on a laptop in a bedroom, using digital recording software like ProTools or Nuendo.
Not so for bands like Thee Oh Sees. That they make albums on outdated reel-to-reel consoles that can be found on eBay for under $300 is remarkable. Robby ticked off a bunch of other nationally known San Fran garage rockers with affinities for the 388. "Sick Alps, Ty Seagal, The Fresh and Onlys — all those Bay Area cats use 'em. The same guy records all of those bands, and he does it with one of these things," he said, pointing to the TASCAM 388. "They're really great for live recordings, because you've got eight tracks to work with, and if you have a sub mixer, you can actually use 16 mics."
Of course, unless you're an audio engineer or a musician (and even if you're one of the latter), the tech behind the rock is a flurry of model numbers and specs almost guaranteed to put a glaze over the eyes.
Fortunately, humans don't listen with their eyeballs. What Dreamy Soundz equipment does to your ears is to create a listening experience that's a throwback to the days before the MP3, when DIY involved lots of switches on clunky equipment, not just a Macbook and a mouse. The sonic product is warm, soaked in reverb, and a little fuzzed out, a deliberately dated sound produced authentically rather than with the "it's almost exactly like the real thing" ethos of some downloaded Pro Tools computer plug-in.
For decades low-fi DIY recording equipment and techniques engendered a certain sound, the kind of simple, catchy rock 'n' roll that gave birth to Vietnam-era garage bands (most notably, in these parts, the Fort Worth Teen Scene bands of the late '60s) and early '70s proto-punk. Here in the Ruxes' apartment, that sound is like a portal to the past.
"We track just about everything live," Jennifer said, "Drums are in the living room, I put the bass rig in the bedroom, and the guitar amp in the bathroom — usually in the tub if it fits."
********