Oh, Balls
Some significant news dropped about Andrew Disney. The filmmaker relocated to Austin a few years back, but he remains a Fort Worth native and a former Visionary Award winner. His latest comedy, Balls Out, just got picked up by Orion Pictures and will receive a theatrical release on June 19. No word yet whether any of those theaters will be in this area. The movie about a guy reuniting his college intramural football team was originally titled Intramural, but the studio gave it a new title and this poster: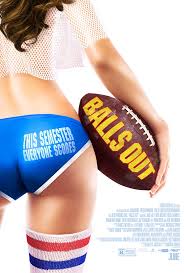 Well, when it comes to movie marketing, sometimes subtlety isn't your friend. Just ask the people who designed the Magic Mike XXL poster. The lead actor of Balls Out is Jake Lacy from Obvious Child, while other cast members include Saturday Night Live players Kate McKinnon, Jay Pharoah, and Beck Bennett; and the two members of BriTANick (Brian McElhaney and Nick Kocher). There's also an actress named Kristen Bell in the film, but she appears to be different from the Kristen Bell who voiced the lead in Frozen. Let's see what all this talent comes to.
In Other Movie News…
Dallas-based Studio Movie Grill is expanding both within Texas and without. Having just opened a new location in Tyler this past month, the chain has announced new locations in Houston, North Dallas, Simi Valley (CA), and the Philadelphia suburb of Upper Darby. That latter location is the furthest SMG has encroached into the Northeast, and it's where founder Brian Schultz lived for a number of years while he was working with then-U.S. Senator Arlen Specter. These new locations will be open by this summer.
Legends Meet
The National Multicultural Western Heritage Museum recently announced its honorees for the Living Legend Award Ceremony on the 18th. They include Fort Worth City Councilwoman Gyna Bivens, HOPE Farm co-founder Gary Randle, educator Jennifer Giddings Brooks, National Democratic Executive Committee member Martha Singleton Toombs, Dr. Errol Bryce, M.D., and BNSF Railway public affairs director Joseph A. Faust. The ceremony will be held at the Austin Event Center.
And Finally…
The NBA finals kick off tonight. We can look forward to some great basketball, and some more press conference antics from Riley Curry.