The old saying about the Washington Senators, as coined by baseball writer Charles Dryden, always went: "First in war, first in peace, last in the American League." The Sens did tend to find themselves at the caboose end of their annual whistle stop tour of the A.L. They finished in the second division 41 times between 1901 and their move to Minnesota after the 1960 season. And the powerful people of D.C. could do nothing about it.
Baseball: America's Presidents, America's Pastime, the current special exhibit on display through October 4 at Dallas' George W. Bush Presidential Library and Museum, covers the sport of baseball and how U.S. presidents interacted with it. So that could beg the question:  What if the most powerful man in the world could do something about what happened on the field? Not by signing a minimum-run bill or conducting NSA-style surveillance on the Astros' front office (that's apparently already been done, anyway), but by actually contributing on the diamond.
If you had to pick any president to start a baseball team, whom would you choose?
Most presidents since the beginning of the 20th century have thrown at least one pitch a year. William Howard Taft began the practice of tossing ceremonial first pitches. On April 14, 1910, Taft addressed a women's suffrage convention, then went to American League Park, where the Senators played their home games at the time. He threw out the ceremonial first pitch of the season to Walter Johnson. The Hall-of-Famer Johnson then threw a one-hitter in a 3-0 Sens Opening Day win against the Philadelphia Athletics.
The tradition continued, and, in fact, Barack Obama threw out a first pitch on the 100th anniversary of Taft's inaugural presidential delivery.
One pitch, however, does not a Sabermetric analysis make.  Luckily, the exhibit had some information on which presidents actually played baseball, plus their heights, weights, and records of offices held.
With baseball known as the National Pastime, it follows that a lot of the National Heads of State have played the game. After reviewing the information, I speculated on how a GM might assemble an all-Presidential team. As you listen to their games broadcast by former Cubs play-by-play announcer Ronald Reagan, keep in mind that I've assigned them positions based on available knowledge of where they actually played or where their abilities would seem to place them.  It's all subject to change, of course, because when you're the Commander in Chief, you can really play whatever position you want to.
1B : George H. W. Bush
This is probably the guy with whom you start the team. He played D-1 baseball and captained his Yale squad to the first two College World Series tournaments in 1947 and 1948.  A 1990 Topps baseball card of Bush 41 indicates he hit .251 (with a wood bat) in 175 at-bats those two years, some of which came against future Major Leaguers. He socked two home runs and eight doubles.
According to William Mead and Paul Dickson in their book Baseball: The Presidents' Game, Bush 41 was probably the best natural ballplayer of all the presidents. John Sayle Watterson, in his book The Games Presidents Play: Sports and the Presidency, ranks George H.W. Bush as the top overall presidential athlete.
2B: Woodrow Wilson
He played college ball as a freshman at Davidson, so he must have had some ability, although Watterson ranks him as one of the least athletic presidents. Wilson loved baseball, attending many games after he left office. Perhaps he would have been a David Eckstein sort of player, who doesn't look like a good ballplayer but finds a way to get it done. On the other hand, Baseball Almanac cites this contemporary observation about the 28th president: "'Wilson would be a good player if he weren't so damned lazy.' – Comment by the Team Captain of Wilson's Davidson College."
SS: Herbert Hoover
Hoover loved baseball and played shortstop at Stanford as a freshman. Ted Williams (known for being the Rangers' first manager, among other things) considered him America's greatest president.
3B: Warren Harding
He played first base as a boy, but we're moving him across the diamond because the team's top player occupies that position. Baseball Almanac reports that Harding played in a charity game in 1920 and injured his finger.
C: William Howard Taft
According to Mead and Dickson, there are accounts that Taft was a young catcher who would have had a contract with the Cincinnati Red Stockings had he not injured his arm. Taft loved the game, though he missed throwing out the first pitch in 1912 due to an understandable preoccupation with the recent Titanic shipwreck. At more than 300 pounds, the 27th president probably isn't your leadoff hitter, but might be your Prince Fielder in the middle of the order.
LF: John Kennedy
One of the best presidential athletes, Kennedy grew up a Red Sox fan. He concentrated more on other sports, like swimming, but I think he'd be projectable as at least a good defensive outfielder.
CF: Dwight Eisenhower
The general loved baseball, but didn't make the West Point team.  He wanted to be a ballplayer like Honus Wagner growing up, which is relevant here because the museum just added to its exhibit the most valuable and famous baseball card around, a T-206 Honus Wagner.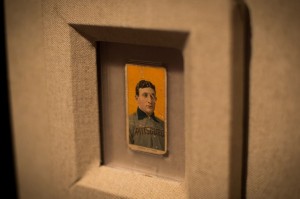 RF: Gerald Ford
Ford was an excellent athlete, having played football at Michigan. He played baseball growing up as well, and Baseball Almanac reports him as having said "I had a life-long ambition to be a professional baseball player, but nobody would sign me." He played on the Congressional baseball team before occupying the Oval Office.
LOOGYs (left-handed-one-out-guy): Barack Obama and Bill Clinton
This isn't a joke based on their politics. They both throw left-handed and a team needs situational southpaws. Clinton listened to Cardinals games growing up and later rooted for his wife's favored Cubs. Obama likes the White Sox. Based on the video I've seen, Clinton looks to be the most game-ready. Obama, a fine basketball player, may have to take the Michael Jordan path and spend some time in the White Sox minor league system as he converts to a different sport.
Pat Venditte's Position : Harry Truman
Truman could throw with either arm. He didn't play that much as a kid, but loved the game and attended more games while in office than any other president. His wife Bess was apparently considered the best third baseman in Independence, Missouri as a young person, a fact one learns in the First Ladies section of the exhibit.
By the way, are there a kids in third-world countries wearing "Congratulations, President Dewey" shirts?
Closer: Abraham Lincoln
Lincoln apparently played ballgames on the White House lawn with local kids and had a baseball field built behind the White House. We don't know his true position, but with his height, I am thinking he could throw some heat on a serious downward plane. If he can learn a breaking pitch, he could be a dominating closer.
RHP: Jimmy Carter
Carter pitched growing up and continued playing softball during his presidency. His mom loved the Dodgers and the exhibit shows a letter Carter wrote to Los Angeles owner Peter O'Malley thanking him for treating his mom well. Carter attended Game 7 of 1979 World Series but never threw out a first pitch as president. That's kind of Arlington's fault. Texas persuaded the Senators (an expansion franchise that replaced the one that moved to Minnesota) to vacate the nation's capital in 1972. Presidents had no Washington team to patronize until the Nationals arrived during the Bush 43 administration.
RHP: George W. Bush
The younger Bush played on the Yale freshman team but didn't progress to the varsity. Still, even playing at that level puts him ahead of most of us. Where the 43rd president would prove especially valuable to your team-building would be in actually building it. He spent time as Managing General Partner of the Texas Rangers.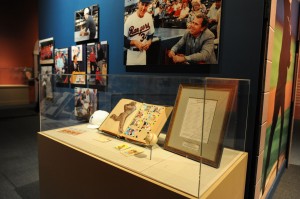 "One of the pleasant surprises for all of us, not knowing him when he put the group together to buy the team, turned out to be how much of a student of the game that he really was," said Tom Grieve, who served as Rangers General Manager under Bush. "It was obvious when you talked to him that he knew the history of the game. He could quote lineups from 30-40 years ago. He loved baseball."
Bush no doubt absorbed a lot of knowledge about building a ballclub through his interactions with the Rangers baseball operations staff
"He was in a lot of meetings. He asked a lot of questions," explained Grieve. He never imposed his will or his thoughts on anybody else, but he was very aware of everything that went on in the baseball operation. He wanted to know about it."
For his Assistant to the General Manager positions, Bush might choose Bill Clinton, who got involved in resolving the 1994 baseball strike or Richard Nixon, a huge baseball aficionado who turned down offers to head the MLB Players Association and to become MLB Commissioner. Also, Warren Harding owned part of the Marion, Ohio town team, which developed future Major Leaguers Wilbur Cooper and Jake Daubert.
Bush 43 had one of the most poignant presidential baseball moments when he threw out the first pitch at Yankee Stadium in October, 2001, shortly after the September 11 attacks. It was Game 3 of the Yankees/Diamondbacks World Series. Yankees (and former Rangers) catcher Todd Greene caught the pitch.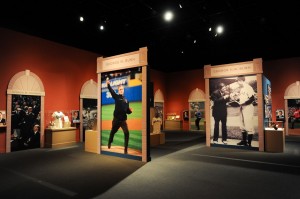 The exhibit talks about all the ways presidents impacted the game beyond just playing it. Perhaps the most historically significant artifact comes courtesy of Franklin D. Roosevelt. In 1942, he wrote the famous "green light letter" to Kennesaw Mountain Landis urging baseball's commissioner to keep the game going during the war.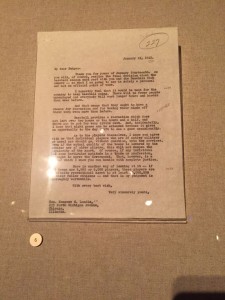 Most of the information for this article came, quite naturally, from the backs of baseball cards. In this case, we mean oversized cards in the exhibit you can pull off the wall and flip over to discover facts about baseball and presidents.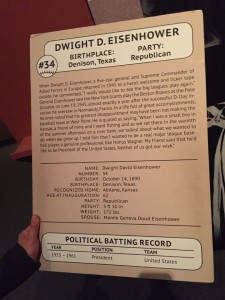 Many of the artifacts in the exhibit came from presidential libraries and the National Baseball Hall of Fame in Cooperstown, New York. You'll learn a lot, with details ranging from how George Washington played catch at Valley Forge, to why the athletically inclined Teddy Roosevelt disliked the sport, to a display of the jersey movie actor Ronald Reagan wore when portraying a ballplayer named after a president. There's a video about baseball and presidents, narrated by the Bush Center's Scott Robertson. Its highlight might be footage of Bush 43 at 2001 World Series where you see how the Secret Service did its thing, including an agent dressing up as umpire. And, of course, there's a souvenir stand. You can pick up exhibit-branded jerseys, pins, and postcards, plus the inevitable baseball autograph (George W. Bush's, on a $100 copy of his book about his father).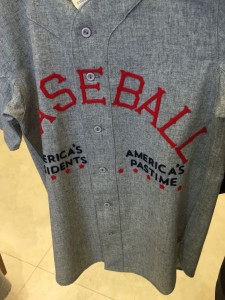 With a big baseball event on national television tonight, we're reminded of an election none of these professional politicians would have likely won, even if they had continued to pursue power hitting instead of executive power: selection to the MLB All-Star Game.
Which begs the question of whether the public should actually elect All-Star starters or leave it up to a system of electors equal to the number of total congresspersons. We'll address that in a future blog post.
Disclosure : The Bush Center sometimes pays me to help produce their webcasts. Also, I once had a dog called "Hoover." He was named after a president, but not of the United States. I named him for the president of Delta House.