On a sunny October day in 2011, Paul Balson watched out the window of his Arlington home as a car with three men in it circled the block. On the third pass they pulled up to the curb in front, got out, and purposefully started up the walk. Balson, the Arlington Police Department's detective of the year, stood back from the window, where he could watch them approach without being seen. His wife, a school teacher, was at work, leaving Balson with his two German shepherds. He had left the front door open for the dogs to enjoy the sunlight streaming in, and after noticing the dogs the men hesitated and looked around nervously.
Balson stepped into view, wearing his sidearm. Sizing up their odds, the three men muttered in Spanish, retreated to their car, and sped away. Balson wrote down their license plate number but wasn't quite sure what to make of the encounter.
"I thought maybe they were just rolling around the neighborhood," he said.
Balson's fellow officers in the Arlington Police Gang Unit describe him as a gifted investigator with a talent for assembling details from disparate sources into a full image. He traced the license plate to an Arlington motel where the men were staying. Once he started digging, he was able to identify the three men as out-of-town gang members with ties to criminal activity in San Antonio.
He now knew who they were but not what they were doing in front of his home. For a while, the trail ran cold, but then information from informants and other agencies started filtering in.
On Dec. 2, a bulletin from Homeland Security explained why the men showed up on his doorstep: "Recent source reporting indicates that a possible 'hit' has been placed on a member of the Arlington Police Gang Unit by Baldemar Solis. Solis is under investigation for narcotics distribution in the Arlington/Fort Worth area and has ties to the Aryan Brotherhood of Texas."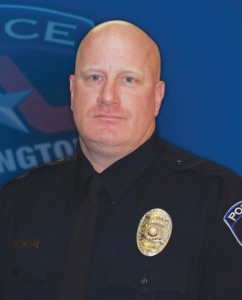 An informant contacted Balson the same day, saying she had just seen his name on a hit list.
Apparently, Balson was doing his job a little too well.
Late that night, Balson was ordered by the head of the gang unit, Sgt. Don Pilcher, to wake up his family and move out of town for a few days. Arlington police's SWAT team set up surveillance in the driveway of one of Balson's neighbors to watch Balson's house. After a few days, they allowed Balson and his family to return home –– but when his wife would go on errands, SWAT went with her. They sat at the same table when she ate at a restaurant. Balson's parents lived in Grand Prarie, and his wife taught at a Grand Prarie school. Grand Prarie police assigned officers to protect his family in that city.
Everyone seemed to be taking the possible hit seriously except Arlington police administrators. Just a few weeks later, while Grand Prairie police and federal authorities worked overtime on the threat, officers allege the administration in Arlington ordered the case closed. Notes on the case disappeared. Arlington police pulled protection detail from the Balsons just one week after the threat was discovered. The inexplicable display of bureaucratic abandonment left Balson's family fearing for their lives and set in motion a string of events that would lead to his departure from the force –– and the disbanding of the gang unit that he and his fellow officers had worked hard and risked their lives to build.
"All this happened to an officer and to a unit that was just out there trying to put bad guys in jail," said a former gang unit officer who asked to remain anonymous. "When it came on one of our own, we took it very seriously, and we were the only ones that took it serious. The fact that they're willing to just turn a blind eye to a threat on one of their own, and a citizen and his family, in that city. It just churns my stomach."
******
Arlington bills itself as the entertainment capital of North Texas. Arlington's tourism industry employs more than 10,000 people, according to a 2010 study by IHS Global Insight, an international economics organization. In 2009, the Dallas Cowboys moved into a newly built 85,000-seat palace, now known as AT&T Stadium, with a construction cost of more than $1 billion. The fourth largest stadium in the NFL hosted Super Bowl XLV in 2011. Just across the parking lot is Globe Life Park, home of the Texas Rangers, and just down I-30 is Six Flags Over Texas (the largest amusement park in the state) and Hurricane Harbor, a sprawling water park. Tourism accounts for nearly $600 million a year in Arlington, according to IHS Global Insight, generating more than $120 million in tax revenue a year. Six Flags and The Parks at Arlington shopping mall together employ more people than the General Motors plant in Arlington. While Arlington may want its face to be nothing but pro sports, fine dining, and shopping, the city has the same drug and gang problems as its neighbors, and the officers who risked their jobs to tell me this story felt that politics and public image have always been put ahead of public and officer safety.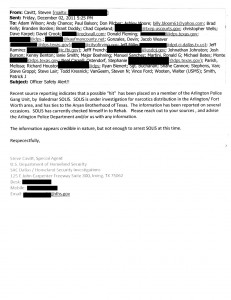 In 2008, Arlington Police Chief Theron Bowman told the Arlington City Council that up to 70 percent of the crime in the city was gang-related. There were 63 gang-related drive-by shootings that year. Gang activity was on the rise, and so was the response from the gang unit, whose officers were given a zero-tolerance mandate: arrest any gang member they observed committing any crime.
The unit's eight cops spent long hours compiling intelligence on gang activities and members in collaboration with the Tarrant County District Attorney's Office, Immigration and Customs Enforcement, the Drug Enforcement Administration, and other federal and local law enforcement agencies. The unit members interviewed prisoners and broke new ground in using social media to track gang activity. They also taught other organizations, especially school districts, to recognize and prevent gang violence.
Most importantly, the gang unit made arrests. Lots of them. More than 250 in 2011 alone. The unit also identified more than 40 gangs and more than 1,000 gang members.
However, Balson said that information acquired from these collaborations came with restrictions on what gang unit cops could share and with whom.
The gang unit's success, combined with those restrictions, fostered resentment and mistrust in this competitive environment. For instance, the officers who spoke with me said that when they would share information on narcotics dealers with the narcotics unit, Narcotics would sometimes fail to act.
When Arlington residents complained about drug activity in houses in their neighborhoods, gang unit officers stormed those locations and seized large amounts of illegal drugs. Gang unit officers teamed up with federal and state agencies and shut down the drug dealers, but the officers who spoke with me said Arlington's narcotics unit usually declined to participate with the gang unit. In 2011, the gang unit seized 275 kilos of drugs –– and more than the narcotics unit nearly every month of that year.
Arlington's narcotics unit, Balson said, "wants to get little nickel-and-dime buys to show that they're doing things, but they don't want any big investigations because that hurts tourism. They don't want any publicity saying they're seizing a lot of dope because Arlington is a big tourist trap now."
Arlington's narcotics unit declined to comment.
A volunteer with Citizens on Patrol, a police-directed neighborhood watch program, patrolled the neighborhood on weekends between 10 p.m. and 4 a.m., looking for suspicious activity. The volunteer, who asked to remain anonymous, often found the kind of activity he was looking for at the home of Solis, the man whom police suspected of ordering a hit on Balson. Beginning several years ago, cars came and went at all hours, the volunteer said, and trucks showed up and carted away boxes of car parts and batteries. Merchandise was being delivered to the home at all hours and then hauled away again in U-Haul trucks. At one point, a quantity of methamphetamine was delivered to one of the volunteer's neighbors by mistake. The narcotics unit, the volunteer said, came and picked up the drugs but never followed up. He turned to Balson and the gang unit.
"There was a drug house in my neighborhood," the volunteer said. "I tried to get Narcotics involved. For some reason, they couldn't work it. I would go by in my own car and get the license numbers, and I would turn them over to [Balson] to run the plates. I gave him the name Awesome Balson. He was an asset to the city of Arlington."
Balson linked the plates to drug trafficking. Officers spotted the same vehicles at local drug dens throughout the Arlington. When officers stopped the trucks, they found firearms and drugs stashed in car-part boxes and hollowed-out car batteries. Through informants, Balson linked the drug business to the Aryan Brotherhood of Texas.
 ******