On Dec. 2, 2011, with morale at an all-time low in the gang unit, Lt. Mike Hollier called a meeting with the officers. He told them to speak their minds, but the officers who spoke with me said that after officers Gus Klinkenberg and Brett Worman voiced their rage, Hollier, red-faced with anger, slammed his notebook shut and stormed out of the room. Later that night, word started coming in from confidential informants about a possible hit on Balson and that, according to them, Solis had reached out to both the Aryan Brotherhood of Texas and two local hitmen known only as Smiley and Quarterback.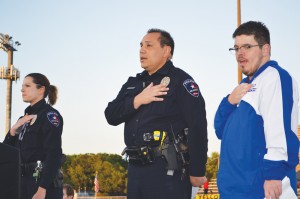 In December 2010, an informant reported seeing a ledger with Balson's name and "SOS" next to it –– and a dollar amount of $45,000. SOS, the officers who spoke with me said, is slang for Smash On Sight, a term employed by the Aryan Brotherhood to order someone killed or injured. Another informant, fearing he might become embroiled in the plot, approached two police officers on the street and gave them a diagram of Solis' organization, including the price on Balson's head. Because police administrators no longer trusted the gang unit's judgment, Deputy Chief Jennifer White turned over the investigation to Detective Travis Gilliam.
"I was a robbery detective and also did gang investigation," Gilliam said. "I guess because I wasn't … a gang enforcement officer but close enough to them –– I knew them and was a traditional investigator –– [the administration] let me do it."
Balson met with Assistant Chief Will Johnson, who, Balson said, told him he would be monitoring the case and making the decisions. Johnson would be made Acting Chief of Police for Arlington in April 2012 and had already begun taking on that role. Johnson assured Balson that he and the rest of the gang unit would not be pulled from the investigation, but then he re-assigned Balson to the auto theft division for his own safety on Dec. 19, 2011 –– just two days later. Members of the gang unit were excluded from interviews with suspects and not allowed to aid in the investigation, according to the officers who spoke with me.
"I was told by Deputy Chief White and Lt. Hollier that it was for my own protection," Balson said. "However, this seemed odd to me given that at the same time APD Deputy Chief [Jaime Ayala] was going to patrol briefings and telling officers and staff that there is no threat to any officer and this story has been fabricated."
Gilliam interviewed informants and started building a case. He got a search warrant for the house where the informant had spotted the ledger, a green spiral notebook with names and dollar amounts. He was shocked at what he found.
"The fact we found a hit list ledger with [Balson's] name on it with a [$45,000] amount –– I'll never forget that a day in my life," Gilliam said. "And that was corroborated with statements we got from our confidential informants. That it was an active murder hit on [Balson]. It was in a green spiral notebook. I'll never forget it."
This was a difficult case to prove. Everything the gang unit had so far was intelligence given to them by shady underworld types –– junkies, gang members, and white supremacists. Members of the force's executive staff were pressuring Gilliam to close the case, saying that there was no real threat.
"But when we got that ledger, 'Oh, my gosh. We got something,' " Gilliam said. " 'They're going to believe us now. They have to believe us.' They didn't. And it went nowhere. And I never saw the ledger again. I saw it for a day, and then I never got to see the ledger again. Yeah, that was crazy."
In fact, Gilliam said, administrators took away his entire case file, and he was never able to get all of it back.
"That has never happened," he said. "I was in the unit a little over two and a half years, and I did probably 300 to 350 cases. In my entire investigative experience, I've never had my case file removed from me. I've never had it happen, period, but I never thought I would have it happen in the middle of an investigation. I did get it back, but it was not the same. It had been altered. Documents that I had in there I couldn't find."
As the case progressed, Gilliam started to encounter resistance. Although he asked for assistance, the gang unit was not allowed to aid in the investigation despite knowing the people involved and the right questions to ask. The command staff wanted the case closed, Gilliam said, despite a growing mountain of evidence.
"You have to look at the timeline too," said an officer who asked to remain anonymous, "right around the time that was happening, Chief Bowman kicked off his 50/3 plan, which was the reduction in crime in the city of Arlington by 50 percent over three years. How bad does it look when the city's saying, 'We're going to reduce crime by 17 percent a year over the next three years,' and we can't even protect one of our own officers?"
Informants reported that in response to Solis' request, the Aryan Brotherhood had tasked some provisional members, called peckerwoods, to kill Balson. They were supposed to pose as federal law enforcement, and they managed to steal the jacket and badge from a random federal officer before they were arrested in an unrelated case with the stolen badge in their possession.
An FBI agent, the same one who dragged his feet while working with Balson, seemed to be sandbagging Gilliam's investigation. Gilliam always had a hard time reaching the agent, and when he did meet with him, the agent was dismissive and uninterested, so much so that Gilliam warned other officers that he did not think the agent was competent enough to be a part of the investigation.
A federal trafficking warrant was issued for Solis and his associates. But the FBI agent insisted that Solis' lieutenant be arrested first and Solis the next morning. Word spread quickly of the first arrest, and Solis had gone into hiding before they came for him. Many of the informants were reluctant to talk. Word was out that the Aryan Brotherhood had people on the inside.
"A lot of [informants] kept telling us, 'We can't trust the police,' " Gilliam said, "and, 'I don't want to help out because I'll be the one dead. They've already killed this person, that person. They have people on the inside.' People say that all the time, and we're like, 'Whatever.' "
In the spring of 2014, the FBI terminated the agent who was previously assigned to the Solis case after officials monitored jail phones in Houston and discovered he was connected to the Aryan Brotherhood of Texas.
"I was notified that [the agent] was fired from the FBI for inappropriate relationships with Aryan Brotherhood of Texas personnel," Balson said. "I was never given the full details, but I was interviewed at our office in Fort Worth by [FBI agent] Alan Beck about my relationship with [the fired agent who] was doing things with [the Aryan Brotherhood]. He was warning them about warrants, and he was sleeping with the females. [The Aryan Brotherhood] had him. They had him under their thumb, so our chiefs were only listening to him. I was wondering what he was actually telling our chiefs."
However, the agent's behavior was not limited to the case in Arlington.
"I also provided Agent Beck with information about [the agent] not providing information to Mesquite Police Department or DPS when he discovered that a former Mesquite PD employee with full access to criminal records was an active associate of [The Aryan Brotherhood] while working in Mesquite PD records section," Balson said.
Gilliam said the informants knew more about the mole than the police did.
In December 2010, more out-of-town gang members were found circling Balson's home, and one of Balson's neighbors noticed a blue Chevy Avalanche parked out front. When the neighbor approached the truck, it sped away as he wrote down the plate number. The number was from San Antonio and was linked to a known Aryan Brotherhood associate in Arlington. Police Sgt. Brian Johnson, Gilliam's supervisor, traveled with an ICE special agent to San Antonio to investigate, but nothing further was done.
"I was told later by an APD deputy chief that he informed APD [Assistant] Chief Will Johnson that this connection had been uncovered and further investigation was required," Balson said. "Chief Johnson told the deputy chief to stop the investigation, and it did not matter what was corroborated. He wanted the investigation to go away."
Balson and the other officers who spoke with me believe the chief simply did not want any bad publicity.
Chief Johnson declined to comment.
"The old adage, 'Where there is smoke, there's fire'?" Gilliam said. "There were plumes of smoke in several directions, and we even saw some fire. We just turned a blind eye to it, and it was one of our own."
Eventually, Sgt. Johnson told Gilliam to shut down the investigation. It was clear to both Gilliam and Balson that the decision came from higher up the ladder.
"I think [Sgt. Johnson] had a good heart, but he caved in because I'm pretty sure they told him his career would be over if this investigation wasn't shut down," Balson said. "At the end of the day, he had to look at his career."
With the investigation shut down, police Lt. Hollier and Sgt. Paul Long of SWAT showed up at Balson's home to break the news to him. Worman, a six-year veteran of the gang unit, was at the house to borrow a furniture dolly. He was outraged.
"They all came over to tell me that they were stopping the investigation and pulling SWAT from my house," Balson said. "And [Worman] made the statement, 'Are you kidding me? With all the leads that we gave you, and ya'll just refused to do anything? I've never been so embarrassed to work for this department.' "
Deputy Chief White wanted Worman written up for speaking out at Balson's house, according to the officers who spoke with me, but since Balson was on his own time, there were no grounds for discipline. The next day Worman was booted from the gang unit and put back on patrol. He was not the last to be forced out.
Asked to respond to these allegations, a spokesperson for Arlington police issued a statement: "The Arlington Police Department received unverified information from a third party about a possible threat to an officer in 2011 and immediately began the process of assessing the validity of this claim. An extensive investigation was conducted, and all credible leads were pursued, which included multiple interviews with associates of the person suspected of making the threat. Out of an abundance of caution during the investigation, the department provided security for the officer at his residence while the threat was investigated. Once the investigation proved no credible threat existed, the security detail was reassessed. The Arlington Police Department takes the safety of all of our employees very seriously and will continue to do so in the future."
The first auto-theft case Balson was assigned to at his new position was a couple that had been caught in a stolen car with multiple fake IDs and credit cards. He looked over the arrest report and noticed that the couple had been arrested by SWAT in front of his own home when the protection detail was in place. Had the case not been assigned to him, he would never have known it had happened. Balson watched as Sgt. Johnson interviewed the driver at the police station, but the sergeant asked only about the identity theft of which the driver was accused. When Balson asked Sgt. Johnson why he didn't ask what the suspect was doing outside his home, Johnson, who was surprised that Balson had been observing, shrugged it off.
"He said he forgot but not to worry about it, that it was too late now," Balson said.
In late December of 2010, Sgt. Pilcher left town to visit family in Louisiana, leaving Klinkenberg in charge of the gang unit. Meanwhile, in auto theft, Balson interviewed the woman from the stolen car, whom he discovered was a Facebook friend of Baldemar Solis' wife. The woman told him that she and the driver were going to make a drug buy from a man who had previously been identified by police as one of Solis' dealers. Balson said she said that on the way to buy the drugs, the driver made a detour to Balson's house, telling someone on the phone that he was going to "check out the neighborhood." She said he explained that he "had come into Arlington to help his friend Baltimore take care of something because Baltimore could not trust any of his local connections."
Just before SWAT moved in for the arrest, according to the woman, the driver called someone and said, "The neighborhood is too hot right now."
With new evidence there was still a threat, the officers who spoke with me said that Klinkenberg contacted White for help, and White told him that the case was closed and no one would be assigned to protect Balson's family. Klinkenberg started organizing volunteers from within the force to help watch Balson's house on their own time. Lt Hollier told them they would not be assigned any marked units and that the officers would have to stay inside Balson's house, out of sight of the public. Klinkenberg contacted the Southside deputy chief to inform him of the volunteer operation in his area. If violence erupted, they would need backup and the responding officers would need to know there were plainclothes officers onscene. The next day, Klinkenberg was called into White's office. The officers who spoke with me said she took offense to Klinkenberg's calling another chief, wrote Klinkenberg up, and re-assigned him to patrol. The volunteer protection program was shut down. The officers who spoke with me said the remaining officers were told that Baldemar Solis was off limits and that they were not to investigate him further.
"I had previously been told by Lt. Hollier that Chief Johnson was no longer going to let SWAT watch my house or investigate the threat anymore because there was no money available to pay for overtime," Balson said. "During this time, SWAT had recently spent a lot of time protecting Chief Bowman, and, according to Hollier, the command staff did not want the city council aware of a threat to an officer. That is why Sgt. Klinkenberg was asking for volunteers to watch my house on their off duty time."
The rest of the gang unit was disbanded, the officers who spoke with me said, and the Arlington Police Department created a new unit from scratch, sending the new officers to Fort Worth to be trained by Fort Worth police's gang unit.