Jerry Gets An A-Minus; Eagles Get Squat
The experts are praising the Dallas Cowboys for wrapping up Dez Bryant to a five-year deal. Personally, I feel terrible for the Philadelphia Eagles. Some desperate people up there dared to dream they could nab Bryant away from the Cowboys. An NJ.com writer pondered in depth on whether Bryant would be a good fit with the Eagles. He referred to Bryant as "one of the best receivers in the game but also one of the biggest headaches," and called him a borderline diva. That might have described Bryant a few years ago but most Cowboys fans don't view him that way now. Bryant's the warrior you want on your team.
Young Drivers: Don't Do This
A teenager in a car collides with a bicyclist, who goes through the windshield. The driver keeps going for a half a mile and then dumps the body in an alley and leaves.
Then Again, There Is Hope For Everyone
President Obama visited a federal prison and said, "There but for the grace of God." After visiting prisoners he talked about second chances: "When they describe their youth, these are young people who made mistakes that aren't that different from the mistakes I made, and the mistakes that a lot of you guys made. The difference is that they did not have the kind of support structures, the second chances, the resources that would allow them to survive those mistakes."
Coolest Motorcycle In The World?
Business Insider describes the Royal Enfield Classic 500 as the coolest bike around. I say, "Bah!" They've never seen this panther cycle.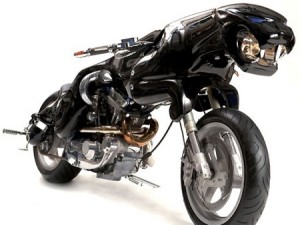 Three People Injured In Pressure Tank Explosion
Every time I fill up an air tank (or even a truck tire for that matter), the thought of an explosion passes through my mind. I used to think I was paranoid until I read about these poor guys in Saginaw.