Rangers fans, you need to know about a recent arrival making an impact for the club's top farm team. He goes by the colorful name Beer Shake.
That's not a bizarre nickname a playful Derek Holland hung on some young Round Rock Express reliever. It's an actual milkshake made with beer, available for purchase on the Dell Diamond concourse. The concoction's deliciousness represents just part of the beer story at the suburban Austin ballpark.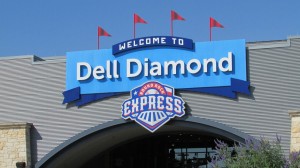 This week marks the second in an occasional series of posts designed to help fans know where to find the beer they want at notable sporting venues. Last week, we guided you through finding suds at Globe Life Park in Arlington. This week, we thought we'd help you plan a road trip to get a taste of what the Rangers' Pacific Coast League affiliate has to offer.
The baseball fan in you wants to see some of the Rangers top prospects play, but you don't have to even like baseball to have a good time. If you're a kid, Dell Diamond has bounce houses and play areas for you. If you're over age 21, they stock a lot of good beer.
The facility holds about a quarter the number of fans as Globe Life Park, so they have one main concourse. The concession stands there aren't called "concession stands," explained Brian Candler, General Manager for Concessions at Dell Diamond.
"One of the things that we're really proud of is that we don't have concession stands, we have restaurant storefronts," Candler said.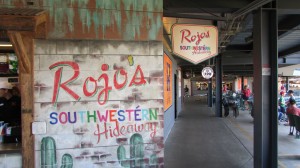 All the food kiosks have themes reflecting what they serve, so the Rojo's Southwestern Hideaway by section 121, for instance, offers nachos, tacos, and quesadillas, while the Southside Market BBQ by section 123 provides brisket, sausage, potato salad, and other Texas barbecue staples. Ryan-Sanders Sports Services (RS3), the stadium's concessionaire, includes beer in the thematic planning, so the Ono Pacific Grill near section 113, for example, serves Longboard Island Lager alongside the Polynesian Sorbet.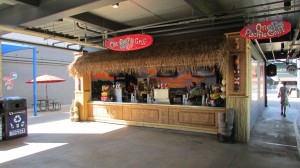 RS3 prioritizes beer selection because the company wants to give its home market what it wants. "This is very Austin," noted Candler.
They also want to set themselves apart. Candler said "We want people to think 'I can't believe this is a minor league ballpark.'"
With respect to beer, the selection available means there's a chance you won't believe it's a ballpark at all. What can you find there?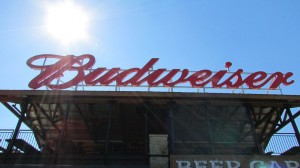 Let's start with basics. The team's mega-brewery sponsor is Anheuser-Busch, who announces its presence with signage throughout the park, including in both bullpens. You can get A-B products at stands throughout the park, with Bud Light, Budweiser, Michelob Ultra, and (happily for craft beer lovers), ZiegenBock their most prominent offerings.
There's a lot more than the basics available, though, with even a Miller Lite tap popping up at the Papa Murphy's Pizza location near section 115.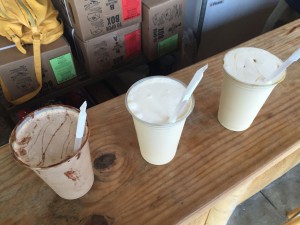 You'll find the aforementioned beer shakes at the FrozenSational Tiki Bar across from section 123, which stocks lots of other beers and frozen drinks like margaritas. Candler explained that they came up with the Beer Shake idea this past offseason. They narrowed five prototypes down to three that made the final cut, all of which include four ounces of ice cream plus a half bottle of beer. You can choose from Chocolate Stout (made with Convict Hill Oatmeal Stout), Vanilla Caramel (made with Firestone DBA), and Orange Creamsicle (made with Shock Top Apple Crisp).
There's another FrozenSational Tiki Bar near section 117 on the third base side. While it doesn't have Beer Shakes, it does offer some 20 varieties of canned and bottled beer, including the Pedernales Brewing Company's Robert Earl Keen Honey Pils and Rahr's Pride of Texas Pale Ale.
Speaking of Fort Worth brews, you'll find the Rahr Amber Lager at Rojo's Southwestern Hideaway. Other Texas brews abound, most especially at the Brew at the Rock Beer Garden, located down the third base line near section 112. They boast 16 draft beers here, including Rahr & Sons Bucking Bock. This stand also serves the stadium's most popular craft brew, which, ironically, doesn't hail from Texas.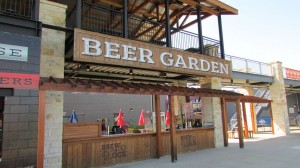 "The Kentucky Bourbon Barrel Ale is our number one seller," said Candler of the Alltech Lexington Brewing & Distilling Co. brew, which boasts an ABV (alcohol by volume) of 8.2%. "We can barely keep it in stock."
If you're not convinced the Lexington import is as good as, say, Independence Brewing's Austin Amber Ale or Karbach Brewing's Weekend Warrior Pale Ale (both of which you can find at the Beer Garden), you can try a flight of four sample-sized servings to compare.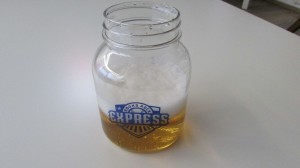 If you find the willpower to move on from the left field beer garden, perhaps with a full plastic Express-branded mason jar cup (available for an extra dollar with any of the beers), you might make your way back to your seat to watch a few innings from there. RS3 usually has ten or so beer vendors filtering through the seating bowl, although they had to up that total to 30 at a recent soccer game. These men and women will bring 16-ounce Bud Lights, Budweisers, Michelob Ultras, and ZiegenBock to your seat.
If you're lucky enough to have seats allowing entrance to the Intel Club (or you can pay a $10 cover charge for admission), you'll find a unique selection of beer on tap there as well. The available drafts include Pedernales' Lobo Negro, Power & Light Pale Ale, and Karbach Hopadillo IPA, with several more brews in cans and bottles.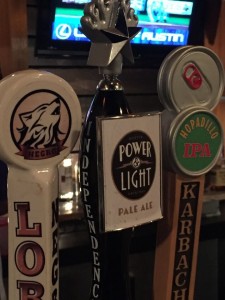 If you're in the Intel Club and feel the need for a supplementary intoxicant, you might consider trying one of mixologist Connan Hill's infused liquors. Selections vary depending on the game, but might include such delicacies as Don Julio tequila combined with habanero or Makers Mark whiskey infused with cinnamon apple.
We should note that team policy stops alcohol sales of all kinds at the first pitch of the 8th inning. Hopefully when you came in, one of your party stopped at the Budweiser Good Sport cart just to the left of the Home Plate Entrance and signed up to be a designated driver in return for free soft drinks. If not, Yellow Cab sponsors a scoreboard feature at the top of the 9th reminding you to get a ride home with them if you've had too much to drink. Candler recommends starting that process at Guest Services. They're located just to the right of the Home Plate Entrance and can help you get a taxi.
Make sure you plan your exit in advance, because once you arrive at Del Diamond, you'll have much beery yumminess to entice you. A lot of you have apparently succumbed to the temptation. Candler says craft beer sales are up 46% this year. That's a lot of Beer Shakes.