Baseball is the same everywhere, except that in some places the mascot might stand ten yards behind the third baseman, almost in fair territory, and a vendor might bring you donuts and Icees at your seat.
Attending a sporting event in another country means enjoying the aspects of the game you already love, like superb running catches and perfectly thrown 12-to-6 curveballs. It also means getting to enjoy unfamiliar nuances that make the presentation unique.
On a recent visit to México City, I didn't eat the ballpark donuts because I had already filed myself with burritos and tortas from the concession stands. I did do a double-take when I saw the Diablos' doglike mascot, Rocco, hang out a step and a dive from the leftfield line as the players kept playing, oblivious to the guy (or woman) in the costume. I thought about how jealous Rangers Captain will be when I tell him he could be cantering mere feet from Adrian Beltre during a game.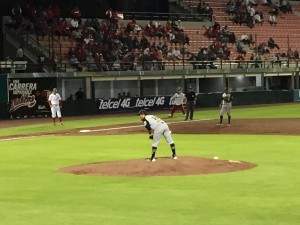 The Diablos Rojos del México franchise plays in its nation's capital and is one of the country's top teams. Rangers fans may remember the red-clad jugadores from the exhibition games they played in 2012 and 2013 at what is now Globe Life Park in Arlington. I feel sure that experience seemed as different for them as visiting their home park was for me.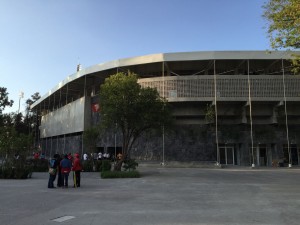 The yard where I watched the Diablos take on the Aguascalientes Rieleros isn't actually the club's true home. Their regular stadium, the Foro Sol, is unavailable this season. That facility sits in a turn of the Mexico City Formula 1 auto racing track and is undergoing renovations in preparation for a race over Halloween weekend. The game took place in the nearby estadio Fray Nano, a much smaller ballpark situated among a group of fields used for recreational sports. They'll play there this year and next until a new stadium opens in 2017. Fray Nano measures 408 to centerfield and 327 to the foul poles, so its dimensions satisfy American professional expectations. The team did a superb job of making it feel as polished and inviting as possible, and provided a game experience on par with that of good U.S. Minor league teams. Photos of players plaster the back walls of the main seating bowl. The press box shared space with several suites. The scoreboard had a video screen, and while it didn't show replays, it did offer well-designed graphics and crowd prompts.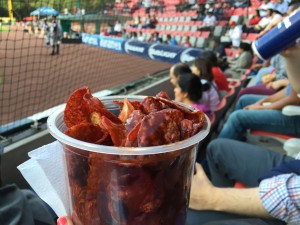 The food selection extended far beyond standard stateside baseball fare. An American fan would be pleased with the number of offerings. Whether his stomach could handle the hot sauces in which natives might douse a cup of potato chips or a taco would likely prove another matter entirely. Other concession stand selections include fruits, vegetables, flautas, and sushi. The Fray Nano happy hour allows you to buy 24 ounces of Corona for half price (a little less than $2.50) until 8pm.
On the field, the quality of play is high. The Mexican summer league is considered near Triple-A quality. Late-inning relievers showed mid-90s fastballs and both the home team and the Rieleros played error-free baseball.
We talked strategy the same way one would at a Rangers game. Should the Diablos' manager have burned through his bullpen playing matchups in the 7th? Why, after throwing two swinging strikes outside, then a ball a little further outside, would the pitcher then shake off his catcher several times and throw an inside fastball? Aguascalientes' Ramón Ramírez must have wondered the same thing after what turned out to be his last pitch of the night ended up over the right field wall for a grand slam.
Ancillary on-field details differ from their American equivalents, including:
Everybody wears the socks high, including batboys.
Team pants and jerseys carry sponsor logos.
The batboys were mostly little people who took their jobs seriously and did them well.
Said batboys don't stay in the dugout during play. They station themselves near what would be the on-deck circle were one marked off. If the catcher drops his mask chasing a pop-up, the batboy retrieves it for him.
Foul balls might go all the way out of the stadium. Be alert if you're headed for the beer stand.
All the players line up outside the dugout to congratulate the batter after a home run.
The stadium sits close to the airport and descending planes appear to be within range of a Josh Hamilton or Nelson Cruz longball. Surely that's an optical illusion, right?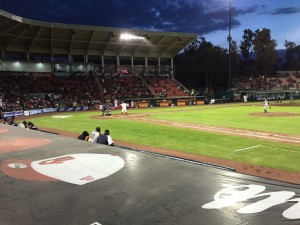 Rangers fans may remember one guy who looks to have airliner power. Japhet Amador played with the Diablos when they visited Globe Life Park. He stands a memorable 6'4", 310. With an OPS over 1.100 and more than 40 home runs already this season, he generated a buzz among the spectators when he approached the plate. Unfortunately, Aguascalientes mostly pitched around Amador, walking him three times, so we didn't get to see him launch any balls 747-ward.
Some Americans play in this league. Californian Cyle Hankerd has put up big numbers hitting behind Amador. The Diablos have employed several former Major Leaguers at various times this season, including Boston native Manny Delcarmen, who blew a save in the 8th the night I attended. They also have a Texan, catcher Luis Flores of Del Rio, who got as high as Triple-A in the Cubs and Astros organizations.
The atmosphere, even on a Monday night, was compelling. We saw a few fans with wigs and others rattled matracas when the situation suggested noise. Coordinated chants chimed in even after an opposition jonron: Diablos, Diablos, rah, rah, rah!"
In the later innings, a prompt from scoreboard  resulted in a "Vamos Diablos" cheer.
I didn't quite understand the playing of Billy Joel's "Uptown Girl" after the third inning and I cringed a bit when the Tomahawk Chop song started up. "Rock and Roll, Part 2" was also a big player. However, I was pleased to hear a number by Austin's Eric Johnson as we exited the ballpark.
I spotted spectators wearing gear for at least half the Major League teams. A kid in our section had a Mike Piazza Mets shirt and another guy sported the untenable combination of a Yankees jersey and a Red Sox cap. A México shirt with a deer and antlers made me flash back to the 2010 Rangers.
Also noticed among the attendees: a Tom Brady Patriots jersey, an FC Dallas jacket, and a dude in a Cramps shirt. A seemingly random assortment of Padres, Cardinals, and White Sox shirts were on sale alongside Diablos gear in the team shop.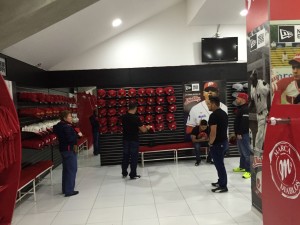 You can't buy Diablos Rojos tickets terribly far in advance (I've seen stateside teams try that strategy as well and never liked it), but the scalpers can get a lot closer to the gates than they can in the U.S.
People all over the world, with different backgrounds and customs enjoy baseball, and I'm sure you will in México as well. I did notice one potentially polarizing difference, however, with this ballpark. Like in Fort Worth bars and 1970s Arlington Stadium, you can smoke there. I looked up and saw a guy puffing away in a suite. Try to keep your American sensibilities to yourself (or else offer the guy a light – a universal gesture of friendship).