One aspect of development in the Near Southside that's somewhat unique among Fort Worth's revitalizing urban neighborhoods is the preponderance of small, single-lot development projects being built. In contrast to the large, rather homogenized multi-block developments that have been built along places like 7th Street, these smaller projects help increase the variety of architectural styles along neighborhood streets.
There are several such projects underway in the Southside right now. One that's about to start going vertical is this, located at the southwest corner of Rosedale Street and Lake Street, just across from the Carter Blood Care building. Like many Near Southside infill buildings, this one has a doctor's office as its root –– in this case, Dr. Tillman –– but it also includes more office/retail space as well as upstairs apartments.
The building has been designed by Near Southside local architecture firm TMA-CHA. They've had a hand in a good number of these small mixed-use infill developments, and have quite a few more planned. Credit to them for recognizing early on the potential of the Near Southside's progressive pro-walkability zoning and establishing themselves as a successful player in that role. It's fortunate to have a string of new buildings that fit into their surroundings and follow the Near Southside's zoning and design standards to create streets that are attractive to pedestrians.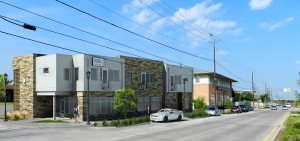 Part of that progressive zoning was making sure to prescribe residential units in many areas that would otherwise have been dominated by single-use medical office buildings. The success of the early mixed-use projects that included upstairs apartments has led to that model becoming a common element of development in the area. As a result, every new medical office is adding two to eight apartments, enabling more people to live in the Southside's closely linked neighborhoods, giving support to retail businesses, and getting that many more people living in a part of Fort Worth that doesn't require the use of a car to get around.
It's also good to see this kind of forward-thinking development happening along Rosedale, which has been a badly neglected street until recently. The fabric of Rosedale was deeply harmed by a widening conducted by the state Department of Transportation that transformed the street into a barren, six lane divided highway with high traffic speeds. There weren't many signs of life along the street until Fort Worth South led a redesign project that took the street to four lanes with on-street parking and bike lanes, along with pedestrian improvements. Since that project was completed, we've seen new retail businesses opening on Rosedale, and now we're seeing the first new residences as well. It's another example of how the form of development is deeply tied to the form of the transportation around it.