The downtown Fort Worth skyline is about to get a new addition, which isn't something you can say all that frequently. The new arrival is now under construction, and it's called the River Tower.
River Tower is the third building in the Trinity Terrace complex, a retirement community located just east of the Trinity River on the block bounded by Texas, Penn, 10th, and Fournier Streets. The complex started back in 1982 with the construction of the original Trinity Terrace tower, which remained the only building on the property for 25 years until the construction of the second tower, City Tower, which wrapped in 2008. Plans for River Tower were announced at that time, but construction has only recently started.
River Tower, like City Tower before it, was designed by Ankrom Moisan Architects of Portland, Oregon, and the restrained glass and brick modernity of its design is quite reminiscent of many such residential towers that have been built in the Pacific Northwest. Like the City Tower, it is being constructed in a complimentary shade of brick to the original 1980s tower.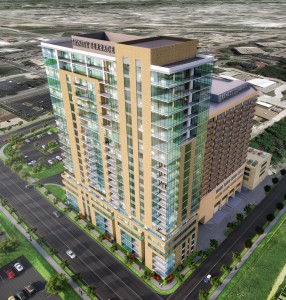 When topped out, the new River Tower will be the tallest building in the complex, with a final height of 23 stories, reaching 267 feet. This height will make the River Tower the 13th tallest building in Fort Worth, just ahead of the original Star-Telegram building and just behind the Blackstone Hotel.
With its prominent location on the bluff looking out over Forest Park Boulevard and the river, the structure should have some pretty wonderful views of downtown to the east and the 7th Street corridor and Cultural District to the west. While it won't be poking up to the top of the skyline, it's the sort of building that will help make the skyline feel somewhat more full and complete.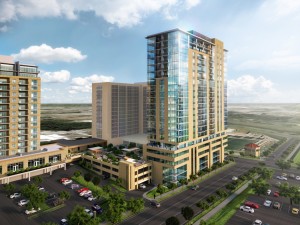 Skyscraper enthusiasts have long lamented Fort Worth's tendency to not go big with its downtown towers, but it's not something that's bothered me all that much. For the most part, a skyline is just something to look pretty on a marketing photo –– of greater importance is how the city functions from street level. I'd welcome new skyscrapers when they're well-designed and justified, but I wouldn't mind if we built several more mid-level towers like this new River Tower, as a transition between the 3-5 story infill projects around downtown and our current (and future) skyscrapers.
Trinity Terrace's River Tower should be completed by late fall of 2016, so we'll start seeing the rising floors showing up in the not-too-distant future.