Update: 2015 Fort Worth Weekly Homebrew Throwdown entry forms are available here. Special thanks to Salsa Limon owner Ramiro Ramirez, Bearded Lady co-owner Shannon Osbakken, Beer peddler and Shotgun Friday frontman Tony Drewry, and reps from our major breweries for joining our judging panel. And thanks to Hopfusion founder Macy Moore and other local brewers for joining our Q&A panel for our November 15 award ceremony at Panther Island Pavilion.
Iron Mash Homebrew Competition
Like countless millions of viewers I was a huge fan of the Japanese cooking show "Iron Chef." At the core of the series' success was the mystery ingredient. Each team had no idea what food item to expect until the episode's opening. Looking back, the choices were often downright weird. Whether the emcee pulled out dried tendon, maple syrup, or watermelon, it was up to the master chefs to seamlessly transform each secret ingredient into a culinary miracle.
Enter: Iron Mash Homebrew Competition, Fort Worth's unique take on the show.
The event is organized by Cap and Hare Homebrew Club and is now in its 14th year. Besides the homebrew group, the event gets major support and donations from Rahr & Sons Brewing and Stubby's Texas Brewing. On a chilly Sunday morning in the backside of Rahr's Near Southside brewery, I found dozens of eager men and women setting up their homebrew equipment. One brewer was frying up sausage on a modified section of his stainless steel setup.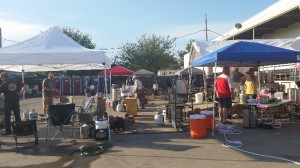 What the 24 teams and 73 contestants were waiting for was the announcement of the secret ingredients by Cap and Hare organizer Vince Turley. Past additives have included tamarin, plantains, Red Hots (candy), and fruit puree. From inside the main tent, Cap and Hare volunteer Clint Strapp said the event is anything but a typical homebrew competition.
"We do anything we can do to make it a challenge," he said. "You can't just google a recipe for this. You really have to think outside the box."
Mic in hand, Turley told the gathering crowd what they were waiting to hear.
"This year we have a chipotle candy syrup," he said. "We have some Turkish figs from Turkey, and last we have some dried lemon peel. Welcome everyone. Brew on."
Cap and Hare member Joe Johnson explained that the event has grown steadily from six teams 14 years ago. The club is constantly tweaking the rules to make it as fair and competitive as possible. The event now requires all grain instead of ready made extracts. Yeasts are provided to level the playing field even further.
Out in the parking lot, I spoke with Texas Brewing staffer Greg Etzel and James Derek with team Brewtality. Etzel was deep in thought when I chatted him up.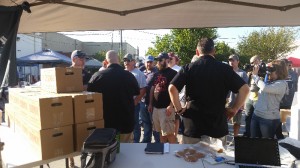 "We're trying to figure out the hops," he said. "Neither of us have used these hops. We will probably do a porter or brown ale. What I find is that you want to make something that people want to drink. There are beers that aren't drinkable, but you don't want it to be forgettable either."
A boisterous quartet of young brewers called team Ballchinians (from "Men in Black") had already made up their minds on what to do. This was the group's first showing together, and they joked about their "polyamorous" approach to choosing teammates. When I asked what style their team would be entering I got a quick rebuttal.
"That's confidential," Jerrod Womack told me. One minute later he spilled the beans, though.
"We're brewing a strong Scotch ale," he said. "We drink a lot of strong Scotch ales. A nice Scotch ale is raison-y, with dark fruit flavors, so the figs should work well."
After about two months the contestants will return for the judging portion. When I ran into Texas Brewing owner Brendon Stubblefield he told me that event is every bit as colorful as the competition.
Event coordinator Turley summed up the daylong event.
"A lot of homebrewing work is done alone," he said. "This gives us a chance to get together and do what we love."
On Tap this Week:
Flying Saucer Draught Emporium BeerFeast
I'm going to cut to the chase. Here's an overview of some of the rare beers that will be at this Saturday's BeerFeast: Brooklyn Quintaceratops (barrel-aged quadrupel), Dogfish Head Choc Lobster (porter), Goose Island Bourbon County Backyard Rye, Green Flash Oculus Sauvage (wine barrel-aged Belgian-style IPA), Karbach Portee d'Or (barrel-aged triple), Mission Dark Seas (Russian imperial stout), Rogue Marionberry Braggot, Saint Arnold Bishop Barrel #9 (barrel-aged imperial stout).
All-in-all, the October 10 event (2pm to 6:30pm) will feature 50 breweries and 80 craft beers. Tickets are $35. Ticket purchase includes admission to the festival, a tasting card that is good for choice of 12 samples of any of the 80 festival beers, and a BeerFeast tasting glass. For more info and to purchase tickets, click here.
Fort Worth Weekly events.
This Saturday we are hosting our inaguaral ameature BBQ Cookoff at the parking lot adjacent to Livestock Exchange Building. The cookoff is sponsored by the veteran Saint Arnold Brewing Company. If you love the smell of mesquite and smoked pork in the morning this event is not to be missed. Food trucks and beer vendors will be onsite. We are still accepting registrations for our first homebrew competition, the Homebrew Throwdown, featuring a commendable panel of judgesOur award ceremony/craft beer party will be held at Panther Island Pavilion November 15. Finally, don't miss out on our Instagram contest in collaboration with Collective Brewing Project.
Panther Island Brewing Sweet Fang
Panther Island Brewing is releasing Sweet Fang, 4.6% ABV chocolate peanut butter sweet stout this Friday 6 to 9pm at their Northside brewery. Don't miss this touching and heartwarming clip of Ryan McWhorter calling his beloved new brew home.
On tap for next week is an overview of locally brewed beers that are the perfect match for fall weather.