The Orange Smush era has resulted in two straight Cowboys losses. (I'm still formulating a suitable Brandon Weeden nickname. Maybe today's crucial game will reveal the perfect moniker. )
To call today's game "crucial" is like calling the Gettysburg Address "sweet."
The season is on the line.
Sure, the Cowboys (2-2) are tied for first place with the Giants and Redskins. But even Rue was tied for first place in The Hunger Games for a while.
The upcoming Cowboys schedule looks like a cakewalk, if said cake were balanced on a pinhead atop a tightrope stretched across the pits of hell. A loss to the Super Bowl champion New England Patriots today puts the Cowboys at 2-3, on a three-game skid, and facing the Giants, Seahawks, and Eagles after a bye week.
Whew.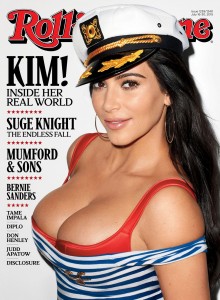 KIM KARDASHIAN, ECZEMA SUFFERER. (photo by terry richardson).
Off Asides is under pressure as well.  The head of the Sportswriters Guild is standing in my doorway telling me to include more statistics in my columns or risk losing my guild badge and secret decoder ring. He claims last week's Wizard of Oz column left readers scratching their heads. I argue that many of my readers, including Kim Kardashian, suffer from eczema and would be itchy regardless. But I have no statistical data to support this claim.
"Hazel!"
My research assistant doesn't move.
Here I am trying to make today's column great, and with the Guild breathing down my neck, and now I've got labor issues.
Seems that upper management (me) served as judge at a barbecue contest, and my workforce (Hazel) spotted the Styrofoam container upon my return. I made the mistake of feeding her a rib straight outta the box.  Now she knows the rest are in the fridge.
I ask for statistical data related to nicknames and head scratching.
Hazel just stares.
Any unbiased examination of the principles of work ethic would surely sustain my position of work first, ribs second. But Hazel is adamant. She wants a rib now. We negotiate. Her big brown eyes gain the upper hand. Damn those eyes!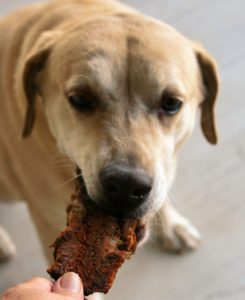 Negotiations distract me. I'm watching a game that's gone into overtime and realize the Cowboys game is already underway on another channel. They're behind 0-3 midway through the first quarter. Don't worry, Off Asides has missed large portions of games before and still delivered the "most comprehensive Dallas Cowboys coverage this side of Sulphur Springs and possibly the world." ***
Crap! I heat up a rib for Hazel, and by the time I settle back into my chair the score is 3-3. I don't know what happened. What little I've seen of this particular game appears to be missing an element of … excitement?
The fireworks will blast soon. Plenty of time to hit a home run with this column.
Weeden makes a beautiful throw on third down, but the play is called back. Holding penalty. Funny what injuries to your quarterback and receiver will do to a supposedly elite offensive line.  And by funny I mean the kind of sadness that only Hank Williams knew.
But, hey, there's hope! Weeden's getting better at throwing the ball out of bounds rather than forcing interceptions. I'm sure his fantasy owners are thrilled.
A rib-invigorated Hazel reads my mind, jumps on the computer, and reports back: "Sir, my analysis of every online fantasy football league in the world reveals that only one team owner has Weeden on a roster."
"Good job! He must know something we don't. Get that guy on the phone, Hazel, stat!"
Time is of the essence.Tom Brady runs a quarterback sneak into the end zone. Score is 3-10 with 3:39 left in the first half. Weeden follows by almost throwing an interception on third down. The Cowboys punt for the 47th time in the game.
"Need that info now, Hazel!"
"Okay, I tracked down the fantasy owner, and you will not believe who it is!"
"Who?"
"I'm trying to say his name …  really … but I'm growing weak … faint … need protein … something in the shape of a rib since you're having trouble figuring out what I'm saying here … ."
"WHO IS IT!"
"It's Matthew McConaughey!!! He owns Weeden!!!"
Hazel puts me through to McConaughey.
Off ASIDES: Did you know you're the only person with The Tangerine Trainwreck on a fantasy team?
MATTHEW MCCONAUGHEY:  Awright, awright, awright … I did not know that. But, I'm not surprised. When the mongoose zigs, the leopard zags, and the eagle goes caw caw caw, know what I mean, cough drop?
OA: So what made you, er, the leopard zag to Weeden?
MM: Zag swag. It's all a fugazi. A knick knack paddy wack. Where's the elemental discharge, man? You might as well grab a fist full of fog and throw it at a ghost. You getting all this down?"
OA: Uh … .
MM: Look, dude, you gotta stay relaxed.
OA: Well, sure … .
MM: Do you feed birds?
OA: Do I … uh … yeah, sometimes … .
MM: How many times a week?
OA: A couple times a week maybe, sometimes three. I don't … .
MM: Awwrong, awwrong, awwrong.  You gotta pump those numbers up, rookie. Those are bush league digits. I feed birds twice a freaking day. I've stuffed more bird seed down the tiny little beaks of birds than you can imagine. My birds look like Sumu wrestlers. I've got hummingbirds the size of baby seals. I've got pigeons you could anchor ships with … .
OA: Gosh, I … .
MM: … and you know why I stuff huge mounds of seeds, rice, bread, and other consumable goods down the tender throats of thousands upon thousands of our little feathered friends? Because I want to. I freakin' want to! Hay-Zeus Christ, it makes me want to kick some fantasy ass!
OA: I think I follow you, but what about owning Weeden? Why?
MM: It's all decibel points, Dewey. Fairy dust on a baboon sphincter. Weeden goes three-and-ad infinitum. Cowboys kick kick kick. Building leg muscles. Acidic reflex, amigo! Next week, kick kick kick. Hall of Fuckin' Fame, frankfurter. Or don't you speak Cantonese?  Weeden, check. Big picture, check. Click. Click. Awright awright … .
Remember, you read it here first.
Unfortunately, the conversation with McConaughey takes an hour, what with all the awright awright awrights. (Editor's Note: I removed 2,189 of them from the transcript.) Now I've missed another big chunk of the game. Head coach Jason Garrett looks shocked on the sidelines. He's aged. I mean, since the first quarter.  A Weeden-led team puts a coach in that same fast-aging time warp that turns youthful, hopeful presidents into bent, ashen shells of themselves by the end of their terms. Garrett has Lincoln written all over him. Without the happy ending.
Four failed scores and seven missed blocks ago, the future began to look worrisome. We've still got that kick kick acidic reflex thing that McConaughey was talking about, but it might not be enough to get us to the playoffs.
Five hours go by, and the Cowboys finally kick another field goal to cut the Patriots lead to 20-6.
But in an NFL first, nobody notices.
Three thousand fans at Cowboys Stadium are shown tweeting, oblivious to their surroundings. The other 90,000 fans are fast asleep.
Make that 90,001.
"Hazel!"
"What the … ? Hey, I was asleep."
"What're the odds of winning the Super Bowl after starting with a 2-6 record?"
"The same as you getting a decent column out of this week's game."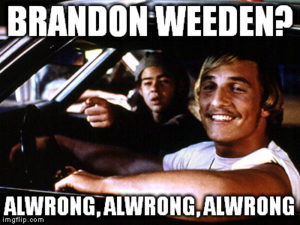 ***Previous Off Asides columns.