Precedent has been set regarding predicting wins before the final out (see photo at left).
But the Texas Rangers will win today.
Think about it. The team stumbled into the 2015 season with the ghost of Nolan Ryan still drawling in the clubhouse. Fans weren't happy about how Saint Nolan was so unceremoniously kicked out of the joint. Meanwhile, popular manager Ron "That's How Baseball Go" Washington was gone. Strike-out king Yu Darvish needed Tommy John surgery.
I feel sorry for Tommy John. The only time he's ever mentioned is when referring to some poor schlub whose fabulous life and career are suddenly cut short because of an injury that typically requires a year or more to recover from, if ever. At least John's clothing line is doing well.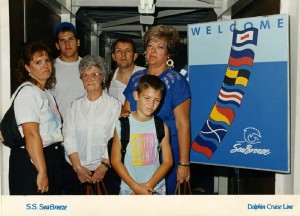 Anyhoo, the 2015 season looked bleaker than a family vacay on the S.S. Sea Breeze (see photo at left).
And then here comes plucky little Rougned Odor. A resurgent Shin-Soo Choo. The big-hearted Adrian Beltre. And the steady, powerful Prince Fielder.
Next, Jon Daniels carved out a place in the hearts of Rangers fans by nabbing 2008 World Series MVP Cole Hamels (7-4 with a 3.05 ERA). The Rangers have now won the last 11 times that Hamels has started a game.
Hamels is our hero, and he's on the mound at 3 p.m. today in a do-or-die winner-take-all please-win-because-I've-bet-my-mortgage game.
That's why I'm confident saying Hamels & Co. will bury the Toronto Blue Jays and take the AL Division Series.
I encourage you to bet your mortgage as well.