Dallas Cowboys fans are buzzing about running back Darren McFadden's big Sunday in New York (29 rushes for 152 yards and a TD). But the national football experts are more excited about Christine Michael.
Michael arrived in Dallas last month with a reputation as a highly talented but underachieving running back. The Cowboys hope he's better than their own talented but underachieving running back, Joseph Randle.
Randle is hurt (back, ribs) and he's a head case (defying coach's orders, jumping the pile instead of running into the end zone, and then saying "six points" when confronted). Michael's in the perfect position to steal Randle's job and become the starting running back on America's Team.
The Seattle Seahawks drafted Michael in the second round in 2013. He's super athletic but never got uncorked. He ran the ball about 50 times with an impressive 4.7 average, but he never sniffed the end zone, much less jumped a pile. He's raw with a big upside.
He's also got a hobby that's almost guaranteed to ruin him in Dallas.
Michael likes to rap.
Ruh roh. Wrong city.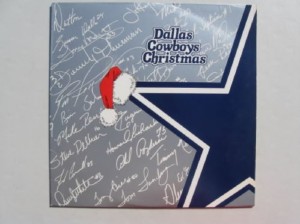 Cowboys fans loved it when Tom Landry, Danny White, and the gang sang carols on the Dallas Cowboys Christmas album in 1985. If you want visual as well as audio proof, check out this video.
Fans liked that one so much, the Cowboys recorded a sequel,  The New Dallas Cowboys Christmas. Here's a copy selling at Amazon for $75 plus shipping.
The fans loved hearing Don Meredith singing off-key versions of "The Party's Over" on Monday Night Football all those years.
Yeah, buddy, fans love their singing Cowboys.
Rapping Cowboys, not so much.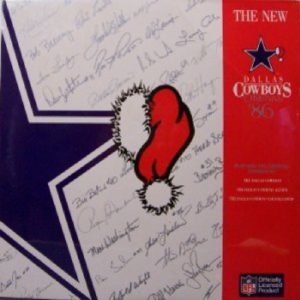 Former tight end Martellus Bennett enjoyed rapping. He learned that uptight white folks around here get freaked out about African-American culture.
Bennett was a lovable, goofy guy in addition to being a talented tight end. At one time he was considered heir apparent to Jason Witten. But coaches and fans didn't like his rapping. He must not be serious about football if he's having fun recording rap videos, the thinking went.
The team fined him $22,000 in 2009 for a posting a rap video on YouTube.
Bennett bolted Dallas in 2012, played a year in New York, released his first album Fast Food on iTunes that same year, and is now a starter for the Chicago Bears. Fans up there appreciate the guy.
Meanwhile, you'd think wide receiver Dez Bryant clubbed a baby seal to death by the way fans acted after he was evicted from a Dallas shopping mall in 2011 for wearing droopy pants. Dallas likes its black players to act more … white-ish.
Bennett's rapping was wonderfully atrocious, silly, and seemingly done with a wink. But some people found it disrespectful, threatening, and insulting somehow.
Michael aka CMike is a serious rapper. On his recent album Django (which comes with a parental advisory) he takes on societal issues and drops curse words and the N-word faster than he hits the hole on an off-tackle blast. CMike don't wink. He raps his ass off, and he's good. Throw in his gold chains and the fact that he wears headphones a lot, and, wow, that's going to scare the crap out of Dallas.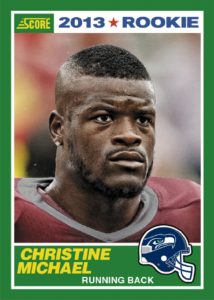 As soon as Michael fumbles or gets stuffed at the goal line, fans will start grumbling about how he ought to be studying his playbook instead of rapping about the thug life.
Hopefully CMike will put it all in a song and drop it on iTunes.