Fort Worth Weekly Homebrew Throwdown Update 
Tickets for our first annual homebrew competition are now on sale here and include an early bird special pricing that ends on Oct 30. The daylong craft beer event at Panther Island Pavilion will be like none other. Arrive at noon to catch the Cowboy's game. At 2pm, we'll open the judging portion with brewers from Rahr, Martin House, Panther Island, CBP, and more. Afterwards, we are opening up a Q&A panel between local professional brewers and the public. Live music will feature the beergrass hillbilly group Shotgun Friday. In addition to nine beer samples, brews will be sold by The Bearded Lady. Plus, there will be tons of food. We crown the homebrew winners at 6pm and then head to The Bearded Lady for an after party, where your first pint of local beer is free with your Homebrew Throwdown wristband or commemorative pint glass. Follow our Facebook event page for updates. The fee includes nine samples from local breweries.
Martin House Brewing Company
Episode One — The A Team
This is the first installment in a two-part series about Martin House Brewing Company. This week, readers will meet four Martin House sales reps who work the frontlines of the craft beer movement day in and day out. Next week, I'll unveil episode two, a ride-along with Martin House beer rep Josh Neimand.
CNN isn't the only media outlet with entrenched reporters.
On a recent chilly and overcast morning, I pulled into Martin House HQ just northeast of downtown. The brewery occupies part of a long complex of nondescript offices and open-air hangars. But Inside one of those humble buildings is a formidable 30-barrel sized brewing system used to create flavors of Martin House: Bockslider, The Salty Lady, The Imperial Texan, and more. Making beer isn't easy by any means, but neither is selling it. Beer sales reps are one of the more under-appreciated jobs in the beer game.
The beer rep does a lot. One day, he or she might make a cold call to a far-flung bar in the 817 or beyond to pitch a new release from Martin House. The next day, the rep could visit Central Market and clean up a section of the mess left by ravenous craft beer vultures. (Yes, this is actually part of their job.) The third day might involve a drive to Houston to talk a brewpub owner into carrying Fort Worth's product in an increasingly competitive beer market. By the way, if you have Fort Worth pride, you should wish them luck.
Martin House has four beer reps (Sam "Shugg" Cole, Dylan Stefanos, Josh "Tree" Neimand, and Asa Yoakam) who each work separate territories as far north as Denton, west to Abilene, south to San Antonio, and east to Dallas. The first beer salesman I spoke to that morning was Neimand. Fun story: I ran into him last year at Total Wine & More. I was perusing the craftiest part of the beer aisle and mistook the bearded bro for a Total Wine employee. He was working there as a distributor for Favorite Brands, but he was all-to-happy to chat and give me advice. Our beer bromance started, as we tried to top each other on our favorite craft breweries. We kept in touch and shortly after that, Martin House hired him onto its sales force. Neimand had a wide and varied career as a sports writer, music industry employee, and probably lots of stuff he hasn't told me about (yet).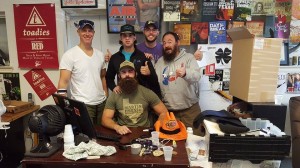 The beer rep is an ambassador and brand manager for the community, he said. No matter what the response is from grocery store managers, who might be upset by something that happened before or ambivalent toward the craft beer movement, the rep always puts on a positive and polite face in public. Sometimes that means saying thank you to an outright "not interested" reply by business owners. Often, even several months later, those same owners end up calling Neimand back.
Fort Worth native Asa Yoakam services on-premise spots (bars and brewpubs) in and around Fort Worth. After graduating from Oklahoma State University with a degree in marketing, he went through the familiar doldrums of a college grad, having to decide between selling out or following his passion. He became a regular volunteer at Martin House events, often taking jobs that he joked were meant to get rid of him. The owners must of seen promise and gave him a job in the brewhouse. That job transitioned into a sales gig early last year.
He said bar owners outside of central Fort Worth are finding it harder to say no to local beer as consumers continue to get turned onto funkier styles.
"It's much easier to sell our beer than it was two years ago," he said. "A lot of Fort Worth people like to stay in Fort Worth. The first thing I tell business owners is that we're local."
Neimand and Yoakam are quick to point out that the market has evolved quickly. Two-and-a- half years ago, when Martin House first opened, Rahr & Sons Brewing Company was the only one holding down the local craft beer fort. What that meant for early beer reps was that most businesses didn't get what the new brewery was all about. Through tasting events, pint nights, and tap room tours, the new business slowly built a groundswell of support that bars could no longer ignore.
I'm going to forego proper journalese etiquette and refer to Cole as "Shugg," because that's a badass nickname. (It's pronounced like the first syllable in sugar.) The University of North Texas grad said he earned the moniker from his time in a non-defunct Texas country band. He used to hoard/hide candy under his pillow. I didn't ask why he hoarded candy.
Shugg has one of the hardest jobs at the Fort Worth brewery: selling Big D on Martin House. As someone who grew up smack-dab between Fort Worth and Dallas, I know about the ongoing territorial pissing match between the two rival cities. Dallas is infamous for its mad rush towards the newest trends. Fort Worth, admittedly, takes more time to ponder things.
"Dallas loves our specialty beers," he said. "Beyond those, The Salty Lady and Cellarman's IPA do really well. We created some great beers, and people appreciate it. I don't think Dallas classifies our beers as much as our people. Fort Worth is more laid back."
Some of the top-sellers in Dallas, he added, are LUCK, The Rustic, Gas Monkey Bar and Grill, The Ginger Man, and (not surprisingly) Flying Saucer Draught Emporium.
And finally there's 23-year-old Dylan Stefanos. The Royce City native handles the "Dallas donut," meaning all the suburbs surrounding Big D. (Yes, that means Shugg covers the donut hole.) Two years ago, he said he fell in love with the craft beer scene. After doing deliveries for the brewery, Stefanos took up sales last August. He said the job is a better fit for him since there's nothing he loves more than talking about beer.
"I've got my work cut out here," he said. "The population is more spread out here so things move a little slower."
The accounts he manages really dig Martin House's creative takes on traditional styles, he said. Some bars exclusively ask for monthly one-offs. Other pubs love the rotating single hop choices for Cellarman's IPA.
"We're selling an adventure," he said. "And you always to try a new adventure."
As central Fort Worth becomes saturated with craft beer converts, the next challenge lies with the Martin House unwashed. Fortunately, more mainstream eateries like Charleston's Restaurant, Fox and Hound, and Red Hot & Blue Restaurants are catching on.
Yoakam points to the success of Rahr's contract with Chili's Bar and Grill as a sign of hope for the long-term future.
"There's an entire national market getting into great Fort Worth beer thanks to Rahr," he said.  "Eventually, that leads to those same people getting interested breakfast beer made with milk sugar, or salsa verde flavors, or an IPA with a nine percent ABV and 100 percent IBU."
"And when that happens, we'll be here,"
Martin House Brewing Company, 220 South Sylvania Ave, Ste 209, Fort Worth, TX 76111, 817-222-0177
Tours & Tastings are 6-8pm every Thursday and 2-5pm every Saturday.
On Tap This Week:
Fort Worth Weekly events
Fort Worth Weekly's First Annual Homebrew Throwdown will take place at noon on Sunday, November 15. Homebrew Throwdown is a chance for local home brewers to compete against one another with a panel of celebrity judges awarding best suds in town. Come out and support home brewers and local breweries. Along with the judging, we will have 6 local breweries offering samples, and your tasting ticket allows you 12 samples. These breweries include Collective Brewing Project, Martin House, Panther Island Brewing, Rahr, Revolver, and Shannon Brewing. Once your card is spent, you will also be able to purchase beer of a select menu of these breweries. To start the day, we will be showing the Cowboy game on the projection screen, there will be a Q&A session with a group of local panelists, food trucks, and we will finish the night with live music from Shotgun Friday. This festival is strictly 21 and up. Also everyone must purchase a ticket to get in.
What a great way to finish out North Texas Beer Week!
Advance tasting tickets are $20, and $25 at the door.
Martin House Boo-ery Tour
From the event page: "The inaugural Halloween Boo-ery Tour is Saturday October 31 here at Martin House Brewing Company with live music, a costume contest, and a scary amount of beer. We will be having extended tour hours from noon to 5pm.  We've got five up-and-coming breweries bringing their brews for proper adult Trick-or-Treating session.  Martin House will also be serving up a small-batch Halloween special beer of our own. Regular tour prices and rules apply (except for the extended hours). $10 for entrance, pint glass, and 3 Martin House Samples.  Guest brewery sampling is free with paid entry and you get those samples in addition to your Martin House pints." Event page here.
Trinity River Tap-House Nightmare on 7th Street
From the event page: "Nightmare on 7th Street! Join us for our 20th Annual Costume Contest and Party Saturday Night. $3000 in cash and prizes! Sign up begins at 8pm and contest begins at 11pm. We'll have DJ Pedro rockin' the stage and will be featuring drinks from Deep Ellum Brewing, Karbach Brewing and Red Bull. You're sure to see some of Fort Worth's Best and Most Outrageous Costumes." October 31. Event page here.