Three famous actors gave similar advice when asked what they would say to fledgling thespians seeking a career in film, TV, and theater.
Don't do it.
It's a trick answer. Those with doubts might take the advice and get into a more stable career.
But a real actor, one consumed by the performance arts, will ignore the advice.
Paxton knew he wanted to go to Hollywood and be an actor by the time he was attending Arlington Heights High School in the early 1970s. He talked it over with his dad.
"My dad said, 'I love you and support you in anything you do, but you picked a really screwy business,' " Paxton said.
Paxton's own son was in the crowd. He's a fledgling actor.
"I'm looking at my son James as I say that," Paxton said. "It's kind of a generational piece of advice."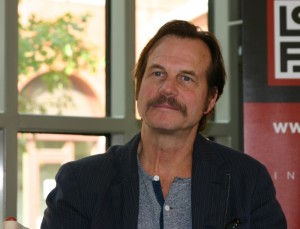 Joanne Kerns (Growing Pains and various other television shows and theatrical productions) didn't get much encouragement either.
"My dad really wanted me to be a P.E. teacher because he loved sports," she said.
McDowell said his only financial goal when he started acting was to be able to pay for rent and food.
"You create your own luck," McDowell said.
"You have to be so passionate and you have to love what you're doing so much, and believe in yourself so much that it doesn't matter if you're starving or don't get the job," Kerns said.
"You will starve," McDowell said.
"But you'll go back and try again," Kerns said.
Paxton has starred in some of the most successful movies ever (Titanic, Aliens). But he admits to banging his head against the wall at times, and, at 60, notices that roles coming in at a slower rate.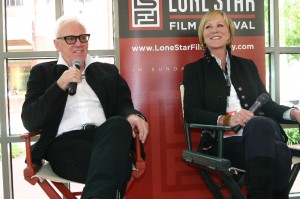 "It's a very tough business," Paxton said. "You've got to go where your heart takes you. It's been a rewarding life for me. The hardest times in this business are the times between jobs. You have to have a lot of fortitude to get through those times.
"You have to have blind faith," Paxton continued. "You're going to get burned. We've all been burned. We'll be burned again, hopefully not before sundown. But you've just got to go for it, man."
All three panelists were witty, funny, and passionate. Paxton and McDowell particularly had fun needling each other.
Early on, McDowell mentioned that he'd made over 130 movies. Someone in the crowd hollered out that the actor had actually worked in 257 movies.
Toward the end of the hour-long conversation, the moderator asked the actors to each name a project they've done that they'd like people to check out.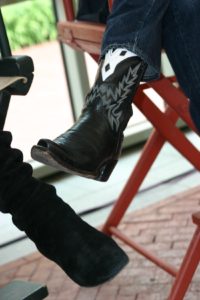 "Can we say more than one?" McDowell asked. "I've got two."
"… 257," Paxton said.
Bill Paxton's father might have been skeptical about his son's pursuit of acting, but he enjoyed seeing him nab Hollywood success. The old man's influence is there for all to see, captured forever on celluloid.
"My dad was a traveling salesman," Paxton said. "He would come home from being on the road and he always picked up expressions. I recycled them into films, like 'How about a nice greasy pork sandwich served in a dirty ashtray?' and stuff like, 'Well, I didn't think it was a whale's dick, honey.' [Both from Weird Science in 1985]. I would throw this stuff in."
Fort Worth influenced him as well.
"Fort Worth is a great cultural town," he said. "It's the greatest cultural town in the state of Texas, easily. Growing up here, my dad took us to a lot of plays. We went to Casa Manana and the TCU Playhouse. A lot of great music and art has come out of this town."