A small-town Texas quarterback has two minutes to drive his team 58 yards for a touchdown. If he doesn't do it, the playoff loss will end the season and his high school football career. For many kids, it would represent the most stressful situation of their lives. Friday night in Huntsville, however, a schoolboy QB and his teammates knew they had faced challenges far greater than those posed by onrushing defensive linemen.
Two and a half years earlier, senior signal-caller Mason Tobola had seen his town put through stress that dwarfs that of even the most high-pressure football game. He witnessed a fertilizer plant explosion that killed fifteen people, injured scores of others, and damaged surrounding buildings beyond repair. That night, students had to help the injured, and in the intervening years, they've watched their hometown of West, Texas rebuild damaged structures and psyches. The experience has left those who made it through with valuable perspective.
"I think it opened up everyone's eyes on the team. It made everybody realize how hard they had to work to accomplish the simplest tasks in life," Tobola said.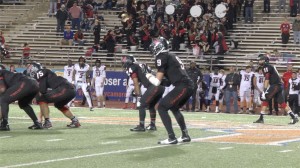 Some three minutes of clock time before the West Trojans found themselves needing a touchdown to extend their season, the players had had a lot of work to do. They had just gone down by two scores. Their opponents, the Kirbyville Wildcats, had shown resolve of their own in overcoming a nine-point halftime deficit to post 20 unanswered points and forge a 32-21 lead with just over five minutes to go in the 4th quarter.
A coach could have found it a challenge to stay positive when his tired players missed tackles and lost control of their biggest game of the year. As his players trudged off the field following Kirbyville's PAT, however, West Head Coach David Woodard remained relentlessly upbeat.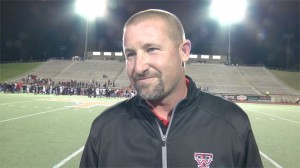 Coach Woodard also serves as the district's athletic director and has kids of his own attending schools in the West ISD system. Since the April, 2013 tragedy, he has had to constantly find ways to keep himself and his charges looking forward, even as he dealt with the added challenge of rebuilding his own destroyed house.
"Kids feed off of you and they know how you feel and what you're doing and what you're thinking," Woodard said. "You can't let those negative thoughts get in your head." He was talking about the football game, but he could have easily been referring to his responsibilities as an administrator, husband, and father.
The district has actually found a good bit of success recently on its fields and floors, many of which sustained damage in the explosion. West High School has fielded several playoff teams, including this fall's girls volleyball squad, and the baseball team won the 3A state title this past spring. The football team, however, had not won a playoff game since 2007.
West has historically been known for strong baseball and softball teams, but football on Friday nights still matters a lot in a small Texas town. That medical personnel had to use the football stadium for triage in the explosion's aftermath only heightened the sport's symbolic importance. When the team won only one game in the fall of 2013, it created yet another obstacle to overcome. The way the team handled it set an example for more than just their peers.
"We all learn a lot from kids," said Woodard. "What they've accomplished in these couple of years since the blast and going 1-9, it showed us adults that if you decide you want to do something and you want to work hard to get it done, then it can get done."
A handful of today's seniors played as sophomores on that one-win 2013 team, with underclassmen having watched it as JV, freshman, or eighth-grade players. Tobola, who started under center that year as a tenth-grader, explained that he and his teammates had turned things around "through experience and hard work, through 7-on-7, and lifting weights, just getting down and dirty and making it happen."
The 2014 season saw the team go 7-3. They missed the playoffs after a final weekend loss to Comanche. The near-miss gave them added resolve headed into 2015.
"Everybody thought it was about time to step up and time to make playoffs and go into the postseason," said Tobola.
They did it, too, losing only one regular season game en route to the program's first 10-win season since 1992. In the opening round of the playoffs, Tobola kicked a PAT to defeat Troy by a point in overtime.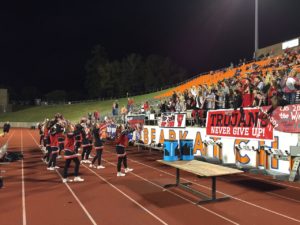 Playing on a neutral field at Sam Houston State's Bowers Stadium in the area round, the Trojans found themselves down 12-0 early. It could have been worse save for a Kirbyville encroachment infraction that nullified a first-quarter pick six. Both teams, in fact, seemed a touch ragged in a penalty-filled first half. West overcame any jitters, however, to score three second-quarter touchdowns and take a 21-12 halftime lead.
Kirbyville, who had gone 10-1 on the season themselves, looked like the stronger team for most of the game's final two quarters. When the Wildcats scored their third second-half TD with 5:38 left in the fourth quarter, the raucously supportive West fans quieted. Perhaps they thought about the season, that even it were to end there in Huntsville, they would fondly remember it as a marvelous experience for the school, the town, and the players.
But the season didn't end there. The Trojans quickly drove 69 yards, with Tobola running the last four to cut the deficit to 32-27. The defense produced a three-and-out, and that's when the Trojans found themselves with the ball and one chance to extend their season. Tobola threw to Bailey Horn in the left flat and Horn somehow eluded a horde of Wildcats to turn the short pass into a long touchdown. Kirbyville still had time for their own rally, and three quick first downs moved the ball into West territory. However, senior Trevon Harold, who had played on the 2013 varsity as a sophomore, tipped a second-down pass and junior Dawson Sulak intercepted it. The Trojans' amazing season would continue. They will play Teague in Midlothian on Friday.
Tobola, who plays offense and defense, and kicks and punts, had fought through a fourth-quarter injury. His teammates overcame fatigue, nerves, pain, and everything else with which an athlete must deal to win a pressure-filled contest.
In the minutes following the game, as the players slapped hands with the students, parents, and neighbors who had driven more than two hours each way to support them, Coach Woodard explained what made the difference for his team. "To be able to battle back twice tonight, early in the first half and then the last five minutes, it just shows so much of what we've always been talking about – a kind of a never-give-up, that resiliency attitude. (I'm) so proud of them."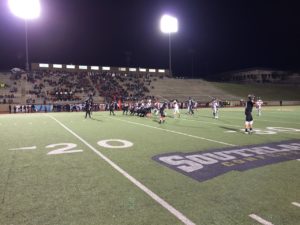 Kirbyville could take pride in their players as well. The Wildcats deserved to win the game. They played their hearts out, showing skill and sportsmanship. They, too, had faced tragedy, as their coach had buried his brother earlier in the week. On the field after the game, one boy cursed his missed chances. Another wept. The loss will pain them for a long time, even as they proceed on through high school and into life, One hopes that the Wildcats will react to strife the way the West students have, and let the lessons of a setback set them up to succeed.
David Woodard understands the long-term importance of the lessons his athletes learned the hard way.
"They're just a great group of kids that have their head on straight and that are successful in football and athletics right now. In three or four or five, ten years, you're going to hear about them being really successful in life as well."