As Pat Myers showed me his recently revamped tap room/growler-filling station/homebrew store in Pantego, I sensed he had been waiting for this moment for quite some time.
The Dr. Jeckyll's Beer Lab founder has spent the last 20 years of his life finetuning his vision. Those years were shaped by evolving state liquor laws, homebrewing's volatile popularity, the travails of small business ownership, and, more recently, the craft beer movement.
It's that last part, the phenomenal growth of independent breweries and craft beer pubs the last five years, that draws crowds to his pub every weekend.
"This is what I've always wanted, but I never thought I'd get this far," Myers said. "We are planning a 'brew and band' every Saturday. I've got the deal worked out to have a tribute band every Friday. Plus, we have a movie projector and surround sound."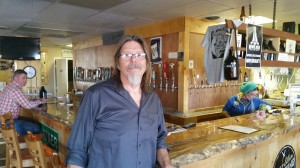 The brew and band is just one of the novelty events Myers is cooking up for his store. He plans to invite local professional brewers to do regular brewing demonstration for patrons. Rabbit Hole Brewing has already done a demo and Revolver Brewing and others are scheduled in the near future.
Homebrewing wasn't a mainstream hobby in the mid '90s, but that's when Myers did his first batch. The first attempt did go so well, he admitted. Looking back, part of the problem was the low-quality beer kit he bought on the cheap. He now makes it a point to help brewing novices avoid his early pitfalls.
His store's opening in 1996 came with a steep learning curve. To keep the business afloat, Myers had to sell two prized classic cars he owned.
"I was willing to do whatever it took," he recalled of the time.
Today, in a large room behind the bar sit carboys, fermenters, grain, yeast, and every beer-making piece of equipment imaginable. When customers visit for the first time, Myers or another staff member start by asking what type of beer he or she likes to drink. A bookshelf nearby holds several reference books for beginners.
The craft beer explosion is partly fueled by homebrewers, he said. "I guarantee you 80 percent of the people opening new breweries were homebrewers first."
That also explains the adventurous spirit that defines craft brew styles.
"You can do whatever you want as a homebrewer," he said "I was putting molasse in my early beers. If it fermented I'd try it. Pumpkin ale, they weren't available in the '90s, but we were making them."
As for the future, Myers believes distilling will be the next wave for homebrewers, if Texas loosens restrictions on the sell of distillery kits.
"Homebrewing is both an art and science," he said. "You're creating. You're getting a chance to make something you can't buy. And impressing your friends is always fun."
Dr. Jeckyll's Beer
2420 West Park Row, Pantego, TX 76013
On Tap This Week:
Pouring Glory Growler Fill Station & Grill
There's a new gastropub in the Near Southside that's worth checking out. Pouring Glory offers a vast selection of local brews plus several I had never heard of before. The pub's co-owner Scott Glover told me the creative beer menu is intentional. On tap, you can also find cold-pressed coffee and kombucha. The menu includes several beer-infused dishes, including a tuna sandwich topped with an aioli sauce made with reduced Collective Brewing Project Golden Petite Sour ale.