The daughter of longtime local drummer Rockin' Ron Thompson started an online funding campaign to help her father pay bills as he struggles to overcome a series of strokes.
"He at this time is unable to walk," daughter Lindsey Terry wrote. "His speech and memory are fine, as the strokes happened on the right side of his brain. Once he gets out of the hospital, he will be moved to a rehab to help get him mobile again. Not really sure when he will be able to go back to work."
She then said something that anyone who knows Rockin' Ron already knew –– he's a modest guy who's more comfortable giving than receiving.
The funding campaign itself is humble. The family set the goal at only $3,000, enough to "help cover bills, medical expenses, and medications," she wrote.
A musical benefit will be held on Sunday, Feb. 21 at The Keys Lounge.
Here's a personal story that attests to Rockin' Ron's humble nature. When I was a teenager, my favorite local band was the Bugs Henderson Group. That blues-rock trio played all over the Metroplex, and my friends and I would follow them around to various bars to listen (the legal drinking age was 18 back then). Henderson's guitar skills were amazing and he had the best rhythm section in town –– Thompson on drums and Bobby Chitwood on bass.
I'd discovered the band in 1978 after hearing Bugs Henderson At Last, a live recording from the Armadillo World Headquarters in Austin. If you've never heard the album, do yourself a favor and order it online.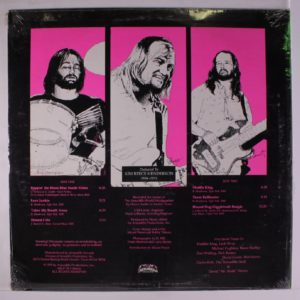 The backside of the album cover featured drawings of Thompson, Henderson, and Chitwood.
When I hit my nostalgic 30s, I decided I wanted to get all three of the musicians to autograph their pictures so I could frame the album and hang it in my house.
Henderson was easy to find. I went to one of his local gigs in the 1990s and got him to sign the LP. Chitwood was still on bass, and I got his signature that night as well.
Thompson, however, was no longer in the band. Chitwood said the drummer was playing in several groups around town and shouldn't be too hard to find.
Later, I looked up Thompson's name in the phone book (remember those?) and called the number. A sleepy sounding guy answered. The conversation went something like this:
"Is this Rockin' Ron?"
"Yes."
"You don't remember me, but years ago I used to go watch you perform with Bugs Henderson. That live album from the Armadillo is still one of my all-time favorites. I've got Bugs's and Chitwood's autographs, and I need yours to complete the trifecta. Where are you playing next? I want to bring the album for you to sign."
"I'm playing in a couple of hours in the Stockyards."
"Really? Damn! That would be convenient — I only live a few miles from there — but I've already got plans tonight."
"Well, if you're going to be around in an hour or so, give me your address and I'll swing by on the way to the gig."
And that's just what he did. An hour later, Rockin' Ron knocked on my front door, came inside, signed the album, and hung around for 10 minutes to talk music.
The online funding campaign is less than a week old and has already received three times its original goal.
I'm not surprised. Thompson always goes above and beyond for others. Maybe there's something to this karma thing.
P.S. The album is still hanging on my wall.