The dusty cardboard boxes of CDs, cassettes, and VHS tapes runneth over with the Holy Spirit. Two years ago, Cami Bradley thought she was doing her parents a favor when she agreed to dig through the expansive collection to thin it out. Flipping through the stacks, she did not realize that she was about to be drawn back into the world of dee-jaying. Even before she began radio work, in 1980, she rode the airwaves of her father. Luther Adkins was a broadcaster on WBAP in the 1940s and '50s under the name Jim Bradley. In 1948, he founded KTCU/88.7-FM.
Since last February, the 57-year-old Bradley has been broadcasting Come Praise the Lord with longtime friend and co-host John Roberts. You can't hear the gospel show on terrestrial radio here –– it's only on Dewberry Jam AM-1670, a community station in San Antonio. But through a blend of retro equipment and modern technology, Bradley and Roberts have been able to spread the good news further while also bringing it closer to home. How firm a foundation, indeed.
******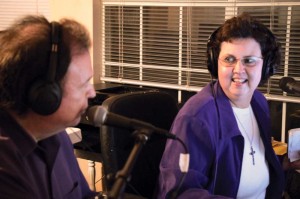 Station owner Billy Dewberry doesn't track listenership, but he said listeners seem to love the program. Few of them know that Bradley and Roberts tape the show while sitting side by side at an old weathered desk in Bradley's Fort Worth home. Each episode is then edited and sent to Dewberry's station for broadcast the following weekend.
Songs like Stuart Condra's "Wise Men Still Seek Him" and Tim Sheppard's "I Am Determined" are part of the show's classic Christian playlist that primarily features music recorded at North Texas churches. Most of the houses of worship are within Tarrant County, though submissions from Dallas, Plano, and Richardson are also included. Among the churches involved are Fellowship (Grapevine), Bethesda Community (Haltom City), White's Chapel United Methodist (Southlake), and Harvest (Watauga).
Bradley's recording studio is unlike most –– its previous incarnation was a children's playroom in a two-story suburban house near the Fort Worth-Keller line. A spirit of childhood fun permeates the room as Bradley and Roberts connect cords, check sound levels, and adjust headsets before starting.
Within seconds of my walking through the door, a beaming Bradley couldn't wait to show off her music collection and recording equipment. As we walked from the studio to her bedroom to the lounge and back again, one of her phrases seemed to be on loop: "I want you to see this!"
Bradley's youngest daughter of three, Alyssa, later told me that her mother was excited all week, anticipating a visit from, well, me, a college junior and Weekly intern in her early 20s and with only a few stories to her name.
I'm not sure my presence deserves such enthusiasm. But that joie de vivre is just part of Bradley's nature –– she personifies Christian hospitality. I try to be as professional and alert as possible while observing her and Roberts' recording session. Still, she finds a way to send me home with a bag of cookies. Politely declining is not an option. Her gesture reminded me of my mother packing me off to school with a box lunch and a bag of sweets. I can't lie. It felt nice. That same generosity of spirit is evident during Come Praise the Lord, making her Sunday listeners feel like they, too, are getting a bag of cookies every week.
******