Paul Hicks strode into the Tarrant County Southwest Subcourthouse on an unseasonably hot Friday afternoon last September. The Fort Worth resident was there to help an absent friend with an eviction form at the Justice of the Peace's office.
Hicks is a fit and youngish 63, a jack of all trades with piercing blue eyes and a Marlboro Man-with-a-mullet vibe. He's also someone who takes a stand when he sees something wrong. That's one reason he tried to get elected to the Fort Worth City Council a few years back without success.
Persistence is one of his traits. But one man's persistence is another man's pushy smart aleck.
Hicks has come to know this courthouse on Granbury Road quite well. A couple of years earlier, he clashed with Justice of the Peace Gary Ritchie over a separate matter. In the somewhat sterile lobby environs on this Friday, Sept. 25, Hicks was in the constable's office trying to clear up a situation. Hicks was wearing his usual cowboy boots with a red t-shirt tucked smartly into tight blue jeans. He thought the chief deputy constable had mixed up a date, and in a normal speaking voice Hicks made a crack about how someone earning $80,000 a year ought to get his dates right. Hicks was talking to a clerk and didn't realize the chief deputy was in a nearby room and within earshot. Chief Deputy Mark Ortega stepped into the lobby and said his salary was irrelevant.
He and Hicks discussed the eviction problem briefly, but Ortega appeared agitated and left the room after a couple of minutes. Constable Jon Siegel took over the conversation, but he too gave up after a few minutes. Hicks ended up talking to five different county employees that afternoon without, in his mind, getting his primary question answered. Hicks felt he was getting the runaround by public servants who seemed to dislike him.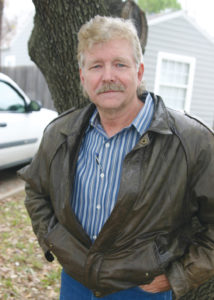 Then he felt the hard, unforgiving tile floor of the Southwest Subcourthouse as deputies handcuffed him, dragged him to a hallway, and forced him down to his knees. Hicks got an up-close look at those tan tiles. His wire-rim eyeglasses were almost touching the floor while deputies had him bent over, searching his pockets.
Courthouse video cameras captured the action but not the sound. The surveillance footage shows Hicks discussing his situation for about 30 minutes before his arm is grabbed by a deputy who was working in the office and is led toward the main hallway, the one that connects the various courthouse rooms. By the time the hallway camera picks up the action, two deputies are holding Hicks by his arms as Ortega follows. Hicks shows little resistance before deputies put him on the ground.
Unbeknownst to the others, Hicks was holding a digital recorder in his hand. He recorded most of the conversations that day, including those among the deputies who arrested him. The audio file, when synchronized with the surveillance footage, offers a clearer picture of the incident. And Hicks thinks it's no coincidence that the charges against him for disorderly conduct were later dropped after being brought against him in the heat of the moment. Hicks was handed a plea declaration saying he was charged with disorderly conduct and asked to check "guilty," "no contest," or "not guilty." Hicks checked not guilty and was escorted by deputies out of the building.
In an interview with the Fort Worth Weekly, the constable defended his deputies and said Hicks brought his troubles onto himself by refusing to listen. Hicks is threatening to sue the county using the audio file as evidence of mistreatment.
Without the recording, he said, "it would have been their word against mine, and I would have lost."
He might still lose. Nothing is certain in lawsuits. The constable's staff spent a lot of time talking to Hicks and being courteous before things went south.
"You can only explain something to someone just so long," Siegel told the Weekly.
But the county employees also seemed unwilling to consider that they might have made a mistake. The recorder snatched interesting bits of conversation that a jury might interpret as staffers being heavy handed. Or not.
Hicks has at least 10,000 reasons to pursue litigation –– that's how many dollars he says he's spent on legal fees to fight the charge that was later dropped.
Win or lose, Hicks says a lawsuit might make this Justice of the Peace, this constable, and these deputies feel some heat, which is suitable because, well, they're "a bunch of arrogant bastards," Hicks said.
******