Some love him, some hate him, and some are only here for the show. Or, as one woman puts it, "I just came for the comedic effect."
One thing is certain. Republican presidential candidate Donald Trump knows how to pull a crowd.
Thousands stand in a long line that snakes around the Fort Worth Convention Center. They're here to see and hear the billionaire businessman, reality TV star, and coif-challenged, orange-tanned, blunt-spoken, front-running politician describe his vision of America.
First, though, folks must get through the line, pass through metal detectors, get searched, and then stand around listening to classic rock music blaring at level 10 while waiting for Trump to arrive. He's fashionably late, and takes the stage around 12:30 p.m. after being introduced by New Jersey Gov. Chris Christie.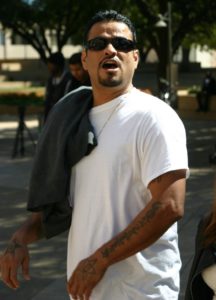 A guy in a white T-shirt (pictured at left) stands outside the entrance and screams at everyone in line for hours. He brands everyone a racist and lets them know all about it.
"Racists! Racists! Y'all should have worn your hoods," he yells.
Every now and then, someone will holler back.
"Go to work!" a guy yells at him.
"You go to work, racist!" White T-shirt man says.
A small Indian man objects and says, "This isn't Mexico, it's America."
"Put a dot on your head! You're a racist!" White T-shirt man yells.
Telling an Indian man to "put a dot on your head" sounds kind of racist. But surely a man calling people racists with such disdain couldn't be a racist himself?
An elderly white couple pass by. The old man says, "Vote for Trump!" and smiles. But White T-shirt man ain't playing.
"Go get your hood out of your closet, grandpa!"
The old man's wife gives a startled look.
"You too, grandma! You're a racist!"
A young white couple with two children aged about 8 to 10 years old pass by and shrink under the man's verbal assault. After stepping inside the convention center, they wait to pass through metal detectors.
"I can't believe he called us racists," the woman says.
"This is the scariest thing I've ever done," her daughter says, clutching her mom's arm.
Nearby, a group of about a dozen Hispanic people wave protest signs and chant anti-Trump slogans.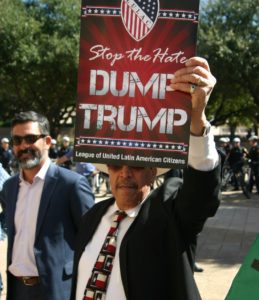 A man plays "When the Saints Go Marching In" on a horn. A woman waves a flag covered in pot leaves and speaks in favor of legalization. A man carries a large board covered in Trump buttons yelling, "Campaign buttons! Three for a $10." A man yells "Capitalism!" while trying to sell condos. Cops keep a close eye on everyone.
And two young guys wearing all black clothing strum guitars and sing the worst protest song ever written. Actual lyrics:
This is a protest song / This is a protest song / This is a protest song / This is a protest song / This is a protest song / This is a protest song / This is a protest song / This is a protest song / With a rebel yell running through the airwaves
They don't write 'em like "Blowing in the Wind" anymore.