A fun outing to a Fort Worth bingo hall on a pleasantly warm January afternoon was soured after Billy Mittel tripped in the parking lot, took a spill, and scraped his shoulder, legs, and chin. The strawberries and bruises were painful and ugly but not serious. Still, Mittel was moaning in pain. The 53-year-old has Down syndrome and relies upon his guardian of almost 30 years, Sandra Wood, to care for him. It's a responsibility that Wood savors. She considers Mittel her son. Together they visit the zoo, eat at restaurants with friends almost every day, and stay busy while keeping each other company. Mittel doesn't speak clearly and relies on simple sign language at times, but he and Wood understand each other well.
"We used to get 10 or 15 loaves of bread and go to Joe Pool Lake and feed the fish," Wood said. "He loves to go, go go."
And now he has been taken from her.
The injuries alerted Mental Health and Mental Retardation of Tarrant County. Nurses and probate court investigators and attorneys made home visits. Wood is blunt spoken and can be irascible at times. She is also sweet and giving, a woman who has devoted most of her adult life to caring for a mentally challenged man who requires close supervision. Wood said she had never been cited or chastised by MHMR or any other agency regarding her care of Mittel in 28 years despite regular, unannounced home visits.
Everything changed after Mittel fell. Wood's overprotective nature might have worked against her.
First, she took Mittel to an Arlington clinic, the First Choice Emergency Room, one of several in North Texas associated with First Texas Hospital. After prescribing an antibiotic and a mild painkiller, the doctor took numerous X-rays all over Mittel's body, which might have contributed to the concerns of the probate court and MHMR that the injuries were more serious than Wood had described.
Wood's 47-year-old daughter, Virginia Jefferis, said the doctor took numerous X-rays because of Mittel's diminished capacity to communicate. "Since he verbally could not say, 'Yes, that hurt' or 'that didn't hurt,' the doctor did X-rays," Jefferis said. "I was glad they did X-rays."
After leaving the emergency room, Wood took Mittel home. She gave him an antibiotic and pain pill and had him rest on the living room couch so she could watch him from her nearby easy chair. Later, though, she worried that an MHMR inspector might say she hadn't done enough to treat Mittel, who was still complaining about pain. For a second opinion, she loaded him back in the car and drove to Harris Hospital, where she has admitted herself several times in the past couple of years for blood-sugar issues related to her diabetes.
The hospital staff said that Mittel, whose medical costs are covered by Medicaid, was fine and sent him back home with a stronger pain prescription. Wood said she did not give Mittel any of the new pain medicine because she had already treated him earlier.
The two doctor visits appear to have alerted MHMR. Staffers made a couple of visits to Wood's house, and a nurse suspected that Wood had over-medicated Mittel and not cleaned his wounds properly. Her report prompted a probate court to remove Wood as guardian and place Mittel in a group home. Wood is no longer allowed to visit him. Probate court judges can move swiftly to remove a guardian and take control of someone's life. On the other hand, the same judges can move with the slowness of tree sap when it comes to reversing a decision or reestablishing someone's rights. Wood has tried for weeks to get court officials to listen to her, without success.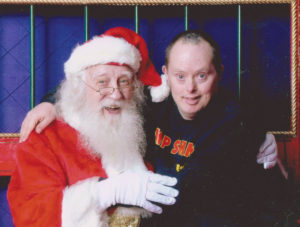 "It doesn't seem legit," Jefferis said. "It's so sad. [Mittel] is used to going out to eat every day. They go everywhere. And now he's in a group home with other Down syndrome people. They don't do what he's used to doing."
Mittel's biological parents never took him home from the hospital after he was born. He spent his childhood as a ward of the state before meeting Wood.
"I was the only family that [Mittel] has ever had," Wood said.
The last time Wood saw Mittel, he was signing "home." The sign involves holding your hands in the shape of a roof, like an upside down V. All these weeks later, Wood still envisions Mittel making that sign and wondering why the only mother he ever knew has disappeared from his life. Wood received $733 a month from social security to care for Mittel but said she doesn't care about the money.
"I just want him back home," Wood said.
MHMR and court officials will not talk about the case, citing confidentiality requirements. Officials are required to make judgment calls and, at times, act swiftly. It's not unusual for probate judges to err on the side of caution by removing someone as guardian without a hearing. Later, they can listen to arguments and change their minds if needed. But that puts the onus on people like Wood, who lives on a fixed income, to hire an attorney and prove he or she is a responsible guardian. Wood says she can't afford an attorney.
Sometimes agency officials must make tough decisions when guardians grow old. Wood isn't the same hard-charging woman she was in her 40s when she brought Mittel home. She's now 71, diabetic, overweight, suffers creaky joints, and relies on a walker. She doesn't get around well. Nor does Mittel, thus the fall.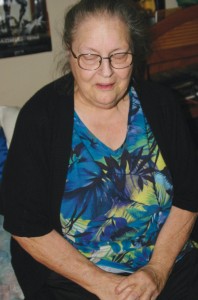 Wood has lost 50 pounds from the stress in the last two months. She has been accused of abusing a person she loves with all her heart. She cries often and feels like her son was ripped away from her for no reason.
"Everyone was devastated when this all went down," Jefferis said. Mittel "doesn't have an understanding at all. He just knows he's not home anymore. The way they've gone about this is totally wrong. I can't imagine just taking someone away from their home. My mom did not harm [Mittel], and this has never happened before after all these years. It was an accident. [Mittel] was very well taken care of. I know he's just as devastated as she is, and I don't have any answers."