******
After Wood's marriage to a U.S. Marine Corps drill instructor failed in 1978, she lighted down in Fort Worth to be near her parents while raising her daughter. For a while, Wood worked as a direct-care specialist at the Fort Worth State School. The "specialists" weren't required to have a college degree or even a high school diploma, just to oversee mentally challenged people as they got dressed and ate meals.
Wood was adept at making adaptive equipment for the wards, and within six months of being hired she was focusing on customizing wheelchairs, braces, clothing, helmets, and other items for people with special needs.
Mittel, who was about 15 at the time, had been moved to the Fort Worth State School a few years earlier. (The school would later be forced to close amid allegations that some staff members were physically abusing the wards.)
Mittel could be difficult to handle and sometimes clashed with other tenants and school staff. But he acted differently around Wood.
"He saw me and said that's it, and he started following me around," Wood recalled. "He would get me tools or ride with me in the truck. I started taking him home for the holidays because nobody else did. It was gradual. He told me when he saw me, 'You're my mother.' I said, 'No, no.' He said, 'Yes.' He won."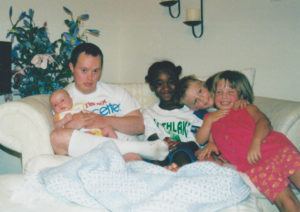 Wood and Mittel bonded for a couple of years. Jefferis graduated from high school in 1988 and left home for college. Wood, living alone in a three-bedroom brick house in Southeast Fort Worth, applied to become Mittel's guardian. MHMR and the probate court approved, and Wood moved Mittel into one of her spare bedrooms. Things went relatively smoothly despite the challenges.
"To me, he was always nice," Wood said. "To other people, he was not. I trained him so that he knew how to behave in front of other people. He used to get Christmas presents, and, if they weren't radios, he'd throw them on the floor. He's learned gradually to be a regular person. It took a long time. Anybody who meets him now likes him. He's well behaved and darling."
Mittel would begin most days by eating cereal.
"He loves cereal," Wood said. "I still have three boxes of cereal sitting here. He'd make it for himself in the morning. He loved to do that."
Some days, Wood and Mittel would go grocery shopping and cook up a nice lunch. Mostly, though, they'd meet friends at restaurants. Mittel loves eating out. And swimming. They'd make regular trips to WinStar World Casino and Resort with friends. While the friends visited the casino, Wood and Mittel hung out at the hotel pool.
Many of those friends stepped forward to try to convince Tarrant County Probate Court Judge Pat Ferchill to reinstate Wood as guardian. They wrote heartfelt letters to court officials describing the loving relationship.
Wood's patience and understanding with Mittel "goes beyond measure," Linda Brown wrote.
"She takes him everywhere with her and has done the best anyone could do for him," wrote Carol Campbell. "I am shocked and upset that someone has accused Ms. Wood of not taking good care of [Mittel] because, in my opinion, she has always and will always put [Mittel's] needs above her own."
Wood's nephew, Archibald Miller IV, 40, recalled spending many special days with Wood and Mittel over the years.
"Billy is part of our family," he wrote. "He does not speak much, but he loves to draw and listen to music. When he does speak, though, he often says something positive or humorous, like indicating he likes what he is drinking, a Coca-Cola or maybe coffee. I could not really understand all of what he said. What is amazing is that my Aunt Sandy always knew what [Mittel] meant and what he said."
Wood's sister-in-law Denise Miller said she cherishes the many drawings that Mittel gave her. He usually draws houses with people in the yards, she said.
"I do not understand how you can just take that away," she wrote. Mittel is "an important part of our family, and we will do whatever it takes to bring him back home."
Perhaps the most impassioned letter came from Wood's brother, the Rev. Joseph E. Miller of Hawaii. He filled three single-spaced, typewritten pages with descriptions of how Mittel is a family member who laughed and cried alongside all of them while witnessing births, graduations, weddings, and funerals for three decades. Miller used the Hawaiian word "hanai" to describe Mittel. Hanai refers to a person, usually a child, who is taken in and loved and treated like a member of the biological family for the rest of his life.
Mittel had learned few adaptive skills in the institutional setting and might have spent his whole life in institutions without Wood, Miller wrote: "He went from [being] a number and a last name yelled at to wake up and fall in line for supper, to a member of a family who called him Billy and sat with him at dinner, watched TV with him, knew his favorite shows, foods, restaurants, musicians, and parks. People who knew he loved coffee, knew when his tummy hurt, knew when he was sad, knew when he needed to be given his own space, all things that he can never have in an institutional setting. For 30-plus years, my sister did all the dirty work that the great state of Texas could never have provided for [Mittel] regardless of their intentions."
Their family opened up their arms to Mittel, but, more importantly, he "opened up his arms for the first time in his life to a family he knew as finally his," Miller wrote.
"And, sadly, [Mittel] will never even know the voice or face of the person who got a case file on their desktop and within three days had decided his fate without even the slightest concept of, is this case possibly different than the last one?" Miller wrote. "A person who will get paid simply for filing a petition of guardianship and walking away, never to follow up or even think about the empty bedroom, the stolen birthdays, Christmas, and holidays … ."
Miller closed by acknowledging that people in the guardianship program must ensure the safety of their clients, but he claimed not enough due diligence was done before removing Mittel from the only home he has ever known. Keeping Mittel away from that home is not in his best interest, Miller said.
Jefferis said Mittel has always been a bit unsteady on his feet but had never been injured in a fall before.
"Just to step up a curb or into a building, he would put both hands on the wall and take one step at a time," she said. "He'd put down whatever he had in his hands. His balance is not good, and he was aware of that."
Blaming Wood for Mittel's fall or questioning her devotion is ludicrous, Jefferis said. She wonders if something else is going on. She suspects MHMR is worried that her mother has gotten too old to care for Mittel. Being upfront about the age issue might have made the transition easier.
"If she is getting older, they could have gone in so many different directions," Jefferis said. "I know [Mittel] is very confused, and my mom is very upset, and nobody will answer any questions."
The probate judges and Guardianship Services Inc., the group appointed by the judge to assist in cases, are supposed to protect vulnerable residents from mistreatment or neglect. Guardianship caseworkers are supposed to be last resorts, after all other alternatives have been explored. The guardianship group's website says the agency's involvement "takes a client from a world of loneliness, despair, illness, and exploitation to a world of hope."
The Fort Worth Weekly has written numerous stories that showed how probate judges and the guardianship program are doing the opposite of their stated goals. In many instances, the judges appear eager to strip people of their rights to make it easier for attorneys to take people's money through a series of seemingly never-ending charges. Those attorneys, in turn, donate money to help judges get elected and stay in power.
Wood has heard that MHMR is placing Mittel with another family. Maybe allowing Wood to stay in touch with Mittel could impede his ability to adapt to his new family. Maybe he needs a clean break to get a fresh start. Who knows? Officials will not discuss Wood or Mittel specifically.
MHMR spokesperson Catherine K. Carlton said several agencies are typically involved in providing services to people with intellectual and developmental disabilities. Employees at the Texas Department of Aging and Disability Services, or DADS, monitor many of the services and make unannounced visits in residential situations such as Wood's.
A DADS pamphlet on guardianship clearly states that "once a guardian is appointed, there are ongoing legal requirements which may require the assistance of an attorney."
MHMR staffers make home visits as well. The agency, which employs about 100 nurses, is "responsible for ensuring that people get the services and support they need and to assist them in revising plans for services as their needs change," Carlton said. "If necessary, our [staffers] are required to make reports to agencies that protect people with disabilities. These agencies include but are not limited to Child and Adult Protective Services, probate courts, and other agencies that help to ensure safety for people with disabilities."
Probate courts select guardians and then review and monitor them.
"For people with disabilities, courts sometimes name both a guardian and a successor guardian," Carlton said. "For the court to make this decision would, of course, require evaluating a number of factors about the proposed guardian, the proposed successor, and the proposed ward. We understand each of these decisions to be complex and to require evaluation of a variety of factors."
MHMR sent Wood a certified letter on January 11 saying that she had been removed as guardian after staff found Mittel "laying [sic] on a couch in what appeared to be an unconscious state" and suffering from "inadequate" wound dressings.
Judge Ferchill's associate judge, Lin Morrisett, would not discuss Wood's situation but said removals are often done quickly when questions of care arise.
"Generally speaking, these are hasty decisions when someone has put up a cry of alarm," he said.
Former guardians have ways to contest the court's decisions, he said.
"The quickest route is to file a motion for reinstatement," Morrisett said. "We consider those things. I'd be lying if I said there's never been a mistake made in guardianship in the state of Texas."
How often does the court reverse itself?
"It doesn't happen very often," he said.
I relayed this information to Wood, who became excited at the prospect of seeking reinstatement as guardian. But she didn't know how. She called the probate court and was put on hold and transferred nine times before being disconnected. She called back and said she was going to drive to the courthouse and talk to someone in person.
"He said, 'Oh, I wouldn't do that –– that could get you arrested,' " Wood recalled. "For what? I didn't threaten anybody. I didn't say I was going to do anything."
Court investigator Jeff Arnier told her to hire a lawyer.
"I understand nobody wants to get an attorney," Arnier told me later that day. "When you are involved in the legal process, sometimes legal representation is required and in somebody's best interest."
******
On January 4, the day after Mittel fell, a nurse from MHMR visited Wood's home. She talked to Wood about the proper way to clean Mittel's wounds. She gave Mittel the antibiotic Amoxicillin, and the pain medicine Tramadol. The nurse used a roll of black adhesive bandages that Wood already had at the house. After the roll ran out, the nurse drove to the store and bought some more adhesive bandage, this time in a tan color.
The nurse left an hour and 45 minutes later after observing no adverse side effects from Mittel's medication.
The next day, Wood called MHMR and told a nurse that the sight of the wounds made her queasy and said she wanted to take Mittel back to the emergency clinic to have his bandages changed. The nurse advised Wood to ask for home-care services through her primary care physician. Wood took Mittel to the emergency clinic instead. The next day, she changed the bandages herself, she said.
A nurse named Amanda showed up at the house on January 6. Wood can't recall Amanda's last name or which agency she worked for. Amanda asked if Mittel's bandages had been changed that day, and Wood said she had changed them herself. Amanda noted black adhesive bandages on the shoulder wounds and wrote in her report that she suspected Wood had not cleaned or dressed the wounds. The nurse noted in her report that "the bandage was saturated with fluids, the wounds were weeping, and the [bandage] had fallen down the arm and shoulder area."
Amanda wrote that the black bandages (rather than the new, tan bandages) and the weeping indicated that Wood had not dressed the wounds in two days.
But Wood had not run out of black bandages. She still had another roll in her bedroom and had used it on Mittel's wounds that day rather than open the new package of tan bandages. As for the weeping, Wood said she had put Neosporin on the wounds, which the nurse may have mistaken for weeping or pus.
Amanda described Mittel as lying unconscious on a couch. Wood said Amanda dumped a bottle of pills on a table, counted them, and then walked outside. Wood thought she left, but the nurse quickly returned followed by firefighters. An ambulance was on the way.
"After noting several pills missing in the Tramadol bottle, the on-call nurse called 911 for emergency help," wrote court-appointed attorney Kory Nelson in the guardianship removal report dated January 19 that stripped Wood of her right to care for Mittel.
"Guardian is no longer an approved foster-care provider for the ward," Nelson wrote.
Nelson, who appeared to base his report on Amanda's statements, said the firefighters "began administering deep sternum rubs in an effort to elicit a response and measure [Mittel's] alertness/consciousness," but Mittel still did not stir. The medics administered adrenaline intravenously, and Mittel "became somewhat alert," Nelson wrote.
Wood said the firefighters never rubbed on Mittel and did not give him any adrenaline while at the house. Mittel was awake when he left the house, wearing nothing but pajamas.
"I said let me get some clean clothes for him," Wood said. "I went in his room and got some clean clothes, and by the time I came out, the ambulance and [Amanda] had driven away. I didn't even know where they went."
Wood called MedStar and demanded to know what happened to the ambulance, but the MedStar worker refused to say. Amanda had told them that Wood was no longer a guardian and had no legal right to Mittel anymore. A frantic Wood threatened to call police and report a kidnapping. An MHMR employee finally told Wood that Mittel was at Harris Hospital.
When Wood showed up at the hospital, she said Amanda was nowhere to be seen. A hospital nurse came up and asked if she was Sandra Wood. When Wood said yes, the nurse handed her a prescription bottle of Tramadol with Wood's name on it. Wood, who also takes Tramadol for knee pain, was confused. Why would a Harris nurse have her medicine? Amanda had given it to her, the nurse said. Then Wood thought she figured out what had happened: Mittel's Tramadol prescription from a few days before was for 20 pills, meaning most of the pills should have still remained in the bottle. Maybe Amanda had confused Wood's pill bottle with Mittel's, and the numbers didn't add up, Wood said.
She wanted to ask Amanda about it but never saw her again.
Mittel was sitting alone in the emergency room.
"I sat with him for 10 hours until he got a room," Wood said. "Then I went upstairs with him and got him ready for bed and got him dinner. When he fell asleep, I told the nurse, 'I'll be back tomorrow.' For the next three days, I came back and visited him, and there was nobody there. Then, the fourth day, they called me up and said, 'You're not allowed to visit him anymore,' and that was it."
She has spent almost every moment since then thinking about Mittel and trying to figure out how to get him back. And she's discovered what many others before her have learned about the probate court –– a probate judge and his team of attorneys, bankers, caseworkers, and caregivers are a powerful, immovable force. The Fort Worth Weekly has written numerous stories over the years about local probate judges Pat Ferchill and Steve King and their heavy-handed tactics for stripping people of their rights in questionable situations and sometimes using secret hearings that do not even allow the accused wrongdoers to defend themselves.
Nobody asked whether Wood had any extra black bandages. Nobody considered whether the alleged weeping was actually Neosporin. Allegations were made and actions taken without Wood being allowed to defend herself. Now that she has lost her legal rights to Mittel, nobody feels the need to discuss anything with her anymore.
Maybe Amanda "wanted to make a name for herself in her first week on the job," Wood said.
A court document dated Jan. 13, 2016, explains why Wood was removed as guardian. In addition to her alleged lack of care for Mittel, the report described Wood as confused when questioned by court visitor Arlene Shorter and court-appointed attorney Kory Nelson. They described how Wood couldn't recall the name of the pain medication Tramadol and called it the medicine "that starts with a T." (Self disclosure: Several months ago I was prescribed two medicines for diabetes and high blood pressure. I've refilled the prescriptions several times but can't recall the names of either, nor can I recall the first letters of their names.)
Wood knew the name of the medicine, she said, but it slipped her mind because she was upset about Mittel and felt ganged up on by the court visitor and attorney, who were grilling her with questions. Shorter "was talking real low," Wood said. "I'm trying to pay attention to her and what she was saying, and what he was saying, and I was already a nervous mess. I said to her, 'Billy took the medicine he's supposed to, and he's asleep, so leave him alone.' I guess that pissed her off."
Also included in the report are Amanda's full name (Amanda McCutcheon), job title (home care nurse with MHMR), and phone number. I called the phone number. A man answered and said he'd never heard of McCutcheon. He said the number was for a chiropractor clinic. I called MHMR and asked for McCutcheon. The receptionist said McCutcheon was at lunch. I left my name and number and asked for McCutcheon to call me, but she never did.
The pain, sadness, and frustration have worn down Wood, but she won't give up trying to get Mittel back no matter how long it takes, she said.
"I know he's as miserable as I am," she said.