They say if you drink alone often you might have a problem. I say if you're drinking craft beer alone you're simply missing out. North Texas is offering evermore beer-centric events (Untapped, Best Little Brewfest, North Texas Beer Week) that allow you to mingle with other hopheads, catch a live music act, and hoist brews with the folks who made them.
Now in its fifth year, Big Texas Beer Fest, held in Dallas' Fair Park Automobile Building, is one of the biggest. This year's event expects to draw more than 10,000 attendees over two days (Friday April 1 from 6:30pm to 10:30pm and Saturday from 2:00pm to 6:30pm). A record 140 breweries, including 55 from Texas, will be pouring beers that weekend.
I went for the first time last year with two of my good friends, and we already have tickets to return next week. For those who like to hunt rare beers I'll just mention a few I found: Kentucky Bourbon Stout, Jester King Montmorency vs. Balaton, Oskar Blues Bourbon Barrel-aged Ten FIDY, Texian Brewing's Charlie Foxtrot, and lots of special one-offs brewed just for the event.
Getting the chance to meet the folks who make the beer is worth the trip by itself. Plus, you'll be treated to live music acts like the hillbilly beergrass quartet Shotgun Friday. And there will be food trucks.
I chatted up the event's co-founder Chad Montgomery about his creation.
The biggest change for the festival this year was the addition of a second day, he said.
"Last year, we were sold out five days in advance," he said. "We got 400 messages afterward saying 'Hey can you sell more tickets?' So for us to be extending it to two days is a big deal."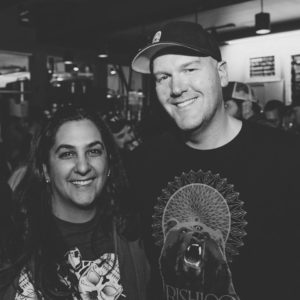 The idea behind the festival has always been to put the suds and breweries first. Five years ago, Montgomery couldn't find a North Texas event that highlighted special beers or the growing craft beer culture, he said.
"Our goal was to form relationships with local brewers so we can get some really good beers and show people all levels of craft beers, whether you're a beginner or somebody who has been deep into it for years," he said.
Surprisingly, more than half of visitors to past Big Texas Beer Fests have been first-time attendees. Montgomery sees festivals like his as a great way to introduce curious beer fans to new styles and breweries.
As for some of his favorite Fort Worth brews, Montgomery is a fan of Martin House's Salty Lady, The Collective Brewing Projects Petite Golden Sour, and Rahr's Bourbon Barrel Winter Warmer, among others.
On Tap this Week:
Big Texas Beer Fest
Tickets for the festival are on sale now here. Saturday's VIP tickets have been sold out for months, but everything else is available. General admission tickets are $39 and VIP can be had for $65. VIP tickets enable attendees to gain entrance to the event one hour early to enjoy all the rare and unique beers with minimal lines. The festival's hours are Friday, April 1from 6:30pm to 10:30pm, and Saturday from 2:00pm to 6:30pm. Each VIP session is set to begin one hour prior to the times noted above. Parking will be available at Fair Park for $10, but the event organizers recommend people use the DART rail or use their transportation partner Uber. The DART rail has a stop on the Green Line at Fair Park, dropping attendees just steps away from the venue.
On tap for next week is breaking news about a project the city of Fort Worth has in store to promote local breweries.