Dennis Farris spends his days photographing, painting, and discovering Mother Nature while making more than a pretty penny. The 51-year-old Kansas City native and his wife ViVi share a two-acre lot in East Fort Worth that includes a large house, a swimming pool, and a small house that Farris doubles as his art studio.
He said he paints about one piece per week. Sometimes aFarris' paintings sell fast.
His bestsellers are of mountains, rivers, and Texas nature, such as longhorns and fields of flowers.
Farris' paintings sell from around $3,000 to $100,000.
"Art sales are unpredictable at best," he said. "You might sell 10 pieces one month and then go two or three months without selling anything."
Farris began drawing as far back as he can remember.
"My sister and I would draw together, and at school we would compete with other students to see who could draw the best," Farris recalled. "All through elementary and into high school, I took art, and all the kids I used to compete with were all still there, so I figured that art is something that people are genetically inclined to do."
After earning his BFA from Central Missouri State University in 1987, Farris moved to Fort Worth in 1989 to work as a freelance commercial artist. He worked with Phillips Agency, Mrs. Baird's Bread, Miller Brewery, Shakespeare in the Park, and many others, until 2000, when he married. His wife had a good job with Lhoist, a global mineral and lime producer, so Farris jumped from the commercial art industry into the fine arts.
"It's a little riskier to paint what you like," he said. "In commercial art, they pay you more, but they tell you what to paint. In the fine art world, you can paint an image that means something to you. I have found more joy in the fine arts."
Although Farris paints mostly from the comfort of home, he also has been a National Parks and Wildlife Service artist in residence. At Zion National Park in 2010 and the North Rim of the Grand Canyon in 2012, Farris lived for free for a month at a time to paint the landscape and perform outreach. The images that he doesn't have time to paint en plein air, he captures with his camera. When he returns home, he sorts through the photos and paints from them. Painters may get only one hour to paint a nature scene before the light changes, he said.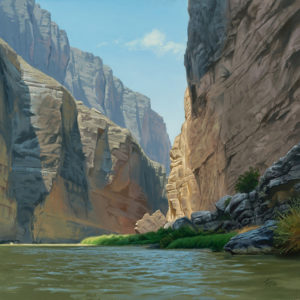 While at Zion, he stayed in a refurbished 1928 stone cabin located in the middle of the park.
"I got snowed in a couple of times, and I was by myself," he said. "It was so quiet and beautiful and awesome that I will never forget how peaceful it felt."
Along with painting longhorns, rivers, and natural scenery, Farris has been volunteering at Hangman's House of Horrors for the past 27 years.
D'Ann Dagen, Hangman's founder and former producer, knows him well.
"Almost three decades ago, I met a young Dennis Farris who volunteered to help birth our charity haunted house," Dagen said. "He not only drew and painted the iconic Hangman character, he composed the storyline of how the Hangman became legend. Additionally, [Farris] designed the posters and t-shirts promoting the event.
"Over the years," she continued, "I've witnessed [Farris] exhibit tremendous growth, both emotionally and spiritually, as an artist and as a man. He personifies talent, intellect, and integrity. If you want to start a Dennis Farris Fan Club, please allow me to serve as president."
Farris' paintings are currently on exhibit in galleries in Santa Fe and at Artspace 111. And online at farrisart.com.
"The art gallery world is in flux right now," Farris said. "With so much art selling online, brick-and-mortar studios are having trouble staying open."
Farris does not sell his paintings online, but he's active on Facebook, using the social media platform "to get visibility," he said.
Farris explained that the key to selling is to get the art in front of people. The more people see it, the more chance that one will feel emotionally attached to it and pull out his or her wallet. Art is personal. People have to identify with it somehow.
"Buying art is a total frill," Farris said. "It's not like buying toilet paper or toothpaste that you have to have. It is something that you buy with total disposable income. It is not something they need but something they want."
Farris will continue his journey as an artist in residence this summer in East Texas at Guadalupe National Park.