The Dallas Record Show passed the test, gathering 32 vendors to the Richardson Civic Center Saturday for its inaugural convention and attracting more than 500 buyers. The first event of its kind did well enough for a second event to be planned at the same location on July 23. The Dallas Record Show was worth digging through. Old rock records dominated, as expected. But there were a surprising variety of genres that included plenty of North Texas music.
It did not look like much at first glance, just a bunch of records on tables surrounded by four white walls. There were no DJs or bands, just a selection of rock from the '60s and '70s on loop that had many of the vendors rolling their eyes. One seller did not feel like taking 1,500 records back home and tried to sell them for $400.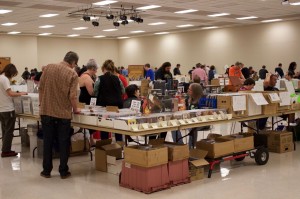 But most of the vendors said they were pleasantly surprised, even happy enough to do it again. Jesse Galvan, owner and operator of a 33-year-old independent record store in San Antonio called the Music Connection, has hosted the San Antonio Record Show four times in the last two years. Now drawing 50 vendors from several cities and more than 700 buyers, the convention in that city is a tremendous success and saved him from having to close his store.
With an auspicious first event here in North Texas, the Dallas Record Show should attract an even more enthusiastic response moving forward and likely best its predecessor. With fees considerably higher than what many local vendors have come to expect from swap meets and pop-up shows, some decided to wait and see if it was worth the time and effort. But the July event should attract more local dealers and those willing to make the trip from other cities.
There was no shortage of hip-hop, jazz, reggae, metal, and world music. There was also a great deal of local collectibles. A sealed copy of The Sound of Deep Ellum, the seminal collection of music released in 1987 from Island Records, was too good to pass up. It features the first music released from local legends like Reverend Horton Heat, New Bohemians, Decadent Dub Team, and The Buck Pets.
There were many surprising vinyl obscurities from the early days of North Texas hip-hop, most notably a copy of "Yellow Hammer," the 1988 single from MC K-Cold and DJ Rock D, which became an influential local hit; the asking price was $150. There was also a Decadent Dub Team EP signed by Jeff Liles, the current artistic director at Kessler Theater, from decades ago. It was sitting right next to an autographed copy of the first album by a band that Liles managed, local metal legends Rigor Mortis.
Galvan expects the Dallas Record Show to eventually double the attendance of its first event, which peaked surprisingly early, suggesting that hardcore record collectors — eager to grab the good stuff — made up for the majority of sellers. The convention opened at 10 a.m. and was swiftly packed with 400 diggers. By noon, traffic had slowed considerably and only another 100 came through the door for the rest of the day.