From Fort Worth's downtown, Dallas is little more than a half hour away, traffic permitting. The divide seems insignificant, but Highway 360 is all-too-often like the North Texas Mason-Dixon line. Granted, each bustling (and growing) city offers enough nightlife and culinary panache to justify being ambivalent about that "other" city.
But what exactly was I missing out on?
My visit began in Dallas' Arts District. Finding the area was easy enough. It's just south of I-30 and North Pearl Street. While The Fort has enjoyed a world-class Cultural District for decades, the Big D's corollary has exploded recently with the addition of City Performance Hall and Winspear Opera House. For years the neighborhood has housed established halls and art galleries like the Dallas Museum of Art, Morton H. Meyerson Symphony Center, and several others.
Nasher Sculpture Center is easy to navigate. Part of that convenience comes from the relative proximity of each gallery room. Famed architect Renzo Piano, who designed the Kimbell Art Museum's new Piano Pavilion, has a gift for effortlessly wafting natural light into his creation's space. In the Nasher's case, splashes of sunlight cascade through the vaulted glass ceilings atop the sculpture center's main floor.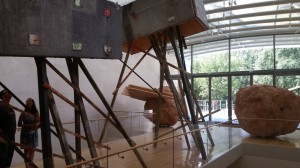 The center is home to works by Swiss-born sculpture Mai-Thu Perret through July 17.
On my visit, I was treated to large scale works by British sculpture Phyllida Barlow. The towering pieces induced an exhilarating feeling of vertigo. In the main entrance of the Nasher Sculpture Center, dumpster-sized wooden crates stood perched on 20-foot wood beams –– every inch of the artwork's surface spattered with plaster and paint. The air in the room felt thick, uneasy. It was a jittery and thought-provoking experience.
Downstairs, a maze of canvas stretched over poles occupying a 30 x 50-foot space appeared impassable , until I noticed a group of giddy children coming out of the thicket toward me. A Nasher guide must have noticed my perplexed look and gazed in my direction.
"You know, you can go in," she said, prodding.
I did my best to look casual as I stooped and ducked my way into the artwork. By the time I reached the room's interior, I could barely see where I had entered. For a moment, I thought about how disappointed I'd be if Barlow's London home wasn't chock full of awesome stuff like this. Indeed, the works were large but in a Lennie Small sense. The installations weren't trying to be imposing. They just … were.
On my way out, I stopped by the museum's gift shop where a sales associate told me locals frequent the store for its unique jewelry and custom prints by local artists.
My next stop was Liliana Bloch Gallery, an alternative art space that co-habits a building with the contemporary art gallery The Public Trust in an unassuming storefront northwest of downtown. Minimalist doesn't begin to describe the interior of the Liliana Bloch Gallery. The walls and floor are white. I imagine the space feels like God's Waiting Room when devoid of art.
Liliana Bloch is presenting an exhibit of works by Shawn Mayer through March 26.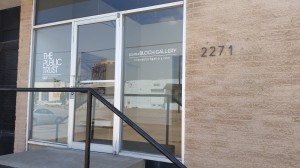 A few months ago, the space hosted works by Rachel Rogerson. The single-room gallery had a Zen-like feel of peace. Intentional or not, the works comfortably followed a left-to-right schema. The first photograph near the entrance was a phantasmagorical rendition of a quiet babbling brook. Everything in the image was peaceful, except the colors. The wilderness scene exploded in a psychedelic mushroom-induced joyride of vibrant, almost neon colors. This wasn't the Mother Nature Ralph Waldo Emerson mused upon.
Tlatelolco #28 by photographer Adam Wiseman seemed oddly out of place at first. Three nighttime portraits captured sidelong images of a non-descript 13-story apartment complex. Inside, tenants appeared comforted in their isolation, but in the context of the whole they were not unlike bees in a hive. The difference is that insects accept their interdependence while people fight that notion to the point of absurdity.
Klyde Warren Park provided a pleasant respite while I waited for the true life story event Oral Fixation to begin nearby. There was a little bit of everything going on at the five-acre outdoor park that connects Uptown with the Dallas Arts District. Oh, did I mention that the park is built over Woodall Rogers Freeway? Dallas, now you're just showing off.
The air did get a little fumey, especially when a trolley momentarily parked five feet away. I ordered the house burger from Relish, a diner-type eatery occupying part of the Nancy Collins Pavilion that houses several restaurants.
The park is a microcosm of urban life's pleasures. Gazing out from behind the air-conditioned confines of Lark on the Park, posh uptowners downed chardonnay in book club meeting quantities. On the large green space, a hacky sack slowly bounced its way around a wide circle of friends. After a leisurely hour wait, it was time to head to the DMA's Horchow Auditorium.
Have you ever had a personal experience so excruciatingly embarrassing that you wanted to tell a room full of 300 strangers about it? Yeah, me neither. But luckily seven speakers did that night. The program was straightforward. Several everyday folks with not-so-ordinary stories laid it all on the line over the course of two hours. Having never been to an event like this, my guest and I had no idea what to expect.
We lucked out with the night's theme. Oral Fixation director Nicole Stewart described the show as the "best of season four" in her brief introduction. Afterwards, Monica Berry opened with a humorous reminiscence from her childhood. Raised by her single father, Stewart reached puberty and struggled to communicate her feminine product needs to her dad who reluctantly bought tampons in bulk to avoid frequent trips. A sallow John Mathews told a heartbreaking story of running away from an abusive father only to be let down by the state foster care system. His tale ended on an upbeat note, though. The seventh and final speaker was Melissa Smrekar who recounted a gut-bustingly hilarious childhood summer camp experience with a fanatically religious camp leader.  It was sitcom-worthy.
Dallas offers an enviable list of options including Bishop Arts District, Small Brewpub, Lower Greenville, and NYLO Hotel Soda Bar, but a basement speakeasy sounded like it had the perfect blend of swank and booze. My guest and I did our best to find free parking before we remembered that when you're in downtown Dallas the closest free parking is over in Arlington (kidding!). Luckily, there's free valet service at The Joule. Once we were inside, we were guided down a short stairway to the hotel's popular attraction, Midnight Rambler Bar.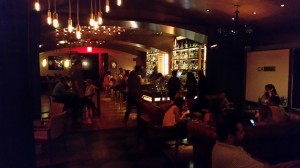 So what makes for an authentic prohibition-era drinking experience? Is it the layout? The cocktail choices? Frankly, I don't know what the criteria is, but Midnight Rambler hit all the marks I was looking for. The single cavernous room felt subterranean-chic with its dim ambiance and low curved cross-beams. But how were the drinks? First, I had decipher the menu.
The menu is separated into several sections including "Aromatic," "Sour Based," "Sparkling Cocktails," and, of course, beer and wine. More than a few women were sporting vintage cloche hats and matching cutesy outfits. One dude was wearing a piece of headgear that was new to me. A long, thin visor ran down the length of his head, hiding his face while he checked his phone. I must be hopelessly out of the fashion loop because I had to look this one up. Apparently this thing falls under "privacy fashion." The guy was either a celebrity or, more likely, a weirdo.
After we finished our drinks, we decided to give the Joule's main restaurant a try. CPB Provisions felt like something from Uptown Manhattan. As it turned out, it was restaurant week, so we pieced together our three-course meal from a customized menu. My picks were a show-stopping chicken liver mousse, smokey chicken leg, and buttery churros with melted caramel.
Even after 10 years of living in Fort Worth, I'm always struck by the enormity of Dallas when I visit. (And I do visit more than most Fort Worthians.) Change comes slowly in Cowtown, and we like to poke fun at our big neighbor for jumping on fads only to dump them in favor of next month's trend. But that's what makes Dallas fun and exciting. It's a dynamic, bustling city that's constantly redefining itself.