I never thought this would happen to me.
I was crushing on Kaitlyn, a beautiful blonde sitting on the other side of my English class at Central High School in Keller. When she laughed, my heart melted like the wax dripping off a well-lit candle. She was smart and hot, so I knew she was out of my league. But I didn't care. I decided to ask her out.
I thought maybe I would impress her by telling her I played forward on a basketball team in a church league. Girls like athletic guys, right? But as I was going for a lay-up a few weeks later, a pain in my groin caused me to double over.
I sat out for a few weeks, hoping that some rest would help me feel better. My groin had begun to swell, but it eventually went down. I returned to the court determined to play my best and win over the blonde beauty. Everything was going to be great.
But it wasn't.
I never did ask her out. Or anyone else for that matter. And my high school basketball career? Kaput.
The first sign that something was wrong came during student appreciation week. At a pep rally, the principal was drawing names for a gift card. I heard my name come over the loud speaker, and I climbed down from the top of the bleachers as the student body cheered me on. But when I got to the bottom, I was told my name was called because my parents had asked for me to be released early. I didn't win the gift card. Instead, I won a trip to the doctor's office.
For two months, my groin was causing a dull pain in my lower back. I had been to the doctor two days before, hoping to discover the cause of my swelling and pain. He suggested I might have had a massive hernia but did some tests to know for sure.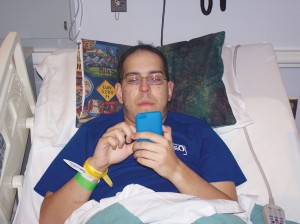 But this time, I was going to see a urologist. Something was wrong.
At the doctor's office, I was scared, but I didn't want to show it. If it wasn't a hernia, what could it be? My mind was racing through the possibilities. I wondered in the back of my mind if it was cancer, but that thought really scared me, because when I think of cancer, I think of death.
As I sat there in the exam room, the doctor uttered three words that no one wants to hear: "You have cancer."
My parents began to cry as I sat there stunned. I couldn't believe it. I was 17 with no history of cancer on either side of my family. Why me? The doctor talked some more, but I didn't care, nor did I really listen. I was still processing the information, and, in the back of my mind, I was hoping that it was just a bad dream and that I would wake up any minute and start getting ready for school like it was a normal day.
The doctor continued to talk, and I knew that it wasn't a dream. I lost it and began to cry. I cried so hard I had to leave the room. Whenever I think of cancer, I think of death. I had never heard of a story where the person came out on top.
I began trying to figure out how I was going to tell everyone. How do you tell all of your friends that you have cancer and are suddenly in a fight for your life?
Most of that next week, I wasn't in school much. I was sent off for more tests. The exams confirmed that I had testicular cancer. Testicular cancer? At 17? I hadn't even gotten to second/third base with a girl yet, and now my nut was getting ejected from the ballgame.
I was set to live one of my worst nightmares.
******