The Hollywood version of the artist studio is a large brick warehouse, usually with hardwood floors and grand bay windows overlooking a metropolis or the ocean. There, the lone artist creates and lives in the shadow of the big city.
The reality is far less glamorous, and if it weren't for the ingenuity of a band of Fort Worth artists, it would be hard for them to pull off renting individual studios. Last Sunday Christopher Bond, Tim Harding, Devon Nowlin, Tiffany Smith, and Sidney Williams celebrated one year together in their shared space on Grand Avenue, just north of downtown Fort Worth.
Although they don't open their doors to the public, they were generous enough to invite a handful of artists, colleagues, and their families to check out their works in progress, also offering a peek behind the curtain of youngish artists with robust art practices.
The space is raw, with exposed beams and unfinished walls that create four distinct spaces in which each artist can work. There is also a bathroom, a lounge, and a workspace with a handful of tools, paid for by each artist's contribution to a general fund. With that, Nowlin said, "we are able to purchase shared tools –– most recently, a table saw! –– and our/my long-term goal is for us to build up our equipment, continue saving money, get a matching grant, and find other partnerships that will lead to a public space where we can have studio rentals, exhibition space, workshop space, and a full studio of equipment that can be accessed by other artists in a membership model."
This follows two other successful models in the area. Dallas has 500X, a co-op space on Exposition Drive, founded in the 1980s, that is artist-run and membership based. The other is the new Denton endeavor Brick Haus Collective, whose mission serves emerging artists in a professional environment.
The artists in this space have stuck it out, through grad school and into the professional art scene, all along building relationships and expanding their influence.
Harding, a mixed-media installation artist fresh off a successful solo exhibit at Cris Worley Fine Arts in Dallas, described his experience working in this shared space as having "an increased sense of community and energy compared to my previous studios."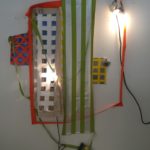 The sheer size of the building, he continued, "allows for being around the work of so many exceptional artists. We all work in wildly differing manners, but, for me, it creates an environment of creative energy that helps propel my own work."
Bond is a painter and works around formal issues in his paintings, often building models of what he paints. His current work revolves around the clichéd notion that his preferred medium is dead: "The canvases are manipulated to look like paintings in death or ailing, referencing the human body."
Smith, an assistant curator of education at the Modern Art Museum of Fort Worth and a former member of 500X, works in porcelain, foam, and other forms of sculpture: "My experience with the shared space of Grand Studio has been splendiferous," she said. "We have shared ideas and shared tools. There's also an unspoken accountability. I know they notice when I haven't been in the studio in a while, and it shames me into productivity."
Williams, 24, is the youngest of the group and has just finished her BFA at TCU and will be traveling to Japan soon to work with master potters. She sees her sculptures as a way of exploring "spatial relations through the use of duplicated/reproduced objects." She also said she's interested in "how the objects can be arranged in such a way that creates an interaction within the work itself while calling attention to the space the objects coexist in."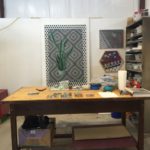 Nowlin is "really excited" about the space, she said. "We are a small group of artists who have banded together to take care of each others' needs and hope to develop a model for support that more artists can take advantage of, and hopefully this is just the beginning of that. But it's not really the beginning, you know? We're kind of in the middle of that plan."
Bond said, "This is the first time, outside of grad school, for me to have a studio not in my home. With my family growing, my studio space at home is dwindling. It was time to separate my home life and art practice."
The arrangement among the artists at Grand Studio feels organic and appears to engender hard work (being about it, not just talking about it). They are professors, educators, and artists down to hustle within a system they are helping to define.