Le Cep Restaurant's co-owner and chef Sandra Avila made a splash on the restaurant scene two years ago by offering her Parisian cuisine in a price fixe menu of four or eight courses. But beginning this week, Avila's menu now includes à la carte items. Stand-alone goodies are larger portions of her standard menu offerings, and will be available Tuesday through Thursday evenings. The eight-course Discovery menu and four-course tasting menus will still remain weeknights, and will be the only options on weekends. A cheese course and a selection of matching wines curated by Avila's partner and husband David are also available.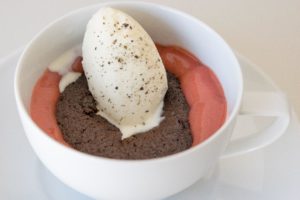 Avila said that the additional menu is her response to consumer demand. The Discovery menu can take upwards of two hours to enjoy, and apparently customers have been asking for the ability to pair a couple of small plates with a bottle of wine. In the adapt-or-perish world of Fort Worth food, flexibility is important.
"And summer is a good time to experiment," she said.
Le Cep's menu changes every six weeks. Current items on both the à la carte and standard menus include tuna with eggplant, zucchini, peppers, and pine nuts, and an herbed pork tenderloin with cauliflower.  For starters, there's a take on caprese salad with sweet grilled peaches and sliced rounds of mozzarella accented with a balsamic glaze. Duck is Avila's signature offering. This month, the feature is a duck breast with sweet figs, subtle hints of rosemary, and fingerling potatoes. The barley-seared scallops Saint-Jaques in a mint vinaigrette atop a watermelon square are a perfect summer meal, especially when paired with the Decoy Sonoma County chardonnay. Desserts include a large coffee cup packed with chocolate cake, melted Valrhona chocolate in the center, topped by a scoop of vanilla ice cream and rimmed with a gorgeous strawberry and  pink peppercorn sauce.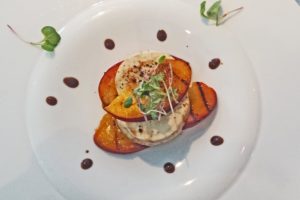 The à la carte items ranges in price from $12 for soup, salad, or dessert to $24 for the duck entrée. Although the menu's a little more flexible, there are only about 15 tables in the restaurant, so reservations for either the full menu or the new à la carte features are, as always, a good idea.