We've known a lot about Texas Rangers outfielder Nomar Mazara since he became a rich man at the age of sixteen years old. The Rangers paid the Dominican millions to join their organization, and baseball's prospect evaluation machine kicked into overdrive.
Mazara's tools and his record signing bonus made him a buzz-worthy player, as had his rapid progression through the minor leagues. All of the prospect-rating services had him highly ranked headed into this year, and he has not disappointed since making his Major League debut in April.
The team's minor league system has annually ranked among the game's best the past few years. The organization has produced loads of touted prospects. Mazara has one unique quality that makes him stand out from other latter-day projected future stars: his position.
Homegrown infielders like Ian Kinsler, Mitch Moreland, and Rougned Odor have joined organizational pitchers like C.J. Wilson, Derek Holland, Tommy Hunter, and Martin Perez on recent postseason rosters.
Far fewer DIY Rangers from Mazara's position group have starred in recent Octobers. The likes of Josh Hamilton, Shin-Soo Choo, Nelson Cruz, and David Murphy arrived via trades or free agency. The idea, then, that an outfielder the club signed and developed has become close to a can't-miss prospect creates excitement – excitement like we haven't seen since . . . since . . . how about Juan González and Rubén Sierra?
The Rangers have had only two players ranked as a Baseball America Top 50 outfield prospect since the rankings began in 1990. 1992's number 40-ranked Terrell Lowery played 123 Major League games, none of them with Texas. The other one we'll get to in a moment.
I discussed the Sierra/González comparisons with three long-time Rangers experts :  broadcasters Steve Busby, Tom Grieve, and Eric Nadel. All agreed that the overall level of prospect hype has grown significantly since the mid-to-late 1980s when Sierra and González came of age. Grieve pointed out that we had no Newberg Report, no sports talk radio, and a much lower profile for the Baseball America publication.
In general, however, all three pointed out that when Sierra and González did arrive, it was with as much fanfare as the era could muster. Nadel remembered then-Rangers hitting coach Tom Robson pointing out Sierra's five tools and calling him "the franchise." That first Baseball America Top 100 list in 1990 had González ranked fourth in all of baseball, trailing top-ranked Steve Avery as well as Ben McDonald and Jon Olerud. More ratings services exist now, and Mazara's highest slot has been a fifth place by Baseball Prospectus.
Mazara, then is close to the Caballo/Igor level of prospect status (and after two consecutive A.L. Rookie of the Month awards, pretty much moved from being designated a prospect to becoming a bona fide Major Leaguer). The difference, as Grieve sees it, is certainty. As the Rangers GM at the time, he had better information than anyone about players' talent levels, and he noted that pretty much everyone knew that Sierra and Gonzalez would be stars. Their "future was more visible," as Grieve put it, than Mazara's at this point in their development cycles.
That doesn't mean the broadcasters don't envision a potential perennial All-Star future for Mazara. Both Nadel and Grieve suggested that his body reminded them of González. Busby praised Mazara's calm demeanor and his makeup, citing a May 10 pinch-hit appearance in which Mazara patiently worked a walk one night after going 0-6. He thought Mazara might be a more disciplined hitter than either Sierra or González were at a young age. The panel of experts are all excited by Mazara's power potential, his hit tool, and his arm – qualities they admired in Sierra and González as young players.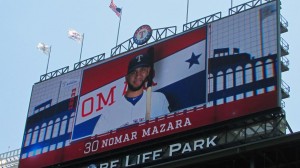 Rangers fans hope the young Dominican's results match those of his 80s predecessors, including a similarly regarded outfielder named Sammy Sosa. They'd probably also be happy with a career matching that of Rusty Greer, whose name Nadel brought up. Greer never made a Baseball America Rangers Top 10 prospects list, much less a national one. Grieve noted that nobody in or out of the organization foresaw the 10th-round pick forging a career worthy of induction into the Rangers Hall of Fame.
Grieve also mentioned a pair of highly anticipated mid-80s outfielders who never quite matched their college production, Oddibe McDowell and Pete Incaviglia (whom the Rangers didn't draft, but for whom they traded before he made his pro debut in the Major Leagues). The duo's solid but not exceptional careers demonstrate that there is no sure thing when it comes to predicting players' futures. An even better example might be that of the only other Rangers outfielder named a Baseball America Top 10 national prospect. Rubén Mateo placed ninth in 1999 and sixth in 2000. The Dominican Republic native broke camp with Texas in 2000 and was hitting .291 with a .786 OPS when he suffered a terrible leg injury in his 52nd game of that season. The five-tool hopeful would play only 40 more games for the Rangers and never realize the promise his hype might have indicated.
Mazara has played 63 games going into tonight's game against the team to whom the Rangers traded Mateo, the Reds. He is hitting .291 with a .780 OPS.
Every player needs a little luck to succeed. For Mazara's sake, and that of the Rangers, we'll hope he avoids injury and becomes the next Rangers outfielder to remind us of Señor Octubre.