Cobra Brewing Company
We Lewisvillites still brag about our 1993 and 1996 Lewisville High School 5-A football state championship wins like it was yesterday. I grew up in the city, now home to Cobra Brewing Company. Considering our sizeable yet sometimes overlooked presence in North Texas, I was excited to hear that a brewery was opening in my hometown. Last week, I had a chance to visit the newish brew site located just south of a slowly gentrifying East Main Street.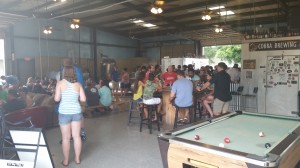 The open air brewery gets hot inside. Keep this in mind when you visit the tap room space. Luckily, there's plenty of shade and fans inside the large metal hanger, which is pet/kid friendly. Fridays (5 to 10pm) and Saturdays (12 to 5pm), $10 buys you a custom pint glass and three beer samples. Or, you can buy individual pints ($4 to $6) or flights ($8).
Darts, billiards, and corn hole games are spaced around the sprawling local, which also has a large, fenced-in outdoor space. A food truck was serving fried ribs and hot links during my visit.
Cobra Brewing has one of the largest selection of brews (12) I've ever seen offered at a tap room tour. The options range from light session beers to hefty double IPA and stouts. My favorite, The Donut Dunker, had a light body and delicious maple and coffee notes. Dawn of the Dank was a high ABV IPA with little bitterness and rich, fruity flavors.
With the annual Best Little Brewfest in Texas held nearby and dozens of boutique shops and restaurants sprouting up along East Main Street, Cobra Brewing is just one more offering that gives us locals something new to brag about.
44BOOTLEGGER
I recently stopped by the former upscale retail space to see what all the buzz was about. The name hasn't changed, but the Near Southside bar now serves 44 wines and 44 craft beers. The spot's co-owner Tommy Brown has been imbibing craft beer for 20 years, first at The Flying Saucer Draught Emporium and more recently at The Bearded Lady. His new venture sells bottles to go. Patrons can grab a bottle of their favorite suds, step outside, and pop the top. Yes, you can legally drink from open containers along Magnolia Avenue. It's a little known fact that Brown hopes to capitalize on. Soon, he'll mount bottle openers on the brick wall outside his bar. I plan to visit Tommy and Tammy for a longer article in the near future. Follow 44BOOTLEGGER's Facebook page to keep up with this rapidly evolving beer and wine bar.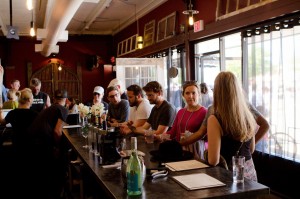 On Tap this Week:
Pints for Prostates
Fort Worth's Flying Saucer Draught Emporium (111 East 3rd Street) is teaming up with the nonprofit Pints for Prostates to raise awareness of prostate cancer. Participation is easy. Stop by Flying Saucer any Wednesday evening from now until June 29. At 7pm, 144 participants can purchase a pint of the featured beer of the week. The signature pint glass is yours to keep. Proceeds benefit Pints for Prostates and come with a raffle ticket good for a "European Beer Tour" drawing.
The Toadies return to Martin House
From Martin House: On Sunday, June 26th, The Toadies are coming back to Martin House Brewing Company for the band's third live performance here and to launch of two new beers: Stars Above and Hell Below.
There are a limited amount of tickets available, including a VIP option which includes one extra beer and a meet and greet with the band.
Grab your tickets here.
Texas Beer Camp
It's not too early to start planning for Texas Beer Camp, an annual 24-hour festival "where you can bring your own beer, share your beer with fellow campers, listen to some amazing music, learn about home brew, watch home brewing demonstrations, and make new friends." The camp takes place October 1 and 2 in Princeton, Texas. More information is available here.
On tap for next week is an interview with two local veterans who are going to revolutionize the way you (and everyone else) holds a beer pint glass.