Business owners along East Lancaster Avenue have pretty much seen it all –– druggies, drunks, panhandlers, thieves, trespassers. Just about anyone who operates a business along the city's most notorious street has dealt with these problems and plenty more since the area fell into decline about 30 or 40 years ago. Scott Dyson, who owns the 20-year-old music retailer Competition Music, wasn't too excited when he heard about the city's potential plan to spend $107 million to increase mobility, attract shoppers, and give business owners along East Lancaster a much-needed boost. Dyson has heard this old song before.
The plan would focus on a portion of East Lancaster: six miles of six lanes divided by a median. Transportation officials want to remove two lanes –– one in each direction –– and add bus lanes, sidewalks, and bike lanes with buffers, or strips of concrete or landscaping that put space between oncoming traffic and pedestrians and bikers. Dyson immediately pointed out a flaw.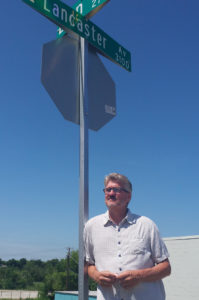 "None of these health nuts on bikes are going to be coming to East Lancaster to ride," Dyson said. "Mainly, the homeless and crack heads are going be on the bikes [for a] quick getaway."
Dyson isn't alone in his thinking. Business owners along the street doubt the plan's ability to actually make much difference in their bottom lines. People working on the street that is Ground Zero for the city's homeless population can't miss the obvious signs of neglect. The street itself isn't the problem. Drivers aren't dodging potholes. They're more likely to be swerving to miss a homeless jaywalker. Fixing the devastation in this part of town might take a miracle.
The powers that be, however, don't seem to be lacking in hope, even if they're short on cash.
******