Marshall Harris is as big and tall as you'd expect a former NFL player to be. At 6'7" and 280 pounds, he defies the stereotypes of a one-dimensional athlete. He is also the 2013 winner of the $50,000 Hunting Art Prize for "Round Up: B.F. Smith & Son Saddlery Circa 1940-1942," a massive photorealist pencil drawing of a saddle.
Although drawings account for most of his current output, he still dabbles in sculpture –– the Southwest High School grad's MFA from TCU is in the three-dimensional medium. A good selection of a lot of his work is up now through July 27 at Fort Works Art, the newish Cultural District gallery where the veteran Fort Worth artist's solo exhibit, Do Not Try This at Home, opened a couple of weeks ago. The show covers most of Harris' career, and over that time he has not only made art but also has had time to reflect on others' works. His 25-point evaluation system for judging art is a rubric he devised in which five points are awarded for each of five categories to determine the merit of a piece of art: his as well as others'.
Harris revealed this, among other things, at a talk at the gallery last week. His system proves to be a useful metric for evaluating the show.
The artist asks the following questions of a piece: Is it interesting or engaging? Is it unique in style or execution? Does the artist have a command of craft? How intellectually engaging is it? And, finally, what is its potential for longevity?
We can skip the last question because when it comes to longevity, time will tell.
So is the work interesting or engaging?
Sure. There is no denying the mind-numbing skill that Harris employs to create these sprawling drawings. "Slipping the Flesh and Bone of this Mortal Coil" is one example. The 120-inch-by-300-inch graphite-on-Mylar drawing forms the center of a larger sculptural piece. It depicts meticulously rendered clouds and is nothing short of monumental.
Harris described working in one square-foot section at a time and articulated the difficulties in rendering such detail over a large swath of surface space. Above the cloud drawing are approximately 4,700 clippings from obituaries that Harris collected over the entire year of 2012.
Although it is indeed interesting to look at, it is not necessarily intellectually engaging. Indeed this is not one of the artist's goals for his own work. He spoke of his "window of accessibility" philosophy: "I work figuratively. I present an object that you recognize, so there's an immediate connection between viewers and the artwork. At that point, the work can either become decorative or deeper." He went on to declare that his work isn't decorative.
Looking at this level of detail and skill while listening to Harris talk about materials and processes, it was difficult to see beyond that connection to intellectual space.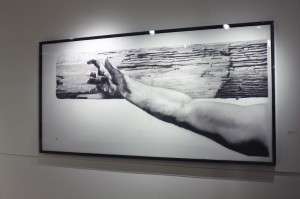 This is not to say that his work is void of content. It isn't. Indeed he described a very personal connection to his work that also gives insight into the religious aspects of some of the drawings, including one that depicts a cropped image of a crucifixion ("The Burden of Honoring One's Father") and another of a figure holding a crown of thorns ("Magdalene").
It was September 11, 2001, and Harris had a breakfast meeting at the World Trade Center at 8 a.m. He woke up late and decided to skip the meeting. He walked directly to another meeting, this one at another location, where he heard the first tower collapse. He recognized that he had been spared a terrible fate. As he reflected on that fact later in Central Park, he recalled saying, "Someone intervened and said, 'No, you weren't supposed to be there. You were supposed to be here, and you're supposed to be doing something different.' "
That something different meant leaving his display business, going to grad school, and devoting time to his studio practice, which eventually led to this exhibit. And to that $50,000 prize.
The brunt of Do Not Try This at Home occupies that ambiguous spot between uniqueness and novelty. Harris is, after all, not the first artist to draw clouds, nor the first to work on vellum (although he deserves credit for being perhaps the first artist to draw from a photo negative and then scan and invert the image to create a positive).
The level of craft in these pieces is undeniable, but it stands in direct competition with the content. Where the artist seeks to spark conversations by giving his audience a window of accessibility, that easy access hooks the viewer at the expense of everything else.
Christopher Blay is an artist, writer, and curator with a BFA from TCU. His upcoming installation is a response to historical violence against African-Americans. Based on the fictional character KaraWalkerTexasRanger, "KWTXR" will be on display thru Aug 20 at the South Dallas Cultural Center. The opening reception is 4-6pm Sat.
[box_info]Do Not Try This at Home, by Marshall Harris
Thru Jul 27 at Fort Works Art, 2100 Montgomery St, FW. Free.
817-759-9475.[/box_info]