A gold-colored pit bull crawled out from under a ratty car in an East Lancaster lot the other day and looked ready to charge an intruder. This wouldn't be a problem, except the intruder was me. The dog's owner, a mullet-sporting businessman who didn't want to give his name, said the aggressive dog scares away potential thieves. Countless times, Mullet Man said, vagrants have hit up his car lot for spare parts or anything else they could take. He recalled a group of homeless guys who got their kicks by chucking rocks at his shop for no apparent reason.
Loud gunshots and prowling prostitutes rarely concern Mullet Man. What puts his heart in his throat is witnessing the everyday suffering of good people. Last winter, an elderly homeless woman slept on his property, using a light pole, part of a chain-link fence, and a tarp for shelter. She huddled underneath to stay warm all winter, yet she refused food or money when it was offered. Her strength of spirit and prideful manner impressed him. Throwing millions of dollars at street improvements isn't going to help people like her, or business owners like him, he said.
"This ain't no place to turn into Camp Bowie," he said, adding that money would be better spent "taking care of the people than the street."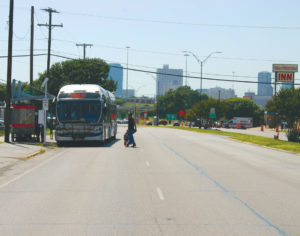 The first thing he would do, he said, is to install controlled crosswalks at every bus stop on the street. He sees folks get off buses every day and scurry out into the road. Cars have hit jaywalkers in the past. Mullet Man once clipped an errant pedestrian himself, he said. Spending money on the people makes more sense than spending it on concrete. Other people running businesses in the area said the same thing: Spend the money on the people. That way, the vagrants might become productive citizens rather than the downfall of the businesses and the general quality of life for everyone else.
North Central Texas Council of Governments officials aim to help the neighborhood with their plan. Formed in 1966 by state legislation, the association of 13 locally elected executive officials assists North Texas municipalities with planning and development. Council officials say 37 percent of residents in the East Lancaster area are below the federal poverty line. In April, the council applied for a Transportation Investments Generating Economic Recovery grant, a.k.a. a TIGER grant. Connecting area residents with jobs via affordable and safe transportation might be as easy as spending a ton of money and as improving transportation options to and from businesses. This stretch of historic pavement intended for renovation runs from Pine Street near downtown to East Loop 820. The TIGER grant would inject $25 million from the federal government toward the $107 million goal –– less than a fourth of the money needed. The Texas Department of Transportation and the Council of Governments vowed to put up the remaining $82 million. The officials are expected to know whether or not they have received the grant this fall.
"The project is designed to revitalize an important economic and socially significant corridor in southeast Fort Worth and return the corridor to a vibrant community asset," reads the TIGER grant application. "The completed project will reestablish East Lancaster Avenue as a centerpiece for economic development and social activity."
Longtime Eastside advocate Wanda Conlin said this possible grant could be a "game changer" in returning East Lancaster to some level of respectability.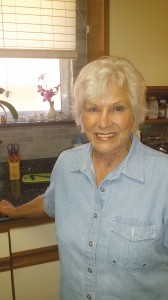 "We've got what they were saying the grant is for," Conlin said during an interview in her Eastside home last week. She smiled wide and nodded her head. "We have those needs."
The  Obama administration  stablished the TIGER grant in 2009 to provide alternate means of transportation to create jobs and stimulate the economy. To qualify for a TIGER grant, applicants must pitch ideas that will produce affordable, high-quality transportation. Environmentally sustainable modes of transportation are preferred. The grant has funded 381 projects in all 50 states, in addition to the District of Columbia and Puerto Rico. The cost of all these developments? $4.6 billion. Competition for TIGER grants is fierce. The U.S. Department of Transportation reports that 584 applications have been received this year requesting, in total, $9.3 billion. That figure is more than 18 times what the federal government is planning to distribute: $500 million.
City leaders have been discussing plans to improve East Lancaster for decades. Few of those lofty goals have come to fruition. This time, area bigwigs like Tarrant County Commissioner Roy Charles Brooks and Council of Governments Director of Transportation Michael Morris are promoting the project. Conlin's face lit up at the idea of bringing back the old Lancaster, a thriving place where people shopped, went to church, and interacted as a community. Once the highway starts looking better, she said, developers might be more interested in building shops and industrial complexes nearby.
Council of Governments officials will not say whether they are confident in their chances of receiving the TIGER grant. They tried for it numerous times over the years and have received money for four projects.
Representatives from the city, the Council of Governments, TXDOT, and Fort Worth Transportation Authority are who decided to apply for the grant. The Regional Transportation Council, a policy body within the Council of Governments that selects and guides projects, approved the application.
In the last few decades, the street's reputation has plummeted. The crime –– and the woes of local residents –– intensified after city officials established a network of shelters, clinics, and missions in the area specifically for Fort Worth's homeless population. Storefronts are looking empty or shabby these days, and the sidewalks are often overrun with transients, not exactly what business owners are craving. Some have fled.
Conlin cringes at the memory of visiting a store recently and chasing away a persistent panhandler who was harassing a mother with a newborn.
"We were given a challenge when they gave us all the shelters," Conlin said. "We haven't known what to do with it. It's been a constant battle."
******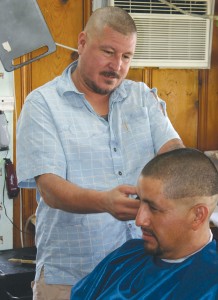 Customers filled the only two barber chairs at the small hair salon on East Rosedale Street on a recent afternoon. A third customer waited for his turn in one of the plush seats. This is business as usual at Delia's Beauty Salon. The shop hasn't seen any uptick in customers since the city renovated the street last month and will continue to work on the road well into the future. City officials, using funds from various civic partners, pumped $17.5 million into the rundown boulevard. Locals say the landscaping, along with new signage, sidewalks, and striping, spiffed up the neighborhood.
Barber Freddy Mora loves the new look. The renovations haven't translated into more customers at his salon, he said, but he knows a guy who runs a convenience store nearby whose business has "improved a lot." But this East Rosedale renovation isn't an apples-to-apples comparison to the hoped-for East Lancaster project. The Rosedale project wasn't an attempt to improve mobilization as much as spruce up the street.
Fort Worth officials have never used a TIGER grant in the way they intend to on East Lancaster. The street is unlike any other in town. It began in the early 20th century as a federal highway stretching from the Florida coast to Fort Worth and beyond, a major east-west route for cross-country travelers. Motels, car lots, diners, auto repair shops, and many other businesses geared toward motorists passing through lined the street. Back then there wasn't an I-30 or I-20 to compete for travelers' dollars.
The popularity of the interstates turned East Lancaster into a de facto city street rather than a major highway. Businesses aimed at travelers fell into decline, and local entrepreneurs didn't rush in to refurbish the storefronts. By the 1980s, the street and the surrounding neighborhoods were more like afterthoughts.
Modern day business owners remain less than thrilled, even with the prospect of an infusion of more than $100 million in improvements. Many of these folks say the new plan dances around the actual problem. The street doesn't need attention. The people on the street do. Do Kim, owner of Do's Donuts, said his customer base has dwindled in the one-and-a-half years he's been at 4710 E. Lancaster Ave. Homeless people and panhandlers loiter on his property and deter paying customers. Kim wants to see more police in the area rather than street repairs. He once called police after an incident at his shop, but the cops didn't show up until two hours later.
He expected a quicker response and would prefer that homeless people saw more police officers on the beat.
"Let [the homeless population] know that there's law enforcement," he said.
The 2014 bond election pumped $1.3 million into street improvements along the same area of the avenue. The money paid for new signage, traffic lights, and sidewalks, and Kim and other business owners appreciated the attention. But they say more work needs to be done to fix this dying dog of a street. Kim suggested money be invested in fixing the many abandoned, crumbling buildings on the street.
"We still need to look at how to make this place better, permanently better," he said. "City codes, city enforcement, and police enforcement –– those are the main things we need before any other improvement project."
Plus, this plan doesn't give East Lancaster business owners and residents many new features or ones that haven't been tried before. The proposed buffered sidewalks would provide more safety for pedestrians, but, the fact is, the street already has sidewalks. There aren't any bike lanes, but people still ride bikes along the street. More bus stops might be nice, but there are already bus stops. The plan is to add rapid tranist features to the Spur bus (short for "signal, priority, urban, route"). It needs bus-only lanes, and fares are collected not on the bus but at select stations around town. Transportation authorities believe this improvement will get people where they need to be more quickly. Still, most locals think the federal government's fancy grant is only going to alter slightly what's already there. And taking away two existing lanes and replacing them with bus and bike lanes seems counter-intuitive to some business owners hoping to attract more customers.
Most East Lancaster regulars say they would prefer to have three lanes in both directions, rather than two. They've seen the days when I-30 backs up due to a wreck or highway construction and all the cars looking for an alternate route flood East Lancaster. The Council of Governments' public improvement manager, Amanda Wilson, said the lane reduction shouldn't cause the problems that people are dreading. Removing two lanes is more than offset by increasing the availability of public transportation and bike mobility, she said.
"It will allow for the addition of accommodations for the Spur bus rapid transit, bicycles, and pedestrians," she said.
The plan may seem ridiculous to business owners who need solutions now, but transportation and city officials have the bigger picture in mind. Cutting down the usage of cars is the end goal to accommodate Fort Worth's growing population. Fewer cars equals more walking, biking, and use of public transportation. Officials hope these new methods of getting around will lessen street congestion and make getting around town more affordable.
Conlin has noticed a younger crowd occupying homes in the East Side in recent years and predicts the demographics will eventually shift from older folks to new families and children. The area needs more retail shops for families, she said. That's one of the reasons she said the TIGER grant is needed –– it will take care of a new generation of Eastsiders. The self-proclaimed optimist said she is "60 percent" sure that the TIGER grant will come to the neighborhood. She points to her red-and-blue glass phoenix trinket among her many other miniatures. Maybe, she said, East Lancaster will rise from the ashes like the symbolic bird, like the renovated Berry and Rosedale streets before it.
"It's time for East Lancaster," Conlin said.