Revolver Brewing Purchased by MillerCoors
The craft beer market has proved yet again that it's as unpredictable as Donald Trump's Twitter feed. Yesterday, Revolver Brewing's owners announced that MillerCoors, though its craft beer arm Tenth and Blake Beer Company, has bought a majority stake in the Granbury-based business.
What does this mean for consumers? Probably nothing. In fact, these buyouts are becoming more and more common as large corporations realize that the best way to stay ahead of the craft beer movement is to buy into it. I have yet to hear of one case where a micro brewery was ordered to lower production standards after changing ownership, and we shouldn't expect that to happen with Revolver.
Social media forums are already flooded with naysayers accusing Revolver Brewing of "selling out." For my part, I happy for them. The folks there have worked their butts off and made some damn fine beer while supporting their community. You can expect follow-up reporting from me on what this news means for the brewery staff there.
Revolver Brewing Company
As we drove onto a small dusty road 30 minutes after leaving Fort Worth, my friends and I weren't sure if we were near it yet. A wooden sign baking in the sun read "Revolver Brewing Company." It was our only sign of hope. The Granbury-based brewery has been on the top of my beer bucket list for several months now.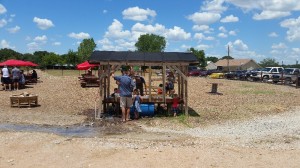 Even the craft beer unwashed know Blood and Honey. The wheat beer has garnered Pokémon Go levels of popularity for the past few years. While that ale has gone mainstream regionally my two friends and I prefer several of Revolver's other, lesser known brews. Before I accidentally snub Blood and Honey, and possibly shoot myself in the foot, I have to say that my favorite Revolver beer is made directly from the popular ale. Sangre y Miel is Blood and Honey aged in Chardonnay barrels for one year. The result is Revolver's first sour beer. And it's delicious.
Anyone who has ever been to a Revolver taproom tour tells me the same thing: "You're going to love it!" Yep, they pretty much shout it at me. The sprawling brewery is impressive and spotless. A $10 admission fee left us with a new weizen beer glass and a wristband worth four pours. The first tap wall I walked up to seemed to only offer four of Revolver's flagship beers. Those are great, but I'd hoisted them all before. Later on, I found a second tap wall with newer offerings. (The first tap wall might have had them too, but I might have missed it.) That day, I was introduced to two new friends — Land Grab Ale (a spiced beer exploding with floral hints of chicory root, lavender, and artemesia) and Full-Tang IPA (a pale ale brewed with tangerine peels).
Rounding out that afternoon was a catering barbeque business that worked admirably but seemed a little overwhelmed by the crowd. The beergrass/hillbilly outfit Shotgun Friday provided live music. I can honestly say that this group seems to be everywhere. Or at least, at every brewery that I visit.
We had a chat with Ron Keisler, the amiable and jovial co-founder/co-owner (along with his son Rhett) of Revolver. He joked about knowing more about the building than the beer, but when he led the taproom tour he held the audience spellbound with tidbits about the brewing operations.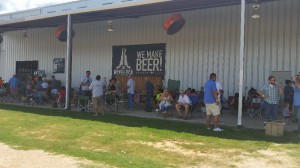 As a dad, I feel I should add that Revolver has one of the most family-friendly brewery spaces offered anywhere near Fort Worth. I appreciate that every craft brewery works to be a family/pet-friendly destination by being smoke-free and providing outdoor games and food, etc. But some brew spaces remain deafeningly loud inside while others don't provide enough circulation to keep open air taprooms below sweltering levels. Revolver offered ample shaded space, primo fan-based circulation, and an outdoor water play area where kiddos could get soaked and cool off.
All the Revolver staff and volunteers we met generously gave their time, either telling us fun facts we didn't know or listening to us wax poetic over our favorite beers there. Revolver may be off my bucket list, but it's still high on my other list: Places I need to re-visit soon.
Don't forget to follow On Tap in Fort Worth's Facebook page.
On Tap this Week:
Revolver Brewing Company Saturday (12-3pm) Tours
Revolver Brewing Company
5650 Matlock Rd, Granbury, TX 76049, 817-736-8034
Fort Worth Weekly Best Of 2016
We've added some new categories this year, including best brewery, brewer, and beer selection. Cast your votes here. The results will be printed in our Best Ofs edition September 21.
2016 Fort Worth Weekly Homebrew Throwdown
The Weekly is proud to announce its second annual homebrewing contest as part of North Texas Beer Week. We are still finalizing details, but now would be a good time to start planning for the November 20th event at Panther Island Pavilion's The Shack. If you're a homebrewer interested in participating, please e-mail Edward@fwweekly.com
Martin House Brewing Company releases Tip Jar
Want to support local bands while keeping up with the latest Martin House brews? Of course you do. This Saturday starting at 2pm, Fort Worth's Flying Saucer is hosting a concert featuring performances by The Paychecks, Shotgun Friday, The Hazardous Dukes, Atlantis Aquarius, Matt Teder, Natural Anthem, Chucho, Vincent Neil Emerson, and others. A portion of the proceeds benefits Camp Sweeney, a diabetes advocacy event.
Tip Jar is a beer collaboration between 13th Floor Music and Martin House Brewing Co.