Dallas Wings guard Erin Phillips left the team for a month earlier this season for a trip to a popular vacation destination. Phillips didn't take a holiday and she didn't spend her time sunning on the beach. She went to Rio de Janeiro to play hoops for her native Australia in the Olympic Games.
Sports should inspire kids, and they often look up to pro athletes. Indeed, driving young people to participate in physical activity is ostensibly one of the Games' most important purposes. So for the interview about her Olympic experience, I sought the input of one of those aspiring athletes – someone who might draw inspiration from how the 5'8" Phillips has succeeded in a sport where she often looks up at taller players. My 9-year old niece Eva (who herself stands a bit over four feet tall), came up with these interview questions (with a little guidance on phrasing from Uncle Rush) and supplied them to me to ask while she was in school.
Eva: Who inspired you to want to be an Olympic athlete?
Erin: I wouldn't say there was any just one particular person. There are a couple of specific moments in an Olympic event that I thought, "Wow that's pretty special." There was one where Cathy Freeman won gold (Freeman won the 400-meter dash in Sydney in 2000). Another strong athlete, Kieren Perkins, who won gold, I think, was in the 1500 (Perkins won two golds and two silvers swimming in three Olympics). Those I remember vividly just, well, how inspiring, that must be really cool to win an Olympic gold medal.
Eva: Did you feel special pressure when playing because it was the Olympics?
Erin: Yeah, there's always an extra element of pressure, but I wouldn't say was anything off-putting. It was more inspiring, I guess. I think it was more use in a positive way than a nervous way, but I think getting butterflies before a game is really good. It just obviously means that
whatever you're about to do is pretty important to you.
Eva: How was it different from any other basketball games?
Erin: Just the world's watching you. That's about it. It's the pinnacle of the sport to be in the Olympic Games and being an Olympic athlete, so, like I said, there's an extra element of just how important it is and just the amount of attention that the Olympics gets itself. So, yeah, it's definitely different.
Eva: Which adjustments did you make to get better during the tournament?
Erin: When you start off at any tournament, really, you do some warm-up games pre-Olympics and you really want to take that momentum and carry it through to the Olympics, because you can't just start okay first game, you haven't played for a while. So we've got to make sure that we've played, we're in a rhythm. And then every team that you play, that's why, again, it's unique, is every team that you play is different. It's a different country. It's a different style of basketball that you're playing against, from Japan, who is just unbelievably quick and fast, and then you have a team like Turkey, who's more half court. So you kind of just adjust and evolve with every team that you play against. We make adjustments when we watch film postgame and watch some things that we needed to be better the next game and we will go on and generally practice and get ready for the next.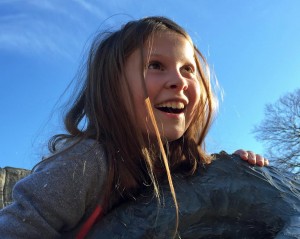 Eva: Did your family stay with you the whole way through (meaning, did any of them physically go with you, or if not, how did they support you)?
Erin: My family stayed at home. We kind of found out pretty late that we were in the team. I generally don't like it when they come to foreign countries, because it's like I feel like I worry about them a little bit, so I wasn't too fussed. Of course, I'd love them to have been there, but at the same time I felt like they were in a way, because they were at home every game now watching live. I was getting phone calls and texts from them of support and so they would take pictures and videos of my nieces and nephews wishing me good luck writing cards and things like that. It was cool.
Eva: Did you keep up with other sports, and if so, which ones?
Erin: We tried to. We couldn't get out to many sports because of our crazy schedule, but I followed the swimming pretty closely, the men's basketball – obviously, we have a close attachment with them. I liked the cycling, the soccer, well, the football, as they call it. Anything that I could try to get to and watch and support, I tried to do it and it was a good way of taking the focus off your own kind of agenda.
Eva: What team activities did you do in Brazil other than just playing?
Erin: Really nothing. It's really like you live in a bubble for basically two weeks and you're just completely focused on what you're there for. I'd say the only thing that we really did was Australia does a really good job of having an outside entertaining area away from the village that families can meet the athletes in a neutral spot, because, obviously, they're not allowed in the village. It was called The Edge, so we got out to The Edge a couple of times and they had, like, a virtual golfing range. They had table tennis. They had a barista coffee machine, which was a very popular thing. So we got to spend a little bit of time there, but really it was all business.
Eva: Did you try any new foods, and if so which ones? And if not, why not?
Erin : Unfortunately, I'm actually pretty close to being a vegan, so my diet is – it was extremely difficult at times over there. I spent a lot of time eating plain rice and a lot of vegetables and fruit, but actually the one thing I did try was star fruit. It wasn't really great, but I tried it because it's obviously native to Brazil. They have a good amount, so I was, like, okay, I'll give this a try and maybe I got the wrong one. So I'm not going to say don't eat star fruit, just don't let me choose it for you.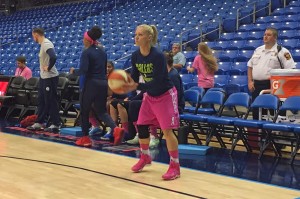 For the record, Eva is generally on board with trying new foods and might well be inclined to take bite of carambola, aka star fruit, if presented the opportunity. The jovial Phillips told me she has seven nieces and nephews of her own.
Phillips already owns a silver medal from 2008 in Beijing. Her team fell just short of the medal round in 2016, losing to eventual runner-up Serbia in the quarterfinals. She'll play in the Wings' final home game of the season this Sunday afternoon at UTA's College Park Center. Eva will continue her after-school tennis program.