It's a common experience, sitting at a smokehouse, enjoying succulent, fork tender barbecue only to find that the brews on tap just aren't on par with the grub. Or maybe you visit a brewery or brewpub then find that the catering company or food truck "phoned in" the brisket and ribs. This is Texas. Beer and 'cue are the foundation of our food pyramid, but finding the best of both in one spot can be a daunting challenge.
Enter: Cowtown Brewing Company, Fort Worth's first smokehouse/brewpub. On a recent morning, I made the trip to the brewsite, still under renovation and located just east of downtown. I found Cowtown Brewing co-founder/co-owner Shawn Kidwell cleaning a large homebrew system. The cavernous 5,200-square-foot one time transmission repair shop is shaped like a large barn with concrete floors and arched metal trusses that rise high above the walls. Kidwell said he and his business partners (co-founder Jordy Jordan, Billy Avila, and Lane Jordan) haven't finalized plans for how the interior will be finished-out before the spot opens next spring (if everything goes to plan), but he assured me a significant transformation of the space is planned, which will include a large outdoor deck and music stage.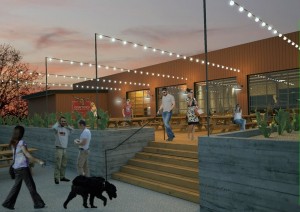 When the dust settles, Kidwell and his team plan to offer thirsty patrons 25 to 30 beer taps with eight to 10 of the choices brewed on site with the rest selected mostly from North Texas craft breweries. Cowtown Brewing is slated to be open Thursdays through Sundays serving traditional Texas barbecue during lunch and dinner: beef and pork ribs, brisket, chicken, turkey, and country style ribs (smoked pork shoulder that's chopped, sliced, or served whole). The dinner menu may include diverse, smaller portioned items (barbecue tapas?). As for brews, the plan at the moment is to offer four flagship suds (stout, bock, blonde, and IPA) while selling a wide range of special releases and one-offs. Kidwell admits he's a personal fan of sour and wild ales, but containing the feisty microbes used to make those styles is tricky because the bacteria and yeast can easily infect the brewspace. When asked about smoked beers — This is a smokehouse after all — the brewer said he'd prefer to see the suds be infused in the food (kinda like at Pouring Glory) rather than the other way around.
Brew and 'cue are natural bedfellows, but the concept evolved out of a sincere love of making both. Kidwell was a passionate homebrewer when he moved here from Austin in 2013. Before moving, he frequently entered competitive barbecue competitions. In fact, it was at one of those competitions that Kidwell was first offered a homebrewed beer. When Kidwell discussed his passion for meat smoking cookoffs to Jordy's wife, she connected him to her husband, who owns and manages Big D Barbecue in Mansfield. Kidwell and Jordy quickly became friends, and the Cowtown Brewing concept was born.
"The beauty of working with [Kidwell] is the ability to blend his passion for beer with my passion for barbecue," Jordy said. "When we met, he was talking about opening a brewery, and I was talking about extending into another restaurant. We pretty much clicked on the idea of opening a brewpub that serves barbecue and craft beer. We're excited to be part of the Fort Worth community."
Kidwell is a studious brewer. For the past few years, when he wasn't at his day job, he was laboring away over fermenters and steamy boilers in his home. As the Cowtown Brewery concept began to take form, he entered the Journeyman Brewery Certificate program at Eastfield College in Dallas. His instructor at the time, Peter Boettcher, is the Mr. Miyagi of the brewing world. Kidwell joked that Boettcher, a master brewer with 30 years of experience, has forgotten more about brewing in his vast career than Kidwell has learned. Soon after graduating, Gary Humble, founder and CEO of Grapevine Craft Brewery, offered Kidwell a part-time position as assistant brewer. Other brewing mentors Kidwell cites are Michael Peticolas (Peticolas Brewing Company) and Cody Martin (Martin House Brewing Company).
"I've learned a ton," Kidwell said. "The jump from learning to applying the education was key for me. I'm forever grateful for the opportunities I had at Grapevine Brewery. That opportunity is a reflection of how helpful this industry really is."
Don't forget to follow On Tap in Fort Worth's Facebook page.
On Tap this Week:
2016 Fort Worth Weekly Homebrew Throwdown.

The Weekly is proud to announce its second annual homebrewing contest as part of North Texas Beer Week. We are still finalizing details, but now would be a good time to start planning for the November 20th event at Panther Island Pavilion's The Shack. For inquiries on how to enter please e-mail me via: Edward@fwweekly.com
Beer, Beards, and Beethoven
Fort Worth's venerable Chamber Music Society is getting into the craft beer movement. Wild Acre Brewing Company is the venue of choice for a not-to-be-missed music experience.
From the Chamber Music Society: The Chamber Music Society of Fort Worth believes classical music has a home wherever great music and appreciative audiences converge. For one night this fall, that home will be Wild Acre Brewing Company. The evening concert will be a fun, community-minded experience that will please lovers of great music and craft beer. The 30-minute program will feature popular classical music favorites as well as arrangements of popular songs. The event will be emceed by CMSFW artistic director Gary Levinson and conclude with a post concert "Schmooze and Brews" where you can mingle, meet the artists, and enjoy complimentary Wild Acre Brewing Company suds. A food truck (not complimentary) will be on site as well. Bring a date or grab your friends. This unique concert is one night only.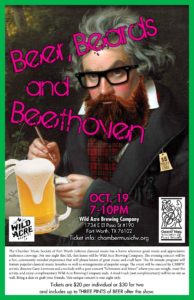 Tickets are $20 per individual or $30 for two and includes up to three pints of beer after the show. Guest artists will be announced soon. Reserve your spot on the event page.
On tap for next week is a chat with The Collective Brewing Project's bar manager Carly Taylor. Our topic? Yoga, of course.