The Dallas Cowboys are about to make their 2016 debut at home against NFC East rival New York Giants, and once again Fort Worth Weekly brings you the much-lauded Off Asides.  (NOTE: Two lauds were received last year from Cathy and Chris at Tanstaafl Pub).
Just as athletes train in the off-season, I too have been busting tail. There is an art to propping yourself up on couch pillows and eating Honey Smacks from the box with your left hand while typing on a laptop with your right hand. It's a delicate balance. I'm in Olympic form.
This marks my sixth season of covering the Cowboys up close and personal, and I have never felt closer to owner Jerry Jones and the team. True insight comes from spending many hours in a sweaty locker room getting close to players. Of course, that's gross, and players are super boring. So I just make up shit instead. But what is truth, really?
Sometimes I feel guilty knowing that my gridiron brothers have to run, sweat, hit, bleed, and push their bodies to the limit while all I do is try to remember which hand is for eating Honey Smacks and which hand is for typing. Then I remember the athletes make a thousand times more money than I do, and I feel much better.
Enough talking. It's time to kick this pig.
TV? Check. Honey Smacks? Check. Hazel the Research Assistant? Check.
I turn on the TV and see George and Laura Bush on the field at AT&T Stadium cozying up to wide receiver Dez Bryant. They all stand next to each other during the national anthem like BFFs. Bryant is obviously angling for a kitty painting from the former president turned folk artist.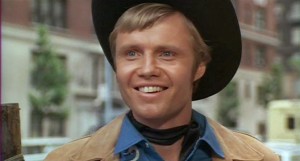 FOX Sports brought their A-Team analysts for the Cowboys opener.
I love it when Troy Aikman calls Cowboys games. Like Howard Cosell, Aikman tells it like it is. Unlike Cosell, Aikman knows what he's talking about and isn't hammered on vodka by the third quarter.
Alongside Aikman is play-by-play man Joe Buck, a former New York City male prostitute now living in Florida where the sun keeps shining through the pouring rain and the weather suits his clothes.
Some fans view Tony Romo's broken back as a bad thing. Kind of like how some people consider their car breaking down in the middle of a desert as a bad thing rather than an opportunity to go for a nice, brisk walk. Romo is damaged goods. He was never going to make it through 16 games and a playoff run. Now the team can rest him for the first half of the season and have an ace in the hole down the stretch.
SCENARIO ONE: Rookie qb Dak Prescott breaks even and hands over a 4-4 record to Romo come November.
SCENARIO TWO: Prescott goes 6-2 and has the team ginning so well that Romo stays on the bench. This would be a nice problem.  We haven't had a quarterback controversy in ages because the Cowboys haven't had more than one qb who didn't suck for the past 20 years.
SCENARIO THREE: The Cowboys go 0-8 under Prescott and the season is toast before Romo becomes well enough to tie the laces on his cleats. Prescott finishes out the year as the starter in a lost season, the Cowboys get an early pick in next year's draft, and Romo waits until the 2017 season to make his final run at a Super Bowl ring.
SCENARIO FOUR: An asteroid strikes the Earth, wipes out humanity, and ends life as we know it. Or, as Cowboys fans call it, the Post-Aikman Era.
Prescott's first pass attempt is a scramble turned into a 9-yard toss to Bryant. The rookie shows incredible poise, leading his team on a 15-play drive of 70 yards to score a field goal. It would have been a touchdown if Cole Beasley had managed to hang on to a ball that hit him in the hands. He should get a kitty painting as punishment.
It's too bad Dat Ngyen retired. We could have a Dak, Dez, Dax, and Dat on the roster. Not to mention a Lucky Whitehead.
After the Cowboys take a 3-0 lead, I take a quick moment to interview Bush on the sidelines.
OFF ASIDES: So how is retirement treating you, sir?
GEORGE W. BUSH:  Fine, fine. Been painting lots of kitties. I'm also the head of my neighborhood association security task force. During meetings I get to wear a paratrooper suit that accentuates my junk, heh, heh.
OA: What does that security job entail?
GWB: Oh, just keeping everyone safe from turrists. For instance, I received unsubstantiated reports that my neighbor's house was infested with cockroaches. No dilly, no dally. Called in a good pal of mine, Hal E. Burton. Owns a pest control business. Hal sprayed the hell out of that house one night while my neighbor was sleeping. As it turns out, my neighbor didn't have roaches after all, but Hal did manage to kill two housecats, a pet hamster, and several house plants.  My neighbor woke up with a hell of a headache the next morning, heh, heh, heh.
OA: Is that legal?
GWB: What? Saving my neighborhood from turrists? Hell yes it's legal. You know what isn't legal? My neighbor refuses to pay the $1 trillion bill for Hal's pest control treatment. Welching on payments goes against family values and patriotistic things.
OA: Your neighbor is being billed for an unwanted pest control service that killed all of his pets and plants and almost killed him in his sleep? That doesn't seem fair.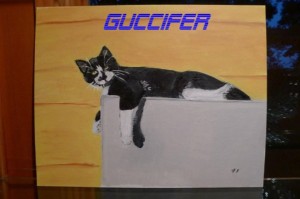 GWB: You know what isn't fair? Kitties. They don't sit still long enough to paint them. Fortunately, I found two kitties buried in my neighbor's backyard and had them stuffed. Now I can paint kitties all day!
OA: What do you think about the Cowboys game?
GWB: Mission accomplished!
OA: It's still the first quarter.
GWB: Ain't it great! Yeeeeehawwww!
I don't get to wear junk-enhancing outfits in my role as the greatest Dallas Cowboys sportswriter. But I'm still able to see that Prescott is going to give us Scenarios One or Two. The rookie hasn't led a touchdown drive yet but has managed to drive far enough into Giants territory to set up three field goals in the first half. The Giants take a 13-9 lead into the half, but Prescott has made it clear he is for reals.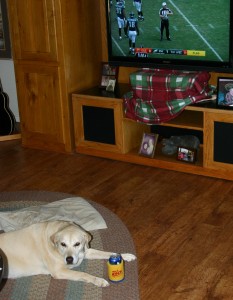 "I need stats! Where are my first half stats?!" I yell, trying to wake up Hazel the Research Assistant, who is laid out on her pillow in front of the TV after a long, hard night of lying on her pillow in front of the TV.
"I need some hair of the dog," Hazel says, licking her tail before opening a Bud Lite.
As you can tell from the photo, Hazel is starting to look a bit older and chunkier these days.
"Hey, I can see what you're writing," Hazel says. "Give me the camera and let me take a picture of your fat ass on the couch."
"I'm the boss around here," I say, getting off the couch to let her outside to pee. While I'm up, I warm chicken broth to pour over her dry organic food for when she returns.
And then it happens.
On first and goal from the 8-yard line with 10:55 remaining in the third quarter, the quarterback of the future hands the ball to the running back of the future who cuts right and scores the season's first touchdown to take a 16-13 lead, planting the seed for our dynasty of the future.
Dak, Dez & Zeke — the Fresh Triplets!
The Giants retake the lead midway through the fourth quarter, 20-19, leaving plenty of time for Prescott to be the hero. The Comeback Kid. The Dak Attack. Dak Vader. The Savior. The Future.
Prescott drives the team downfield with help from Beasley, who makes up for his earlier drop by making a clutch catch on third down. But the other wide receiver, Terrance Williams, forgets how football is played and doesn't run out of bounds to kill the clock after making a catch. He is dumb.
Game over.
But that's OK. We've got a dynasty in the making. Dak, Dez, and Zeke! And Dummy.