Strutting down the side of a Quickie Mart, drag queens Frida Monet and Eva Royale begin voguing for some curious, cat-calling rubber-neckers. A bus screeches by and the sight of the David & Goliath-esque statures of Monet and Royale traipsing around Fort Worth at dusk makes some heads spin and gawk unwittingly at the pair. Monet is donned in a hot pink, Sunkist orange wig and 6-inch white "dancing" heels. The USO-figured Royale is dressed in all black wearing a blonde wig. The pair wave back as if princesses in a pageant.
The two glittering drag queens are the conceptual focal point of Gollay's new music video for the single "Built for Love."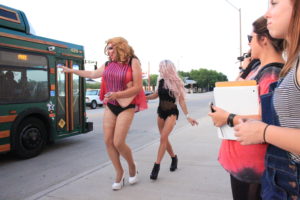 Over the course of a weekend, the production team, consisting of End of the River Productions' Director Chip Tompkins and Art/Creative Director Jay Wilkinson, Production Manager/Producer Hannah Tompkins, Cinematographer Wesley Kirk, Assistant Camera Operator Erin Summerlin, and Production Assistant Kylie Mclaughlin, traveled to various out-of-the-way locations of Fort Worth including an alleyway and a makeshift skate ramp overlooking I-30, to shoot the video.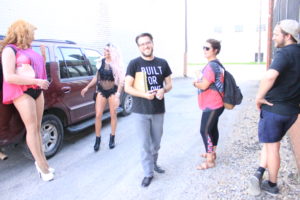 Monet and Royale star in and host a real drag show at The Urban Cowboy Saloon every Friday night. They remained in drag from sun-up to sun-down.
"They were the real champions of our shoot," Wilkinson said.
When picking characters, Tompkins wanted them to be as real as possible. He called it an "organized reality" without scripted characters. Using Monet and Royale's natural friendship helped the creative team capture that desired authentic chemistry and nostalgia for going out and having the best night of one's life, Tompkins said.
The concept for the video came directly from singer/songwriter Rachel Gollay's initial vision for the song.
"I wrote 'Built For Love' from the perspective of someone watching a friend flirt with a stranger at a club," she said. "On the surface, the situation is exhilarating and fun, but there's also this tension lurking beneath, a desire to protect your loved ones from all kinds of rejection. In this track it takes the form of a gay friend hitting on a straight guy who's never going to be 'built' to receive that affection and all the risk and anxiety that goes with watching that play out.
"The video captures a lot of that feeling of exhilaration and camaraderie of  'going out' [as a group], but also how vulnerable 'being out' [as a person] can feel at times. The RuPaul quote 'We're all born naked, the rest is drag' is also a theme for the video. We're all performing versions of ourselves from day to day, whether you're a drag queen in a wig and platform heels or a slick professional going to the office in your best suit."
Gollay's drummer Joshua Jones was already familiar with Wilkinson's craftsmanship as an installation artist, so when Jones approached Wilkinson about making a music video for his band's single, the decision was an easy one. It's been two years since Gollay's album release of Built for Love and Tompkins, Wilkinson, and the rest of their production company had just finished releasing the music video for Ronnie Heart's "Smoovie." So the music video is coming at a culminating time for both the band and End of The River. It helps that Tompkins is also known for the critically acclaimed work he did for Leon Bridges' "Coming Home" video.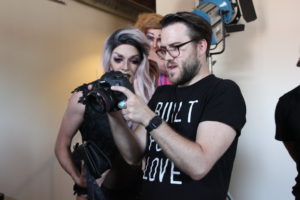 Tompkins is graphic designer by day with a film background, and Wilkinson is a trained painter and sculptor. Although opposites in personality and approach, with Tompkins' calculating and thoughtfully reserved personality and Wilkinson's gregarious charm, they have been friends for a while and began End of the River because their entrepreneurial and creative aspirations aligned.
Both admitted that the process of making a music video is a hard task, so picking the right song is crucial.
It is "something that you can stay invested in throughout the whole process," said Tompkins.
With "Built for Love," the production team didn't have to steer far away from what the band wanted either.
"Making a music video is kind of like hitching your cart to [the band's] horse,"  Wilkinson added.
Tompkins and Wilkinson are not married to the idea of only making music videos as a career. As Wilkinson divulges, sticking to one creative medium can lose its taste after a while if there's not variation in between that sustains that passion for expression.
For this project, Tompkins, Wilkinson, and Gollay look forward to the end of a successfully executed music video and a party (loosely projected for mid September) which, will involve a concert and, yes, the drag queens.