What a joy it is to find a great restaurant in an unexpected place. The Trio New American Restaurant's address lists it in Colleyville, though right across the street is a large sign proclaiming its own place in North Richland Hills. This bistro, which began as a café in 2009 and recently expanded into a full-fledged restaurant, is tucked away between a nail salon and a dentist's office in one of Colleyville's many anonymous strip malls, and it's as good as any restaurant that you'll find in Fort Worth.
[box_info]Trio New American Restaurant
8300 Precinct Line Rd, Ste104, Colleyville. 11am-3pm, 5-9pm Tue-Sat. 817-503-8440. All major credits cards accepted.[/box_info]The dining room is a long, roughly rectangular space with exposed brick and mirrors on one wall and unvarnished wood and cheerful abstract paintings on the other. The lighting is tasteful like you'd expect in a fine restaurant, though the limousine-level tint on the windows in front is perhaps a bit much. When I go out to lunch, I prefer to have daylight streaming in. Still, it didn't put too much of a damper on my grilled cheese sandwich with pleasingly crispy bread and luxurious slices of rib-eye steak layered inside.
Good bread is always an encouraging sign of things to come, and this place has a showstopper lurking in its pre-dinner breadbasket. I don't mean the spicy lavash or the brioche with some pleasing toasted onion toppers, though those are good. No, I mean the duck-fat biscuits, a plate of which I wish I had beside me right now. The change in fat elevates the humble biscuit to a piece of pure decadence, worthy of being served along with foie gras and caviar. Instead, it comes with blackberry jalapeño jelly and creamy butter flecked with black sea salt, a more than satisfactory substitution.
I was told that the Hatch Gulf crab wontons were the restaurant's most popular appetizer, and I quickly saw why. Each of the four wontons I got came on a little disk made of a fried wonton wrapper — how did they get those things to come out perfectly round and flat? That Chinese touch was set off by Mexican accompaniments for the crab: grilled corn, Cotija cheese, and avocado pico de gallo. The Hatch chiles in the latter gave these sumptuous little treats some pleasant heat at the end.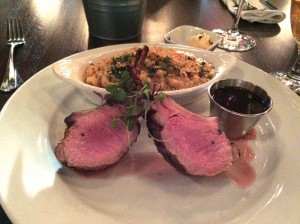 One of my visits to the restaurant came when the kitchen was still offering its summer menu, from which I ordered a quail stuffed with venison sausage, an elaborate dish whose maple-bourbon glaze, smoked creamed corn, kale, and apple slaw presented a panoply of different flavors and textures. From the current fall menu, though, I found that the excellence of co-owners and executive chefs Jason and Miriam Harper extended to much simpler dishes. The rack of wild boar came with an apple Marsala demi-glace and a side dish, for which I chose a French onion truffle mac laden with gruyère cheese, and it was as hearty and flavorful a meal as you could wish for.
Each dinner entrée is listed on the menu with a wine pairing and in some cases also a craft beer pairing, as the restaurant has decent selections of both. The menu suggested a merlot with my wild boar, but my server (who apologized for needing to refer to her notes for the newly-installed menu) recommended a cabernet sauvignon instead. It was good advice. The wine's fruity intensity rhymed with the caramel notes in the dipping sauce, while its humming acidity provided a welcome counterpoint to the robust succulence of the meat.
If there's one area where Trio could stand improvement, it's the dessert menu. Not that the desserts here are bad; both the coconut cream pie and the chocolate fudge coconut layer cake are perfectly fine endings to a meal, coming with gratifying amounts of toasted coconut. Yet they lack the dazzling inventiveness of the rest of the restaurant's offerings. The raspberry coulis that accompanies the layer cake, which is so tart that you might mistake it for lemon, is a nice touch, but it's not enough to elevate this to a great dessert.
Nevertheless, that's easily forgivable given the splendors of everything that comes before. The innovative and flavorful cuisine makes Trio New American Restaurant worth a drive to Colleyville from Fort Worth. Indeed, it's worth a drive from much farther away.
[box_info]Trio New American Restaurant
Hatch Gulf crab wontons     $12-14
Rack of wild boar     $31
Chocolate fudge coconut layer cake     $11
Coconut cream pie     $5[/box_info]